Day In The Life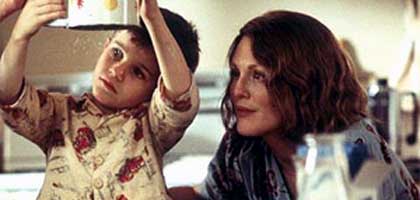 A complex layering of three women's stories, The Hours is a sophisticated treat, says Sheila Johnston.
"Leonard, I believe I may have a first sentence." Thus exults Virginia Woolf in The Hours, a film with many outstanding features, not least Nicole Kidman's imperious prosthetic nose and applauded central performance as the tormented authoress. But perhaps The Hours' most extraordinary quality is that it aims to be a mainstream arthouse movie based on a postmodern novel inspired by an earlier book, itself, in its time, experimental.
Many players figure in the story of its genesis. There's Woolf herself and the heroine of the novel she refers to above, Mrs Dalloway. There's American writer Michael Cunningham, who decades later created another Mrs Dalloway in his own novel The Hours, an ambitious suite of variations on its source. There's iconoclastic American producer Scott Rudin, who bought the film rights; British playwright-screenwriter David Hare, who majors in stories about dazzling, equivocal women; director Stephen Daldry, with a background in theatre and one small but acclaimed film, Billy Elliot (2000), to his credit; and a glittering trio of movie divas - Nicole Kidman, Julianne Moore and Meryl Streep.
Woolf wrote Mrs Dalloway in Richmond, Surrey, where she had moved with her husband Leonard at the beginning of World War I to avoid the excitement of London, which brought on bouts of madness in her. But Richmond's dullness caused a different kind of mental distress, and in 1925, the year the novel was published, the couple moved back to the capital. Here Woolf spent her most fertile writing period, producing To the Lighthouse, Orlando, A Room of One's Own, The Waves and Between the Acts: all the work that now gives her a title to greatness.
In 1941, driven by her demons, she drowned herself at the age of 59. But she continues to fascinate both readers and writers. "Mrs Dalloway," says Cunningham, "made me understand what a book can do. I had thought they were dusty, sad little things that lived over there in the dim library. That book came to life for me in a way that changed me forever."
Success came late to Cunningham, who is now 50. He finished his first book, Golden States, when he was 30, but though it was well received it vanished quietly. He has produced only three more novels since. "When you tell people you're trying to be a writer, they say, 'What have you published?' You say, 'Er, nothing,' and they immediately find an excuse to leave you at the party. You're treated as a hack, a poseur and an idiot as opposed to the treatment aspiring writers should get, which is as heroes. So you work in isolation, half-suspecting that everyone is right. That you're just deluded." One may surmise what drew Cunningham to the figure of Woolf and provoked him to write a novel in which a writer's loneliness and self-doubt would be a central motif.
The Hours is named after Woolf's working title for Mrs Dalloway. The earlier novel spans a single day in the life of its title character, a London society hostess married to Richard, a conventional chap who's something unremarkable in parliament. As she prepares for a party, Clarissa appears irritatingly chirpy, even superficial, but in the course of her day she's invaded by the memories of two lost loves - one male, one female - from a time when everything still seemed possible. Simultaneously a shell-shocked World War I veteran shares her unease in a tragically heightened form, though the two characters never meet.
Cunningham's book begins with a snapshot prologue presenting Woolf's death. Flashing back to 1923, she is then followed through a single day as she labours at the manuscript of her fourth - and first major - novel. Woven through this, a little in the manner of the parallel storylines in Mrs Dalloway itself, two more narrative strands show women in other times and places living through similar experiences.
In Los Angeles shortly after World War II young pregnant housewife Laura Brown (Julianne Moore) struggles to embrace her doting, slightly doltish husband and magazine-perfect suburban life. Bookish and withdrawn, she finds a brief escape in the world of Woolf's novel, abandons her small son, rents a hotel room - a room of her own - and contemplates ending everything. In the third story, set in New York around the turn of the millennium, Clarissa Vaughan (Meryl Streep) plans a party for her best friend and former lover Richard (who has teasingly nicknamed her Mrs Dalloway) to celebrate his winning of a major poetry prize. Richard, however, is in the terminal stages of Aids and has no desire to be part of the celebration.
The Hours won recognition for Cunningham in the form of a Pulitzer Prize in 1999. But with its multiple points of view, extended use of stream of consciousness, intricate, time-hopping structure and low-concept, low-key themes, it was, the author knew, unpromising material for a screen adaptation. "Even after it began to succeed, I remember saying to my agent, 'At least we know one thing, no one's going to want to make this critter into a movie.' And then the phone rings and it's Scott Rudin."
Rudin's eclectic credits include Changing Lanes, The Royal Tenenbaums and The Truman Show, as well as an unlikely hit Broadway comedy about bestiality, Edward Albee's The Goat. He had also been involved with five of David Hare's plays and, detecting similarities between Cunningham's vibrant, disaffected women and the heroine of Plenty, Hare's portrait of a World War II spy who never finds her feet in the complacent 1950s, asked him to write the screenplay.
"The thing that most unsettled me was that I was the only person who didn't seem to think it was difficult," Hare recalls. "It was slightly unnerving, the number of people who said, 'Oh, you're doing The Hours - poor you.' But the book seemed to me so cinematic. You've got three stories, you don't see how they're linked and then slowly, as the thing proceeds, you begin to understand how they're connected thematically and literally. If anything was an inspiration, it was Amores perros, which similarly had a triangular structure and made me feel that three is a much more exciting number to work with than two. The films that are really boring to me are those which simply go back and forth - however brilliantly you do it, it becomes like the Williams sisters playing baseline tennis. What's wonderful about a triangular structure is that you never know where you're going next.
"The difficulty is at what rate you tell people things. You mustn't obfuscate, but on the other hand you mustn't let the audience get ahead of you." (To this end the script withholds the name of a key character which would allow the viewer to guess the link at an early stage.) "What was interesting was that at the very first preview we asked people what genre they thought it was and the majority said it was most like a thriller because you're trying to understand what happens and pit your wits against the film as it's revealed."
When Stephen Daldry was approached to direct he had an impressive string of stage work behind him, notably an acclaimed production of J.B. Priestley's An Inspector Calls, but was still an unknown quantity in the film world. Billy Elliot had not yet been released, let alone won him an Oscar nomination. But Daldry was friends with Hare, whom he had steered through his first stage appearance in Via Dolorosa in 1998. Together they worked for months preparing a complex shooting schedule. "This was not a film that was created in the edit room," Daldry says. "We knew how the stories were going to connect thematically, intellectually and emotionally before we shot them. Sometimes we'd even know how we'd cut from one story to another."
The highly wrought emotions of The Hours and its persistent undertow of melancholy aren't to everyone's taste, though Daldry and his cast, especially Kidman and Streep, provide dashes of humour. But, the director insists, "This is not a film about depression - it's about people struggling to find the opportunity of happiness. That's not an easy option, but they do manage to move towards the light, towards transfiguration. I hope at the end it's not sentimental, but that you come away with a feeling of catharsis."
Some admirers of the book have balked at the changes enforced by its passage to the screen. Hare's script is spare and elliptical, but having rejected the concept of three different voiceovers as too confusing and an omniscient off-screen narrator as over-literary, he had to make his characters speak out loud things that were merely implicit in Cunningham's text. This is most striking in two late scenes involving Laura Brown, the least articulate of the women.
But in other ways cinema is the perfect medium to convey Woolf's and Cunningham's preoccupation with the passing of time and the fleetingness of experience. "David's screenplay was always incredibly dynamic," Daldry says. "And when the three stories start pounding on each other, it gives it a huge dramatic rush."
Cunningham gives the film his blessing. "I don't have that thing a lot of writers do about the sacred text. If you're interested in the people who want to adapt it, then just turn it over to them and say, 'Go on, surprise me.' I think of my novel as the work of a jazz musician who's improvised on an older great piece of music in order to pay tribute to it, play around with it, understand it better and make something new out of a piece of art that already exists. So the movie is an improvisation on an improvisation." His approval would appear to be widely shared: with only scattered dissenters, The Hours garnered highly favourable reviews on its US opening on 27 December, cut a swathe through the critics' year-end awards and has emerged as a leading contender for the Oscars.
All of this represents a sharp change in the direction of the wind, since the film has been attended by constant rumours of difficulties. Two composers, Stephen Warbeck and Michael Nyman, boarded and disembarked from the project before Philip Glass was engaged to write the final score. Other delays were caused by the logistics of shooting in three locations with three sought-after actresses. (In between filming Moore's and Streep's scenes and while waiting for Kidman's availability, Rudin and co-producer Robert Fox found time to cram in another project about a real-life literary figure, Iris.) Later the death of Streep's mother and the fallout from 11 September interrupted reshoots of a pivotal scene. And finally disagreements between Rudin and Harvey Weinstein, the co-chairman of Miramax, which co-produced The Hours, led to it being abruptly pulled from the 2002 Venice film festival.
"I've only got one other film to compare this with and that took two years too," Daldry says. "So it didn't seem unusually long to me. For a director, the more time you get, the better. It was a godsend because I could just carry on fiddling. I'm happy to do that until someone stops giving me the money."
Hare puts an equally positive gloss on the film's protracted gestation. "It's very unusual to be able to think something through for two or three years. Whether you like the result or not, this is not a film which has been kick, bollock and scramble. The characteristic of the modern British film industry is to be under-financed and under-scheduled. Out of it comes brilliant work, but it tends to be shot on the run. This has been contemplatively made, thanks to the amount of money we were given [around $22 million]."
Unprompted by any question, Hare adds, "One thing Stephen and I feel very strongly about is that this is a British film. Stephen is a British director, I'm a British writer, it's financed by a company in Britain and most of it was shot in Britain. To me it's so unexpected as a British film that people can't accept the fact."
Perhaps this is because two of the stories are set in New York and Los Angeles. Perhaps it's the lead casting of two American actresses and an Australian one, or the filtering presence of Cunningham, whose Pulitzer Prize, after all, was officially awarded for reflecting "the quintessential American experience". Certainly, when questioned as to why The Hours didn't become a bestseller in the UK as it did across the Atlantic, Christopher Potter of the book's British publisher Fourth Estate wondered, "Are we too proprietorial of Virginia Woolf to allow an American to apprehend her?"
Possibly it's too tempting to see Daldry as another British film-maker gone Hollywood: abandoning the muddy local roots of Billy Elliot (provincial, intimate, small-scale, unglamorous) for the richer pastures of an American studio picture (cosmopolitan, epic, big-budget, star-laden). But the director underlines the two films' similarities. "Billy Elliot was supported by Universal and The Hours by Paramount. We shot Billy Elliot at Shepperton and this at Pinewood, and because a lot of the crew were the same it never felt like a huge leap in scale. In the global market it's obviously hard to be clear cut. But sometimes it confuses us that The Hours is perceived as an American film rather than a British one."
The paradox is that on one level The Hours could almost be the model of a classic Brit-lit biopic. "It's true that we were worried the Virginia Woolf story would come across as a conventional period piece," Hare says. "There was a certain amount of snobbish laughter at the idea of Nicole Kidman playing her, but it was a deliberate attempt to confound expectations and make that material seem much more contemporary."
Have they succeeded? Woolf's book-length essay A Room of One's Own (1929), in which she argued that women need economic independence if they are to find a voice, made her an early standard-bearer for feminism. Two self-declaredly feminist film-makers are behind the most significant previous attempts to bring her work to the screen: Sally Potter's exuberant masque Orlando (1992) and Marleen Gorris' more conventional adaptation of Mrs Dalloway (1997). Golven (1982), a little-seen Dutch version of The Waves, was also directed by a woman, Annette Apon.
The makers of The Hours (whose director, screenwriter, author and key producers are all male) disclaim any polemical feminist agenda. "I loathe those films that do what's called 'celebrating women's lives'," Hare asserts. "As soon as I see women wearing cloche hats, or holding hands, or sitting in a circle round the fireside being told they are daffy but wonderful, my blood curdles. Those pictures are ludicrously condescending towards women and I think we avoid that."
Cunningham had originally intended to make his modern Dalloway a gay man, but says he had no trouble turning the character back into a woman. "Gender doesn't seem to be a big barrier. I appreciate and respect the differences between men and women, but I also suspect there are questions of character that run deeper than gender. As opposed to, say, trying to write about a person of another race. I've tried to write about a black man and I've had to throw it out. It felt like a white guy's idea of what it would be like to be a black guy."
The gay, lesbian and bisexual elements of his novel (and of Woolf's work and life) are still evident in the film, in particular throughout the New York story. But Hare feels this aspect of The Hours has necessarily been muted. "The book is much concerned with gender politics because Michael has been very much in the forefront of the gay men's movement in the 1980s and 1990s. But all three stories had to be streamlined and those arguments, which were very interesting and complicated, got lost along the way."
Not all audiences will applaud this, of course, but The Hours is still a strikingly expert bid to translate issues of gay and feminist sexual politics into a film of broad, universal appeal. "I find the stories speak directly to me," Daldry says. "The themes of entrapment, of accumulated grief and that real need at a certain point in your life to reinvent yourself seem to speak to a male audience as well as to a female one."
He barks out a laugh when it is suggested he could almost be describing Billy Elliot, which is, after all, the story of a young boy trapped in a small northern mining town, mourning his dead mother and longing to reinvent himself as a dancer. "Well, there are similar themes, aren't there?" If The Hours manages to translate its critical fan base into the popular following of Daldry's first movie, it will do very nicely indeed.