Broken Flowers
USA/France 2005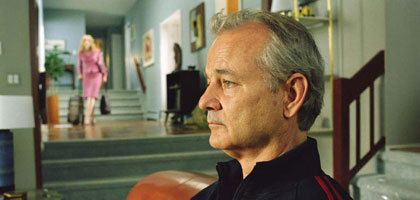 Reviewed by Liese Spencer
Synopsis
Our synopses give away the plot in full, including surprise twists.
An unnamed American city, the present. Dumped by his latest girlfriend Sherry, ageing bachelor Don Johnston finds an anonymous letter on his doormat. The letter says that an ex-lover of Johnston's had a son by him 19 years previously, and that this young man might be on his way to see him. To find out who wrote it, Johnston's neighbour, amateur detective Winston, encourages him to visit former girlfriends.
His first visit is to Laura, now widowed and living with her teenaged daughter Lolita. The latter flirts with him, and he ends up spending the night with Laura. Next on the list is Dora, an ex-hippy turned real-estate agent. After an uncomfortable dinner with her and her husband, Johnston moves on to find Carmen, now working as an 'animal communicator'. After a chilly encounter with her, he looks up Penny, a backwoods biker. She slams the door on him and her husband knocks him out.
Johnston's final visit is to the cemetery where the last on Winston's list of potential mothers is buried. Returning home, he sees a young man who might be his son. They talk, but the boy runs away, spooked. Another car goes past, and another young man stares at him standing in the street. Johnston watches him closely.
Review
After the relatively convivial Coffee and Cigarettes (2003), writer-director Jim Jarmusch is back to what he does best: evoking a singular, self-absorbed world. If Dead Man (1995) pursued such existential geography through a metaphysical poet of the frontier and Ghost Dog (1999) through an inner-city samurai, in Broken Flowers it's the turn of a modern Don Juan. Or 'Don Johnston'.
Bill Murray's grey, jowly, sometimes sweat-panted bachelor has little of the fast glamour associated with the Miami Vice star, however. His days and nights are spent sitting motionless on the sofa, hands on knees, watching movies or listening to classical music. He could be in shock after the departure of his latest girlfriend, Sherry, or he could just be getting on with his life.
Single and comfortably insulated from the irritations of the outside world (he's rich enough not to work), he tells his blissfully married and prolifically fertile neighbour Winston (a pleasingly laid-back Jeffrey Wright) that he's not even sure whether he's upset that Sherry has gone. And it is Winston who gets excited about the mystery letter telling Johnston he has a grown-up son and Winston who packs him off to track down the boy's mother. Jogged from his catatonic state, Johnston is forced to go out and confront the world, in the form of his ex-girlfriends.
The road movie that follows is determinedly anti-closure. Jarmusch plays it for laughs: amateur sleuth Winston advises Johnston to look out for typewriters and pink notepaper, the mystery note having been typed on pink notepaper. There are few real revelations. In fact, the perspective is resolutely exterior. Jarmusch seems to be suggesting not just Johnston's alienation but our general inability to ever really know one another. And by choosing to make his antihero a 'confirmed bachelor', the director adds yet another layer of misunderstanding: that between the sexes. "Only you can solve this mystery," Winston tells Johnston with delicious irony, "because you understand women."
Thanks to subtle performances from a terrific cast, however, audiences can infer their own backstories. After a career of deadpanning, Murray's impassive performance is still fresh, funny, sympathetic and restrained. The female support, meanwhile, all make a strong impression - even when, as with Julie Delpy and Tilda Swinton, they have very little screen time.
Sharon Stone is bright and brittle as Laura, a widow whose racing-driver husband "exploded in a ball of flames", leaving her with their aptly named daughter, Lolita. Murray's escalating discomfort as the provocative 'Lo' walks through the house naked is farcically hilarious. Then there's an excruciating dinner à trois with childless real-estate agent Frances Conroy and her aggressively jovial husband.
With Swinton's biker chick, an initial, tender "Donny?" is swiftly followed by verbal and physical violence; but the vulnerability of her greeting lingers long after Johnston has woken up, black-eyed, and driven away. Best of all, however, is Johnston's encounter with Jessica Lange's grave 'animal communicator', who we meet only after we've seen a client exit telling his rabbit, "it took a lot of courage to say what you said". Playing it admirably straight, Lange manages to squeeze the maximum humour from her encounter with a sceptical Murray, while still giving the impression of a strong, intelligent, coolly resentful woman.
After meeting all his exes (and eyeing up a few other passing women along the way) neither Johnston nor we are any wiser. Winston's 'pink' clues have been red herrings, but the Deconstructing a Mystery computer program he opened at the start of the film has proved prophetic. Jarmusch does just that, playfully invoking storytelling clichés but refusing to supply answers.
Johnston may travel across the country but whether he makes an 'emotional journey' is a moot point (indeed, the whole letter may have been a ruse by Sherry to rattle him). He ends the film back in his home town, standing alone in the street, with the camera circling his head. We can't read his mind, but we know he's confused, and therefore alive in a way that he wasn't at the film's start.
Jarmusch's achievement is to riff on themes of intimacy, emptiness and disappointment in a hugely enjoyable way. Sidestepping the more pretentious trappings of earlier work (a soundtrack of Ethiopian reggae and some hallucinatory dream sequences mean Broken Flowers is not entirely without quirks), this elegant yet accessible film leaves you thinking about and feeling for its opaque characters - even if you learn little about them.
Credits
Director

Jim Jarmusch

Producers

Jon Kilik
Stacey Smith

Written by

Jim Jarmusch
Inspired by an idea from Bill Raden, Sara Driver

Director of Photography

Frederick Elmes

Editor

Jay Rabinowitz

Production Designer

Mark Friedberg

Music

Mulatu Astatke

With

Bill Murray
Jeffrey Wright
Sharon Stone
Frances Conroy