Jewels In The Crown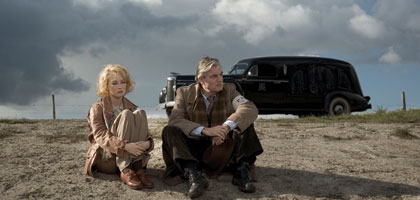 Venice 2006
Front-loaded with Hollywood draws, this year's Lido choice proved richer in other cinemas, from Paul Verhoeven's ripping yarn to the dazzling invention of the 'New Crowned Hope' series. By James Bell
Perhaps the organisers of this year's Venice festival were particularly aware of the threat of competition - the opening of the Toronto festival in the middle of the event's second week and the upcoming Rome festival in October - and so crammed the programme's big titles into the first few days. The selection promised one of the strongest line-ups in years, but in the end most of the big films were solid rather than special, and it was the smaller discoveries that proved more memorable.
Brian De Palma's The Black Dahlia opened the event, and when I arrived next day fawning journalists were still enraptured by Scarlett Johansson's red-carpet appearance and Bacall-esque sang-froid. The suggestion of a filmnoir revival was upheld by the inclusion in competition of Hollywoodland, which may prove the key to reinflating Ben Affleck's punctured career after he took the best actor award for his portrayal of George Reeves, the man of steel in the 1950s Adventures of Superman serial who was found dead by gunshot.
But the throwback glamour of those two films was an exception, and many of the other high-profile US entries had political concerns. Spike Lee's Whenthe Levees Broke: A Requiem in Four Acts, a committed and galvanising four-and-a-quarter-hour film on Hurricane Katrina and New Orleans with no hint of the manipulations of Michael Moore's Fahrenheit 9/11, took the prize for best documentary. Lee cuts between archive footage detailing the city's culture and history, film of the hurricane and its aftermath and talking-head interviews to argue that Katrina wouldn't have caused such devastation had the flood-defence barriers which officials had long known to be inadequate been properly constructed. Footage of this year's defiant Mardi Gras offers only cautionary optimism for a city where more than three-quarters of the inhabitants have yet to return. When the Levees Broke was immediately followed by a screening of Oliver Stone's World Trade Center, which prompted angry exchanges among the audience as the end credits rolled.
A less recent political crisis came under the spotlight in Emilio Estevez's directorial debut Bobby, set in LA's Ambassador Hotel on 6 June 1968, the night Robert Kennedy was assassinated after winning the California presidential primary. Ultimately slighter than it pretends, the film uses a Grand Hotel-style parade of star cameos to play the staff and guests, who offer a spectrum of the different strata of American society at the time. But this endless line-up in the end proves distracting as you find yourself preoccupied with trying to guess which well-known face will emerge from behind the next door. Bobby was screened as a work in progress and could certainly benefit from a tighter edit, though as Estevez quipped, "A film connected to Harvey Weinstein is always unfinished until it hits the theatres."
David Lynch's Inland Empire, cloaked in secrecy until its screening, turned out to be his most perplexing film to date. Running at just under three hours, it was shot over a period of three years on unattractive-looking DV, with the actors handed the script for each scene only on the day of shooting. Unsurprisingly, the result has an improvisatory feel, more concerned with mood than plot, but what narrative can be gleaned concerns Nikki, an aspiring actress played by Laura Dern, who gets a part in a film starring alongside Devon (a charismatic Justin Theroux). The film-within-a-film is based on a Polish gypsy folktale, and a previous attempt to adapt it was abandoned after the actors were found murdered. Nikki begins to confuse her identity with that of the character she plays, and from then onwards, from what I could gather, Inland Empire becomes a nightmarish evocation of her fragmenting personality. It's a gruelling, murky experience, though studded with brilliant moments. Darren Aronofsky's visually ambitious The Fountain, which fumbles its pretentious attempt to link stories from three different eras through the grandstanding theme of immortal love, was loudly booed.
Among the more modest American films was Ethan Hawke's The Hottest State, based on his own novel about a struggling actor named William who begins a heady romance with a singer played by Catalina Sandino Moreno. Earnestly in thrall to Beat culture, with Mark Webber's William coming across as an uncomfortable teenager out to convince himself he's possessed by the soul of Kerouac's Dean Moriaty, the film grows stronger as it relaxes and begins to charm. Dito Montiel's debut A Guide to Recognizing Your Saints, based on his autobiography about his tough upbringing in the New York borough of Queens in the mid-1980s, impressed through its convincing sense of time and place, with the young actors giving naturalistic performances.
Another story of a tough childhood formed the basis of Malaysian director Ho Yuhang's slow-paced Rain Dogs, which explores the dislocation of a young teenager who arrives in Kuala Lumpur from the countryside with his mother and gang-member older brother. The Malaysian capital is also the setting for Tsai Ming-Liang's warm-hearted I Don't Want to Sleep Alone, the director's first film set in his native country (he moved to Taiwan as a student and has lived there ever since). Actor Lee Kang-Sheng, Tsai's regular muse, plays two roles: a man in a coma and another man named Hsiao Kang, discovered unconscious on the street by a Bangladeshi immigrant labourer who takes him back to his cramped room and nurses him to health. The lack of space for intimate relationships in the overpopulated city is conveyed as Hsiao Kang meets his waitress girlfriend for illicit trysts in alleyways and building sites and by the loud and ever-present street noise. I Don't Want to Sleep Alone is one of seven films commissioned by the 'New Crowned Hope' festival, due to run in Vienna in November to mark the 250th anniversary of Mozart's birth. Four of the features were previewed at Venice, and their quality indicates the project's success.
Indonesian director Garin Nugroho's entry, the sumptuous Opera Nagwo, is an adaptation of a traditional opera based on the Sanskrit epic 'The Abduction of Sinta', the tale of a couple driven apart when the wife is unfaithful. With exquisite Gamelan music, costume design and dancing, it was by some distance the sexiest film at the festival. The third entry, Syndromes and a Century, Thai director Apichatpong Weerasethakul's follow-up to Tropical Malady, is typically offbeat and funny. It's set in a rural hospital where a woman doctor treats a group of monks and a singing dentist grows close to his patient. The other 'New Crowned Hope' film screened was Dry Season, from Chad-based film-maker Mahmet Saleh Haroun (director of Abouna). The dialogue is sparse, but the conflict experienced by a young man who works for his father's murderer while plotting to kill him is forcefully conveyed.
One of several Chinese films depicting the sweeping changes currently affecting the country, Jia Zhangke's elegiac sixth feature Still Life - added to the programme at the eleventh hour and screened at midnight - was the surprise winner of the Golden Lion for best film. Shot at and around the Three Gorges dam, it juxtaposes two stories of people looking for partners in a town soon to be flooded with tales of the lives of migrant workers. The idea for the feature came while Jia was shooting his documentary Dong, a series of snapshots of contemporary China that follows artist Liu Xiaodong as he travels the region painting portraits of the labourers, of teenage girls obsessed with western fashions and of resigned old people.
Italian director Gianni Amelio's The Missing Star tracks an Italian engineer who journeys through China and learns about himself as his perceptions about the country change. Liu Jie's debut Courthouses on Horseback, set in a remote area of the mountainous Yunnan province, follows the attempts of a travelling law court to impose justice among ethnic minorities largely unaffected by the country's homogenising drive to modernity.
Commercial Chinese cinema was represented by Feng Xiaogang's self-important and very loud The Banquet, starring Zhang Ziyi and obviously made with an eye on the international audience that lapped up House of Flying Daggers and Hero. Hong Kong director Johnnie To's enjoyable Exiled, a taut gangster thriller with brilliantly executed gun-battle set-pieces and a knowing nod to Sergio Leone's For a Few Dollars More, offered a more auteurist take on genre. Korean director Ryoo Seung-wan's stylish gangster romp The City of Violence has similarly memorable set-pieces, including a spectacularly over-the-top knife fight in a restaurant.
J-Horror was provided by Kurosawa Kiyoshi's Sakebi (Retribution), made with Ring producer Ichise Takashige but lacking the idiosyncrasies of the director's previous films. Some of the more interesting-looking Japanese films, such as Aoyama Shinji's Crickets and Otomo Katsuhiro's Bugmaster, screened after I had left. The Amazing Life of the Fast Food Grifters, Oshii Mamoru's inventive history of post-war Japan as glimpsed through fast-food chains, Kon Satoshi's Paprika and Miyazaki Hayao's son Goro's Tales from Earthsea (which I missed but which reportedly disappointed) formed worthwhile additions to the programme.
Russia and Central Asia's steppes furnished a dramatic backdrop for two films. The Belgian-Mongolian co-production Khadak initially follows a nomadic boy forced to leave his yurt and move to a drab city, but becomes something far stranger as the boy discovers his destiny as a shaman, introducing issues of how traditional Mongolian culture can survive in the modern world. Russian director Ivan Vyrypaev's visually seductive Euphoria uses the vast landscape to dwarf its story of a woman who leaves her husband for a passionate affair with a rugged local man.
The best director prize went to Alain Resnais for his adaptation of Alan Ayckbourn's Public Fears, Private Places. Among other films by veteran Europeans, Belle toujours, Manouel de Olivera's witty 'sequel' to Buñuel's Belle de jour (1967), has Michel Piccoli reprising the character he played in the original, here pursuing Severine (the Catherine Deneuve role, played by Bulle Ogier) to ask her how she now views her sexual past. There was also a screening for Edgar Reitz's Heimat - Fragments, which feeds unused footage from the series into a narrative that sees Lulu (Herman's daughter, who first appeared in Heimat 3) reach 30 and become curious about her ancestry. The clips of her discoveries trigger one's own fond memories of characters and moments from the original films.
Paul Verhoeven's Black Book sees the director return to Holland for the first time in over 20 years after a self-confessed low period following the crass Hollow Man in 2000. A ripping yarn about the Dutch resistance during the Nazi occupation that deflates a number of heroic myths, Black Book stars Carice van Houten as a Jewish girl who seduces a German officer to help the cause. Benoit Jacqout's competition entry The Untouchable stumbled after a promising start, though Isild le Besco won the most promising actress award for her portrayal of Jeanne, a Parisian in her early twenties who sets off for India to find her father, a man her mother met while travelling. Jacquot revealed at the press conference that he only had a licence to shoot a documentary, and the Indian section's focus on capturing Jeanne's impressions of exotic street scenes largely plays like one.
Alfonso Cuaron's adaptation of P.D. James' Children of Men, about a dystopian future where mass infertility has led to a world without children, proved an audience favourite and was granted an award for its impressive cinematography. An extended single-take shot as Clive Owen's character scrambles through a crumbling building under fire from police is a particularly bravura achievement. Though covered with digital screens, the London of 2027 doesn't resemble a clean, sleek metropolis and the characters still take buses and drink in pubs. But perhaps the most warmly received film of the festival was Stephen Frears' The Queen, which won Helen Mirren the best actress prize. It was a shame that with Kenneth Branagh's The Magic Flute the only other UK feature represented, young British talent was conspicuously absent.