The Times BFI 50th London Film Festival: Mean Streets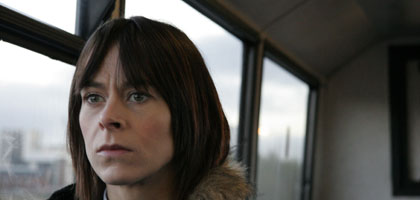 Preview: Red Road
A British film that Cannes fights to include is a rare thing. But Andrea Arnold's Red Road is an urban sexual revenge drama with a difference. It was dreamed up as part of a wider project that now has a very hard act to follow. By Hannah McGill
Alone in her office, a council CCTV operative scans the screens that monitor Glasgow's nocturnal life. A potentially dangerous situation catches her eye and she zooms in: a man is following a young woman into a grim patch of wasteland. As the encounter resolves itself into a consensual if unceremonious sex act, the observer relaxes but keeps watching, now with a different kind of curiosity. Voyeuristic pleasure creeps in; her breathing quickens; she runs her hand absent-mindedly over the joystick that controls the camera. Then the lens catches the man's face and another shift occurs as she recognises him. Sexual tension dissipates as swiftly as it took hold. It's no longer crimes of the future that concern her, but one from the past - one that altered her own life irrevocably.
The rapid flow of feelings experienced by Jackie Morrison (Kate Dickie) in this scene is characteristic of the unstable emotional territory explored by Red Road , the debut feature from British writer-director Andrea Arnold. The road of the title is the location of the grim high-rise block where Jackie's mysterious nemesis Clyde Henderson (Tony Curran) is commencing his re-entry into legitimate society following a spell in prison prematurely curtailed by good behaviour.
But the title also indicates the hazardous route that Jackie herself must follow, from guarded self-discipline towards a resolution that will necessitate the release of her emotional and sexual energies. From the scarlet frocks donned by the rebellious anti-heroines of Jezebel (1938) and Gone with the Wind (1939), to Sissy Spacek's bad hair day in Carrie (1976) and the sticky bloodlust of Jane Campion's In the Cut (2003), red is cinema's valentine to excessive, transgressive female sexuality - and the most intriguing aspect of Red Road is its refusal to define the degree to which Jackie's quest for vengeance is motivated by carnal curiosity. The room floods red during the film's pivotal sex scene and even Clyde's red hair seems to mark him out as particularly and diabolically libidinous. Clyde's sidekick and former cellmate Stevie (Martin Compston) has a blunt take on his friend's appeal: "He's charming for a ginger cunt, isn't he?"
Stevie assumes that it is Clyde's apparently limitless charm that has lured the conservative and slightly prim Jackie on to the wrong side of the tracks. In fact, her project is more complex - though Red Road is initially as teasingly reticent about her precise intentions as it is about the nature of Clyde's original offence. As she follows him first via the CCTV cameras and then on foot through the wilderness that surrounds the Red Road flats, and finally by subterfuge into his loose, hedonistic rabble of friends, Jackie suggests a number of archetypes: stalker, spurned lover, vigilante avenger. Kate Dickie's staunchly minimal performance of cramped, self-effacing gestures, thin lips and wary eyes permits each of these possibilities, but commits to none. If the customary duty of the emotionally repressed character in cinema is to perform a psychological striptease, Jackie is the equivalent of the fiercely modest schoolgirl whose changing-room ritual tortuously avoids any exposure of flesh.
In this, her closest antecedents are the protagonists of the films of Jean-Pierre and Luc Dardenne, whose work Arnold admires. Jackie's obsessive and initially unexplained pursuit of Clyde particularly recalls The Son , in which bereaved father Olivier (Olivier Gourmet) fixates on an apprentice carpenter under his tutelage for reasons that only gradually reveal themselves. Like the Dardennes, Arnold declines to probe her protagonist's subjective experience or to anticipate her next move. The film's viewers are in the same position as a CCTV camera operative: they can only follow the action, making sense of it as they go.
At the crux of the narrative is a sex scene remarkable for both its intensity and its ambiguity. Having established a flirtation with Clyde that both unsettles her and serves her ultimate purpose, Jackie follows him to his local, where he, Stevie and Stevie's girlfriend April (Natalie Press) are drinking. Spotting Jackie at the bar, Clyde moves in. As with his first appearance on the CCTV screen, it is initially impossible for either Jackie or the viewer to discern whether his mood is threatening or seductive. Does he remember Jackie, as she remembers him? Has he guessed her reasons for insinuating herself into his life? Since we don't know what he did then, we don't know what he's capable of now, and the moment is almost intolerably tense. Until Clyde shows his hand with a chat-up line of jarring directness: "I've been wondering what your cunt tastes like."
The feral and oral nature of Clyde's sexuality has already been implied. When Jackie first draws close to him, in a dingy café near the Red Road flats, he flirts with the waitress before lifting his empty plate to his face and licking it. "You're a fucking animal," the waitress declares. While Jackie's sexual being is wilfully suppressed - her job evokes distance and watchfulness and her androgynous uniform disguises her femininity - Clyde's is overt. Yet his blunt verbal advance is interestingly weighted: aggressive in its forthrightness, but slyly directed to prioritise her pleasure before his own. His curiosity, and her (presumably) long-unsatisfied physical needs, are duly assuaged in the bedroom scene. Here, in a startling example of female multi-tasking, Jackie completes an urgent private job but also apparently attains erotic fulfilment. The fact that there is no mouth-to-mouth kissing implies that she has divorced her romantic self from the experience, but also highlights the primal urgency of the act.
Does Jackie, once seduced, weaken? No: in a reversal of cinematic convention, it's Clyde who is left naked and vulnerable as she dresses to leave. "Was it just a fuck you wanted, then?" he cries. In practical terms, it was - but quite what that fuck means to Jackie, Arnold leaves us to ponder for ourselves. Clyde may be propelled by phallic power, but Jackie can disguise her physical responses and box off her emotions; ultimately, she can fake it.
Girls on top
Red Road doesn't just team the social-realist douleur of the Dardennes with the convoluted plotting of the girl-on-top revenge thriller. At times the relationship between Jackie and Clyde steers the film towards such classic melodramas as Douglas Sirk's Magnificent Obsession (1954), in which a reckless man is redeemed by a love affair with the woman whose life he unwittingly spoiled. Then there are background characters - April and Stevie, Jackie's father-in-law Alfred, an anonymous dog-walker and an overweight nightshift worker - who occasionally command attention, as in a multi-strand, Altmanesque ensemble piece.
If Red Road sometimes seems generically jumbled, this may reflect its unusual development process. The film forms part of an ongoing project named Advance Party that was dreamed up by Scotland's Sigma Films and Denmark's Zentropa. Arnold, along with Scottish director Morag McKinnon and Dane Mikkel Norgaard, was presented with a list of characters prepared by two regular Zentropa collaborators, director Lone Scherfig and screenwriter Anders Thomas Jensen. The brief was that three films would be made, each using all the characters in any way the respective film-makers wished. Incidental characters from Red Road may come to the fore in the other two films; narrative loose ends, such as Stevie's violent relationship with his estranged father or Londoner April's presence in Glasgow, may be explained. Like Lucas Belvaux's Trilogy - which fashioned three films in different genres from the same characters and events - the Advance Party project reminds us that a neatly crafted story involves the strategic excision of inconvenient details that obstruct the progress of the main narrative.
Arguably, Red Road would be a more forceful experience without the sense of other storylines clamouring in the wings. And its need to provide each character with emotional closure, which feels out of kilter with the disciplined and unsentimental early scenes, may point to compromises inherent in film-making by committee. Still, Red Road gains texture from the notion of a network of tangential individuals who are ceaselessly affected by the actions of its central couple. This wider context is represented in miniature by the bank of CCTV cameras, a high-tech expansion of the apartment block across the way in Hitchcock's Rear Window . The film's deliberate positioning of its narrative within a complex world also underlines its moral message that every individual, and thus every action, has a history. Indeed, Jackie begins to regard Clyde as a human being only when she learns that he has a daughter, Bronwyn, whose rejection further blights a life of failures.
Scottish miserablism
A surprise inclusion in the main competition at Cannes this year (after the producers rejected a premiere in Directors' Fortnight, artistic director Thierry Fremaux reportedly upgraded the film's slot rather than lose it to another festival), Red Road now commands a significant international buzz. And Arnold has the additional career boost of an Oscar to her name, awarded in 2005 for her short film Wasp . Yet Red Road remains the kind of British film of which certain critics and funders despair: moody, starless, admired abroad but too forbidding to attract wide audiences at home. Though Arnold herself is English, her film fits (un)comfortably into an oft-maligned tradition of slum-bound Scottish miserablism that stretches from Bill Douglas to Lynne Ramsay, David Mackenzie and Peter Mullan. Ramsay and Mackenzie, in particular, have faced difficulty in translating critical adulation into the kind of box-office clout that smoothes the path to further and bigger projects.
Despite the thrillerish elements that take hold later on and the attention-grabbing sex scene, Red Road 's slow-burning first act is unlikely to endear it to mainstream audiences. Compare and contrast Pedro Almodóvar's Volver , another Cannes competitor and another tale of fierce female self-determination in the face of crisis. It may have subtitles, similarly cash-strapped characters and a no less emotionally charged storyline, but Volver boasts a primary-coloured hyperrealism that places it within an arena of arthouse exoticism from which Red Road is excluded. Yet it is Red Road that makes the more challenging and acute observations about grief, retribution and female sexual autonomy. Like its protagonist, Red Road doesn't court affection; but like Jackie, it has plenty to offer to those brave enough to take it on.