The Times BFI 50th London Film Festival: Mysteries Of Puberty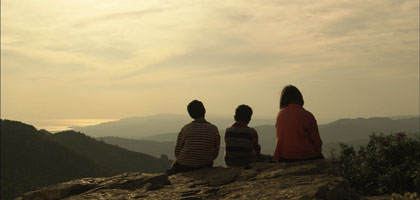 Preview: Times and Winds
Times and Winds by Turkish director Reha Erdem is one of the discoveries of the year, an exquisite affirmation of film as art. By Hannah McGill
If the fourth feature from Turkish writer-director Reha Erdem covers some not-unfamiliar territory - rural families misalign, local conflicts flare and die, and children wrestle with the mysteries of puberty while goat bells clamour and seasons slip by - it does so with sufficient grace and forthrightness to render its content breathtakingly fresh. It is not Erdem's project simply to observe sweetly limited lives or to seek nobility in lack of sophistication. His film is a nuanced drama, possessed of both comic and dramatic force, along with ravishing and expressive visuals.
Human life is compartmentalised in Times and Winds: age, gender and social status divide up the local community, just as the five calls to prayer carve up the day. (The film is split by intertitles into five times of day, and its Turkish title Bes vakit translates as 'Five Times'.) The daily challenges faced by the older children of the village express the transition between innocence and responsibility, the tension between attempted self-realisation and externally imposed definitions. The unconditional protection offered to small children is ebbing away, yet restrictive discipline remains in place. The freedom to make one's own decisions is tempered by the eternal requirement to fall in with existing social codes - and to accept the frightening fallibility of adult authority figures.
Omer (Özakan Özen) is experiencing his Oedipal crisis in entertainingly literal terms: he wants to end the authoritarian domestic regime of his father, the local prayer leader, by way of murder. Erdem's film finds some of its most comedic moments in Omer's plotting (entice a scorpion to bite him, knock him off a mountain ledge?), but retains enough edgy ambiguity to suggest that success is never quite out of the question. Yildiz (Elit Iscan), by contrast, is the apple of her father's eye, but a scene in which she quietly weeps after inadvertently witnessing her parents' lovemaking speaks volumes about the terror and fascination that attend the encroachment of sexual awareness. Yakup (Ali Bey Kayali), meanwhile, sees his own innocent crush on the village schoolteacher disturbingly mirrored when he catches his father playing peeping tom.
Small moments, perhaps, but Erdem invests them with dignity, mystery and humour, while the beauty of Florent Herry's cinematography and Arvo Pärt's score emphasise their universality and mythic potency.