Back to School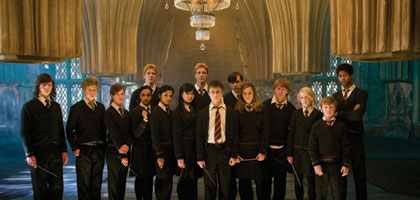 To mark the release of the latest Harry Potter film Andrew Roberts looks back at 70 years of UK boarding-school movies and asks what happened to the iconoclasm of If....
As the final Harry Potter book approaches its publication date we still await a truly inventive screen treatment of the series. Of the four Potter films so far, only Alfonso Cuarón's Prisoner of Azkaban (2004) manages to evoke the surreal melange of Mervyn Peake, C.S. Lewis, Enid Blyton and Anthony Buckeridge that informs J.K. Rowling's vision of Hogwarts and its denizens. The Harry Potter films are the most commercially successful entries in the time-honoured British boarding-school genre. From the 1930s onwards, the stock scenario was comfortingly routine: an exploration of how our hero, a potentially recalcitrant individual, could be brought to accept the wisdom of a traditional value system. And for all their CGI wizardry, it is to this system that the Potter films have wholeheartedly returned - as though Lindsay Anderson's system-smashing If.... (1968) had never been made. The Hogwarts world of midnight escapades, school sports, rival houses and a wise headmaster surrounded by Malvolio-like teachers is familiar to anyone who has seen the boarding-school films of the 1930s, 1940s or 1950s.
Popular history relates that the British boarding school flourished as a means of inculcating the value system of the British empire in the minds of young Victorian upper-class males. (The term 'public' refers to the school being open to the paying public, unlike a religious school.) In the 19th century such institutions were typically the repository for the sons of colonial administrators who sent their boys back to the mother country to be educated in the ways of a gentleman: Greek, Latin, etiquette and, of course, sportsmanship ("It's not whether you win or lose, it's how you play the game"). Yet the plays, films and comics inspired by such places transcended the barriers of class and gender. As George Orwell wrote in 1940 of the popularity of the comics the Gem and the Magnet: "I have known them to be read by boys whom one might expect to be completely immune from public-school 'glamour'. I have seen a young coal miner, for instance, a lad who had already worked a year or two underground, eagerly reading the Gem. Recently I offered a batch of English papers to some British legionaries of the French Foreign Legion in North Africa; they picked out the Gem and Magnet first."
As Orwell pointed out, the world of such stories is reassuringly unchanging: "The year is 1910 or 1940, but it is all the same... Everything is safe, solid and unquestionable. Everything will be the same for ever and ever." This is a world where the empire is secure, and where World War I, in which so many ex-public schoolboys lost their lives as undertrained subalterns, is inconceivable. Indeed, the major cinematic boarding-school hit of the 1930s, Goodbye, Mr. Chips (1939), made in the face of another looming global conflict, is a film replete with nostalgia for the certainties destroyed by the 1914-18 war, whose long-serving teacher hero represents a fixed point in a changing universe.
The secure, ivy-wreathed haven of the film's Brookfield School, open only to the sons of the very rich, is in stark contrast to the setting of an equally popular early series based on comedian Will Hay's music-hall sketches. Hay's depiction of an utterly useless headmaster in Boys Will Be Boys (1935) and Good Morning, Boys! (1937) - "an inefficient man doggedly trying to do a job of which he is utterly incapable" - reflects the fact that several gentlemen with no academic qualifications had landed jobs as heads of minor private boarding schools aimed at parents who couldn't afford public-school fees but didn't want their offspring to be educated by the state. (Hay the actor, incidentally, unlike his character, was a Fellow of the Royal Astronomical Society who could speak six languages.)
It was the 1944 Education Act - which granted free secondary education until the age of 15 and allowed a number of state-school students to receive government scholarships to public schools - that provided a new twist to the plot, exploited by the Boulting brothers in The Guinea Pig (1948), in which Jack Read (Richard Attenborough), the solidly lower-middle-class son of a sergeant major turned Walthamstow tobacconist, is awarded a scholarship to Saintbury. It soon becomes apparent that he's unfamiliar with public-school traditions: he objects to sixth formers kicking him "up the arse", dares to whistle at girls and even says "pleased to meet you". His housemaster despairs, but fortunately a junior tutor (Robert Flemyng) teaches him acceptance and the film ends with Read en route to Cambridge, having learned that young people must adapt themselves to tradition rather than vice versa.
It wasn't just in actual boarding-school narratives that public-school values found cinematic expression, however. From 1950's The Wooden Horse onwards, the 'people as hero' theme current in World War II films was replaced by a celebration of individual heroism, usually of public-school-educated men. In his book A Mirror for England, Raymond Durgnat postulates that British films of this era were dominated by headmaster-like commanding officers exercising stern benevolence towards prefect-style officer cadets. From horseplay - "Come chaps, off with their trousers!" in The Dambusters (1955) - to reticence in the face of danger, the sporting and social ethos of the public schools permeated the screen. The parallels are most notable in films set in the enclosed world of the prisoner-of-war camp - as in The Wooden Horse or The Colditz Story (1955) - but the analogy can be extended to movies about civilian life such as Doctor in the House (1954), in which Dirk Bogarde and his chumsindulge in all manner of joshing under the eye of James Robertson Justice's chief surgeon Sir Lancelot Spratt.
Welcome note of cynicism
Among school films themselves, Anthony Asquith's 1951 adaptation of Terence Rattigan's The Browning Version signalled a change of key. A prematurely desiccated and middle-aged schoolmaster (Michael Redgrave) finds public-school restraint inadequate to cope with his growing sense of despair and self-loathing; his carefully maintained defences eventually collapse in the face of a kindly gesture from a pupil who just might appreciate his work.The shock of seeing a supposedly rock-like figure become vulnerable foreshadowed the moment when Jack Hawkins' Lt. Commander Ericson breaks down in front of his first lieutenant in The Cruel Sea (1952), an aspect of the actor's screen persona that Alexander Mackendrick had already exploited in Mandy (1952), which centres on a deaf girl whose mother sends her to a special boarding school.
On the surface Nigel Balchin's screenplay for Mandy is concerned with the child's frustrated attempts to communicate, but the subtext deals with lack of communication within a middle-class family. Mandy's father is well-meaning but immature and still in thrall to his parents; his father has deliberately shut himself in the attic rooms of their large Edwardian house, where Mandy herself is kept isolated from a threatening outside world. When she attacks an obstreperous older child in a local park, the offended upper-class mother screams: "She ought to be locked up." But through the efforts of her own mother Kit, Mandy escapes via a boarding school for the deaf run by a headmaster (Hawkins) who is dynamic and gifted but also emotionally retarded. That Mandy manages to turn her screams of frustration into words seems a sign that she has the potential to adapt to post-war England more effectively than the adults.
Post-war British cinema offered few boarding-school films aimed at young audiences, with the Children's Film Foundation, purveyor of "clean, healthy, intelligent adventure" to suburban matinees, ignoring the genre, perhaps because of budgetary restrictions and limitations on the use of child actors. Anthony Buckeridge's Jenningsstories remained a staple of the BBC's Children's Hour and Charles Hamilton's Billy Buntertales were adapted for television, but none of the boarding-school books of Enid Blyton or Antonia Fraser made it to the big screen. The likes of Nicholas Nickleby (1947) and Tom Brown's Schooldays (1951) were period pieces; It's Great to Be Young! (1956) is set in a state grammar school; and Carry On Teacher (1959) and the more realist Spare the Rod (1961), Term of Trial (1962), To Sir, with Love (1967) and Kes (1969) take place in secondary moderns. Among the few comedy exceptions are Fun at St. Fanny's (1955), with Ronnie Corbett and Freddie Mills, Bottoms Up (1960), a version of the Jimmy Edwards TV sitcom Whack-O!,and the Boulting brothers romp A French Mistress (1960) .
Launder and Gilliat's 1949 adaptation of the West End farce The Happiest Days of Your Life introduced a welcome note of cynicism, with Nutbourne College portrayed as a haven of mediocrity in the midst of Attlee's England. When the Ministry of Education billets St Swithin's School for Girls at Nutbourne, Alistair Sim's ambitious headmaster Wetherby Pond is confronted by the seemingly ferocious Miss Muriel Whitchurch (Margaret Rutherford), head of an organisation that's not quite top-drawer, a school that specialises in "girls whose parents are from the colonies". Meanwhile the future of his own hallowed institution seems precarious: "The school goes back to 1830 and if Pond doesn't keep up the payments it goes back to the bank."
This air of clinging to middle-class status with a minimum of means also pervades Launder and Gilliat's The Belles of St. Trinian's (1954), where the headmistress (Sim again, this time in drag) is obliged to consort with book-makers and spivs in order to maintain a dubious sense of respectability in the face of anarchic pupils headed by the sexually precocious sixth form. The series proper lasted until 1966, but like the Doctor films and the Boulting brothers' comedies, St. Trinian'sseemed ill-at-ease in the context of late-1960s Britain. Service comedies too had declined in popularity since the end of National Service in 1963 rendered the experience of life in uniform once more the province of the minority. And increasing US investment in UK film-making meant that even POW films began to feature square-jawed American leading men supported by stalwart British character actors.
Three military dramas - The League of Gentlemen (1960), Tunes of Glory (1960) and The Bofors Gun (1968) - follow in the tradition of Lance Comfort's Mr. Perrin and Mr. Traill (1948) in depicting men whose essential immaturity is fostered by institutionalisation. The polished comedy-thriller The League of Gentlemen considers the role of the decent chaps of the previous decade in a world that no longer seems to need them. Jack Hawkins plays a commander who realises that the league's other seven ex-officers need to be rescued from civilian decadence and so billets them in his country house, returning them to the virtual status of schoolboys. "It's just like being back at school," says Kieron Moore's ex-Captain Stevens (cashiered for homosexual offences) on seeing his new dormitory. "I sincerely hope not!" is his room-mate's alarmed reply. By contrast Tunes of Glory hasAlec Guinness as an up-from-the-ranks major and self-satisfied bully who revels in the destruction of his rival, while in The Bofors Gun a peacetime National Service lance corporal has to control an ageing uniformed delinquent as they guard a meaningless relic of the Victorian era in 1954 Germany.
Calling Ken Russell
The boarding-school narrative proper had virtually disappeared by 1965. But the popular Peter Sellers vehicle The Two Way Stretch (1960) is a boarding-school comedy in all but name, with Maurice Denham's ineffectual prison governor as a quasi headmaster, Lionel Jeffries' superbly irate chief warder as a head-prefect character, and Sellers, Bernard Cribbins and David Lodge in the role of insubordinate sixth formers. Gainsborough's Boys in Brown (1949) had provided a rare cinematic exploration of the Borstal system, which was established in 1902 and borrowed many of its characteristics from the then-flourishing public schools. Here paternal governor Jack Warner presides over inmates Jimmy Hanley, Richard Attenborough and Dirk Bogarde: predictably, Jimmy knuckles down, Dickie snivels and Dirk goes mad before the final reel confirms that conforming to the system is the only way of 'making good'. Such films as Cosh Boy (1952) give awful warnings as to the penalty of not doing so while Borstal film The Smashing Bird I Used To Know (1969) ends with its hero and heroine driving their MG Midget off a cliff - presumably to avoid any more of the screenplay.
Sidney Lumet's 1965 adaptation of Ray Rigby and R.S. Allen's play The Hill is a nightmare evocation of the tail-end of colonialism in a World War II British military detention camp where the headmaster figures are either drunk or absentee and the inmates are brutalised by prefect-like 'Redcaps' whose refusal to acknowledge that "Queen Victoria is dead!" provides an anticipation of Lindsay Anderson's If.... (1968). Anderson's film captures vividly the world Orwell described in his autobiographical essay 'Such, Such Were the Joys': "A child which appears reasonably happy may actually be suffering horrors which it cannot or will not reveal. It lives in a sort of alien under-water world which we can only penetrate by memory or divination." Anderson may at times have displayed a fascination with the sadism he purports to challenge, but his condemnation of the meaningless rituals of a minor public school is utterly convincing. The staff are self-consciously eccentric, uncaring or prepared to do little more than utter meaningless liberal platitudes - and here If.... anticipates Alan Clarke's Scum (1979) by more than a decade. Tradition is only as good as those who maintain it, and Royston Lambert's written survey of boarding-school life The Hothouse Society (1974) offers ready evidence that Anderson's work was closer to documentary than many critics would allow.
The release of If.... coincided with the last flowerings of US-funded British films, and the following decade provided slim pickings. Boarding-school movies of the 1970s include the endearingly abysmal gothic horror Lust for a Vampire (1970), the psychological thriller Unman, Wittering and Zigo (1971), and Fear in the Night (1972), in which Peter Cushing gives a brilliant performance as a former headmaster unable to face the fact that his school has burned down. By the 1990s the genre was - limited to mildly nostalgic comedies such as A Feast at Midnight (1994) or the 1994 remake of The Browning Version.
So when Harry Potter and the Sorcerer's Stone was released in 2001, it was the first British-made entry in the boarding-school canon for several years. Like the Billy Bunterstories and Enid Blyton's Malory Towers books, Hogwarts presents an ostensibly safe and unchanging realm. It is a great loss to cinema that the two British directors who would be best suited to adapting the series - Terry Gilliam and Ken Russell - have not yet been invited to do so. Until then, Harry Potter on screen might well be in danger of becoming what Orwell described as "the same for ever and ever".