Mr Pink, Mr Indie, Mr Shhh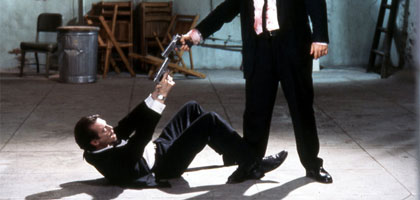 So many US indie movies of reputation are haunted by the nervy presence of Steve Buscemi it's hard to imagine a successful one without him. Philip Kemp wonders what makes this "funny looking guy" the auteur's essential ingredient
Whether it's praise or cruelty to dub actor-director Steve Buscemi 'king of the indies', there's no doubt that he's earned his crown. His somewhat spectral omnipresence is demonstrated by the range and quality of the half dozen films showing in tribute to him at the National Film Theatre during July, from the Coen brothers' Fargo (1996) to Tarantino's Reservoir Dogs (1992) to Tom Di Cillo's Living in Oblivion (1995) - not to mention his two fine films as director Trees Lounge (1996) and Animal Factory (2000) (the latter of which gets its UK debut as the opening gala of the Crime Scene 2001 season). But what are the qualities that the best US auteurs find in him as an actor and what does he bring from working with them to his own films?
In Fargo Buscemi plays Carl Showalter, a lethally inept gunman of whom no witness can recall anything except that, "He was a little guy, kinda funny-lookin'." It's a typically deadpan Coen gag that Buscemi's distinctive features should be found so nondescript. Critics have had no such problems. Detailed, often gleefully uncomplimentary accounts of Buscemi's appearance abound, among which Geoff Andrew's thumbnail sketch is one of the less denigratory: "With his high, wide forehead, prominent eyes and almost twisted, toothy mouth, he's not unlike a Keith Carradine gone wrong." None of this, it's fair to bet, troubles Buscemi. "I like playing strange characters," he says. "I don't see myself as a regular guy." Which may well be the perfect qualification to become 'king of the indies'.
A key element in the legacy of John Cassavetes, forefather of present-day US independent cinema, was the liberating insight that perfection wasn't essential, or maybe even always desirable. Neither the lead actors, nor the film itself, nor the storyline had to try for Hollywood flawlessness. What counted was the dynamic of character and emotion. Most of Cassavetes' movies are fuzzy round the edges; some, like Shadows (1959), are fuzzy all the way through. It's not important. Never mind the production values, feel the grip.
Plenty of indie movies, from Kevin Smith's Clerks (1994) and Darren Aronofsky's Pi (1998) to Alexandre Rockwell's In the Soup (1992) have taken this idea on board, making grainy visuals and jagged editing a cardinal part of the film's texture. The grungy aspect of the actors and the filmstock and the free-wheeling, impro-esque dialogue are functions, not simply of minimal budgets, but of attitude. Unlike Cassavetes, the directors could probably have afforded a more polished look, but opted against it. (Not for nothing was Pi's tagline "Faith in chaos".) This workbench side of indie film-making recently came under attack from David Gordon Green, first-time director of the acclaimed George Washington, for "not looking very good". Green's film looks terrific, and all credit to him for it, but he misses the point. Quite a few indie films do look superb (Jim Jarmusch's Dead Man, 1995, the more recent work of John Sayles, and everything photographed by Roger Deakins for the Coens), but for the down-'n'-dirty specimens to clean up their act would make as much sense as Buscemi getting a nose job. Funny-lookin' is what it's all about; not just a style statement but a badge of integrity.
Jittery unease
If Cassavetes is the spiritual father of the indies (and Orson Welles their demiurge godfather), Roger Corman is the raffish, charmingly disreputable uncle. When changes in distribution patterns started to kill off B-movies in the late 50s, it was Corman's shoestring output of exploitation drive-in fare that picked up the tradition and carried it forward - as well as providing vital early employment for many of those whose work was to feed into today's indie scene: Scorsese, Coppola, Monte Hellman, Dennis Hopper, John Sayles et al. This bridging effect provided continuity not only in terms of low-budget production style but, more crucially, in ethos. The essence of most mainstream Hollywood product has always been reassurance - problems solved, wrongs righted, hurts soothed, all tied up in a neat final-reel closure. (As Michael Wood noted in America in the Movies, "Entertainment is not, as we often think, a full-scale flight from our problems... but rather a rearrangement of our problems into shapes that tame them.") But in the 40s and 50s B-movies became the home of noir, and noir at its most insidious was anything but reassuring. The sense of insecurity at its heart, of flawed unremarkable heroes struck down by the unfairness of fate (Tom Neal in Detour, 1945; Edmond O'Brien in D.O.A., 1949), trickles through Corman's ramshackle output and re-emerges full-flow in the indie sector.
Buscemi's screen persona slots neatly into this tradition; it's not hard to imagine him in the Dick Miller role of the hapless killer-turned-hip-sculptor in Corman's A Bucket of Blood (1959). The linear descendant of such classic noir fall-guys as Peter Lorre and Elisha Cook Jr, Buscemi often comes across like the twitchy younger brother of such psycho-tinged heavies as Christopher Walken or Harvey Keitel, aspiring to their unpredictable menace but undercut by his own sense of inadequacy. Like Lorre or Cook, he conveys an element of pathos, an impression of someone who started out in life several strikes down and has been struggling - not too successfully - to catch up ever since.
Part of the joke of Reservoir Dogs is that Buscemi's Mr Pink, so obviously set up to be the fall-guy, winds up as the gang's sole survivor. Tarantino also pounced on Buscemi's knack for delivering dialogue at whirlwind speed, often in a querulous yammer that suggests a long-held grievance against an unappreciative world. This tic makes him the ideal comic partner for a taciturn type like Peter Stormare as the monstrous Gaear Grimsrud in Fargo or Christopher Lloyd as the cool, methodical stick-up man in Keva Rosenfeld's Twenty Bucks (1993), fastidiously appalled at Buscemi's mindless blundering.
Other directors have picked up on the unnerving quality behind Buscemi's moments of repose. In his hyperstylised thriller Things to Do in Denver When You're Dead (1995), Gary Fleder cast him as Mr Shhh, "the most lethal hitman this side of the Mississippi", speaking as rarely as his name implies but conveying coiled reserves of menace through stance and eye-movement. The Coens, by contrast, having mined the actor's jittery unease in four movies in a row, allowed a gentler side to show through as the Dude's bowling companion Donny in The Big Lebowski (1998), Buscemi's bemused amiability unwavering in the repeated blasts of invective from John Goodman's deranged Vietnam veteran.
Loners and outsiders
The mainstream likes winners, larger-than-life heroic figures who triumph against the odds or, if they're baddies, go out gloriously in a high-octane blaze of bullets. Indie has a weakness for losers, nobodies, walking disaster areas. A sure sign that a director has moved mainstream is the switch from losers to winners: Soderbergh travelling from Sex, Lies and Videotape to Erin Brockovich, Lynch from Eraserhead to The Straight Story. Which isn't to say that they haven't smuggled elements of indie sensibility into the mainstream. It's all part of the process of renewal - or absorption - that's been going on at least since Easy Rider in the late 60s. But no mainstream film-maker could have left his three protagonists, as John Sayles did in Limbo (1999), poised unresolved; they'd have had to face the heavies, one way or the other, in decisive combat.
Buscemi has occasionally strayed into the mainstream, but rarely - as if to signal his indifference to the sector - in anything worthwhile. (He admits to only taking such roles "because it's hard for me to make a living doing things that I really like.") In the forgettable, testosterone-laden actioners, Con Air (1997) and Armageddon (1998), he filled out the cast with quirky but incidental bit-parts, while his unbilled cameo (singing Spandau Ballet's 'True') was the best moment in the limp Adam Sandler vehicle The Wedding Singer (1998). Indie is unmistakably Buscemi's home, where his edgy intensity can make its proper impact - often out of all proportion to his screen time. In the Coens' Barton Fink (1991) his bellboy Chet, curdlingly eager to be of service, is on screen for barely two minutes, but his lopsided grin and subtly off-kilter presence seem to embody the very spirit of the decaying Hotel Earle where Barton sweats and agonises.
Buscemi contributed another brief appearance to an even poorer Sandler comedy, Big Daddy (1999), in which he was billed only as "homeless guy". Apt enough: it's hard to think of a Buscemi character that's rooted in a firm family or social background. Loners and outsiders are his thing, people uneasily aware that they're out of place. No matter how much surface control they seem to be exercising, his characters have an underlying sense of incipient panic. In Terry Zwigoff's forthcoming Ghost World, Buscemi plays a geeky guy hiding behind his prized collection of vintage records, like a sadder version of John Cusack's character in High Fidelity; in Jim Jarmusch's Mystery Train (1989), holed up in a shabby hotel room with Joe Strummer and Rick Aviles, he ingratiatingly produces a bottle of whiskey like a passport to acceptance. "Even though [he]'s in a shitload of trouble, he's enjoying it," Buscemi noted of his character. "Because ordinarily, these guys would never hang out with him."
Echoes, it's tempting to guess, of his own background. Born into an Italian-Irish family, Buscemi grew up in blue-collar suburbia in Valley Stream, Long Island (where his directorial debut Trees Lounge was shot). Moving to New York he set out to be a stand-up comic, but wasn't comfortable in the smart Manhattan venues: "I felt like this kid from Long Island who wasn't cool enough." He gained confidence in an onstage partnership with Mark Boone Jr (described by Katharine Dieckmann in the Village Voice as "a Laurel-and-Hardy team for the disaffected 80s"), branched out into performance work and joined the Wooster Group, the experimental theatre troupe which also counts Willem Dafoe among its alumni. As a movie actor he made his initial mark as a terminally ill gay rocker, all black leather and self-mocking gallows humour, in Bill Sherwood's Parting Glances (1985), one of the first films to take an unhysterical look at the Aids crisis. As a CV for an indie icon, it couldn't be bettered.
I didn't make it for you
"First of all, I'm not afraid of failure. I don't get upset if people don't like it: I'm doing it because I'm interested." (John Sayles)
Defining the indie sector is notoriously difficult. As Jim Hillier recently pointed out in his introduction to American Independent Cinema: A Sight and Sound Reader, such recent specimens of the unmistakably indie movie as Being John Malkovich (1999), Boys Don't Cry (1999) and Timecode (2000).were all backed by wholly-owned offshoots of the Hollywood majors. But if we want to find a way of distinguishing indie from mainstream, Sayles' words aren't a bad place to start. They could be echoed - if not with quite such cool serenity - by any number of indie film-makers, including the Coen brothers, Todd Solondz, Hal Hartley, Spike Lee and maybe even Robert Altman. They'd certainly have struck a chord with Cassavetes, who expressed the same sentiment, rather more forcefully, while shooting his last movie. "This picture, this picture - I don't give a fuck what anybody says... If it doesn't give you an answer, fuck you. I didn't make it for you anyway."
Like Sayles - and indeed Buscemi - Cassavetes made occasional forays into the Hollywood mainstream, but purely in order to finance his own work, whose commercial potential was beside the point. In fact he insisted that his debut film Shadows was never even meant to be shown to the public. "We had no intention of offering it for commercial distribution. It was an experiment all the way, and our main object in making it was just to learn..." Buscemi, a fervent admirer of Cassavetes' work, often cites him as the model he aspires to. "He made some brilliant films, and if I could have a career like his - where I could write and direct my own movies - then that would be perfect." It gave him evident satisfaction when, during the making of his first film as director, "This guy I met in a bar in Valley Stream said, 'Your film's a terrible idea. It's not commercial.' And that's the point."
It seemed preordained that Buscemi would turn director. Not only has it become almost de rigueur for prominent indie actors - John Turturro, Stanley Tucci, Billy Bob Thornton - to try their hands at the helm, but even back in his stand-up days with Mark Boone he was preparing the ground. "We were kind of directors by necessity. The way we used to write our stuff was we'd improvise, then painstakingly transcribe the tapes, then edit that down... the writing, acting and directing just seemed to go hand in hand. Then, when I started to get film work, I missed that creative responsibility."
As if by way of rehearsal, he was twice cast as an indie director. In Alexandre Rockwell's In the Soup he played a naive neophyte, hawking around a vast, pretentious script, who finds himself being manipulated by an affable gangster. Rockwell allowed Buscemi to direct the brief silent film within the film, but more importantly furnished a direct link to his role model, since the gangster was played by Cassavetes regular Seymour Cassell. The two struck up a rapport and Buscemi went on to give Cassell roles in both his films as director. In Rockwell's film Buscemi's character never gets to make his movie, but Tom Di Cillo's Living in Oblivion plunges the actor into the thick of the directing experience. The film kicks off with a nightmare of a shoot in which everything possible goes wrong; Buscemi's character wakes to find reality even more terrifying.
Happily, Buscemi's real debut as writer-director was very different. "We didn't have any hysteria like you see in Oblivion. Everybody was perfect," he remarked afterwards. Trees Lounge, shot in and around his home town, drew strongly on his own background: the lead, a sweet feckless guy played by Buscemi himself, was his projection of "What would have happened if I'd stayed in Valley Stream." His second feature, currently awaiting release, is anything but autobiographical. Animal Factory is a prison drama, adapted from a novel by Eddie Bunker (Mr Blue in Reservoir Dogs), which skillfully avoids all the clichés of the jail movie. This time Buscemi takes a smaller supporting role. Like Trees Lounge, Animal Factory is outstandingly well directed; like Trees Lounge, it probably won't show a profit. But then that's not the point.