Parole Officer, The
UK 2001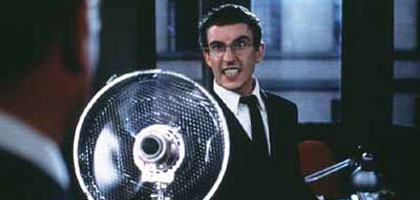 Reviewed by Kim Newman
Synopsis
Our synopses give away the plot in full, including surprise twists.
England, the present. Simon Garden, an inept probation officer, is reassigned from Blackpool to Manchester. In Manchester, his first client is Kirsty, a young joyrider who has stolen a Porsche containing a stash of drugs and has been framed for possession by corrupt policeman DI Burton. Simon pursues Burton to a club run by Cochran, owner of the stolen Porsche and the drugs. Simon happens to see the policeman murder Deacon, Cochran's accountant, to dissuade the club-owner from retiring from the drugs business. Burton tells Simon he will pin the murder on him if he doesn't keep quiet. Simon remembers the killing was taped by a security camera and realises Cochran has put the evidence in a deposit box in the West Clyde Bank.
Recruiting three reformed clients - bigamist George, hacker Colin and hardman Jeff - and using equipment left behind by supposedly deceased master thief Victor, Simon plans to break into the bank to get the tape. Kirsty, who happens to be robbing Simon's house, demands to join in the heist. Simon tells Emma, a policewoman he is seeing, about the murder. Though initially she doesn't believe him, Emma discovers a connection between Burton and the dead man and confronts the killer about this. Burton stages a raid on Simon's home, planting Deacon's head on the premises. Simon and the rest of his gang are arrested, but soon rescued from jail by Kirsty. They go through with the bank job, aided by the still-alive Victor. Inside the vault, the gang finds the video cassette, and also a stash of money in Burton's own deposit box. Simon rushes the tape to a ceremony where Burton is being given a bravery medal for rescuing Kirsty from the crashed car and exposes the policeman, who is arrested. Victor escapes with Burton's money. Simon is handcuffed to Emma.
Review
The history of British cinema in the last 50 or so years is littered with the bleeding corpses of comedians who were successful on television but couldn't make it in the movies. Giants like Tony Hancock (The Rebel, 1960, excepted), Frankie Howerd, Morecambe and Wise, and Peter Cook and Dudley Moore have failed to match their best television work in film vehicles, while only the most devoted scholars of British popular culture even remember the shudder-inducing one-shot film-star careers of Lenny Henry (True Identity, 1991), Cannon and Ball (The Boys in Blue, 1983), Marty Feldman (The Last Remake of Beau Geste, 1977) and Danny La Rue (Our Miss Fred, 1972).
Compared with such recent turkeys as Guest House Paradiso (the Bottom boys) and Kevin & Perry Go Large (Harry Enfield), this modest vehicle for Steve Coogan, who has had his greatest success with the personae of Mancunian layabout Paul Calf and minor celeb Alan Partridge in a succession of specials and series, is at least amusing most of the time, if rarely as painfully funny as the best of Coogan's work. As a heist comedy, it invites comparisons with The Ladykillers (1955) and The Lavender Hill Mob (1951), but it lacks the darkness of the former or the sustained whimsy of the latter (both qualities already reprised in A Fish Called Wanda). Its real precedents are such pleasant afternoon-TV fodder from the 60s as Crooks Anonymous (1962), The Big Job (1965) and The Wrong Arm of the Law (1962), beside which it is perfectly acceptable.
The opening job-assessment hearing suggests that Coogan's titular parole officer Simon Garden will be in the same class as Calf and Partridge, with everyone agreeing that he's "a very irritating man". But despite his consistent verbal and physical foul-ups, Simon is more like a vintage Jim Dale character, someone who always means well and is in the end beloved by the other eccentrics in the film. Simon may do a lengthy puking-on-a-rollercoaster scene or accidentally snap off the huge penis of a fertility idol in an art gallery (ill-advised steps into Bottom territory), but he's the sort of puppy-dog-soul Lena Headey's police officer Emma can't help but fall for. (Simon even manages to call on the assistance of guest star Omar Sharif's master thief Victor to get him out of a tight spot.) Ultimately, Simon never seems as real as Alan Partridge, who is similarly irritating, but whose moments of humiliation often break through into genuine pathos. Nor is Simon as funny as Paul Calf, who is only ever upstaged by his sister, also played by Coogan.
This is a generous vehicle, often requiring the star to be a straight man for his gang, winningly played by Om Puri, Steven Waddington (the dim-but-amiably-violent-ex-boxer role that Bernard Bresslaw was often called to play), Ben Miller and Emma Williams (a well-spoken ram-raider in school uniform). John Duigan (The Year My Voice Broke), perhaps the most overqualified director in this field since Mike Hodges had a bash at the Mel Smith-Griff Rhys Jones project Morons from Outer Space (1985), does very little with the material that a fresh-from-sitcom television graduate wouldn't have managed. Slapstick fights with office equipment and dangling-from-high-places scenes aren't Coogan's strongest suit, but he is a master of nervous patter, and Duigan knows to keep the camera on Simon as he squirms to explain why he is waving a gay porn magazine, needs to eat crisps all the time, or has a human head boiling on his stove.
Credits
Director

John Duigan

Producers

Duncan Kenworthy
Andrew Macdonald
Callum McDougall

Screenplay

Steve Coogan
Henry Normal

Director of Photography

John Daly

Editor

David Freeman

Production Designer

Tom Brown

Music

Alex Heffes