Criss cross: Spy films of the Cold War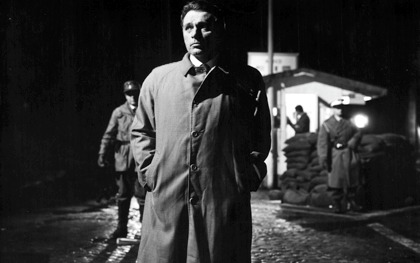 Richard Burton in The Spy Who Came in From the Cold (UK)
The post-war intrigue between East and West Europe hothoused
a rich new strain of spy cinema on both sides of the divide. Michael Brooke dons his trenchcoat and snoops around
"I'd say, since the war, our methods – our techniques, that is – and those of the Communists have become very much the same," claims Cyril Cusack's spymaster in The Spy Who Came in From the Cold (Martin Ritt, 1965). This essential truth is demonstrated by 'The Celluloid Curtain', a fascinating season of 11 spy thrillers from various European countries made between 1960 and 1974. Despite the majority originating behind the Iron Curtain, they do indeed often display the same preoccupations and even clichés as their Western counterparts.
Not only is this strangely reassuring, it also shouldn't be surprising. The one city that straddled both sides of the European divide not only hosted the Berlin Wall, the Cold War's most obvious physical symbol, but it also played midwife to the modern spy thriller, not least because Fritz Lang and Alfred Hitchcock cut their creative teeth at UFA's studios. Fittingly, the season's West German entry is Lang's The Thousand Eyes of Dr Mabuse (1960), a reminder of how much his 1922/33 Mabuse films (plus Spione in 1928) established many generic ground rules. And while it was Lang's swansong, German filmgoers know it as the start of a six-film Mabuse revival (1960-63), updating Norbert Jacques' 1920s villain from the era of Fantômas and Fu Manchu to that of Ernst Stavro Blofeld.
Berlin also dominates The Spy Who Came in From the Cold, the season's British entry. Ritt's relentlessly pessimistic film is even more of a riposte to the vapid heroics of many spy thrillers than its contemporary The IPCRESS File (1965). In one of his best performances, Richard Burton physically embodies the toll exacted by a perilous and morally rotten profession, as much the victim of shadowy international forces as their instigator.
A few years earlier, Jiri Vala played an equally manipulated spy in the psychologically complex Skid (Smyk, Zbynek Brynych, 1960). West German authorities keen to exploit his post-car-crash amnesia send him back to his native Czechoslovakia, but their ideologised impression of Prague is undermined both by reality and his own recurring memories.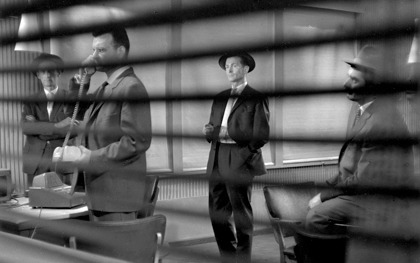 For Eyes Only – Top Secret (East Germany)
The East German, Bulgarian and Russian films also straddle the East-West border, focusing on outwardly respectable German businesses that conceal something more nefarious. In For Eyes Only – Top Secret (Streng Geheim, János Veiczi, 1963), a GDR agent uncovers a NATO plot to invade eastern Europe. The villains here are American (one sings 'The Battle Hymn of the Republic' in the shower), but they're essentially no different from their evil-scheming Soviet counterparts in the movies from the other side of the Wall.
Equally Westernised is There's Nothing Finer than Bad Weather (Nyama nishto po-hubavo ot loshoto vreme, Metodi Andonov, 1971), a witty spin on the Swinging Sixties caper movie, with its protagonist Emil Boev (a Bulgarian Bond, already a literary favourite) as likely to attend groovy parties as he is to infiltrate the boardroom and archives of the Zodiak manufacturing firm.
Conceived on a much more expansive scale, former Eisenstein collaborator Grigori Alexandrov's glossy romance Skvorets and Lira (1974) traces two lovers who have been working undercover in Germany since World War II, and who now have to investigate the German industrial machine as it potentially conspires against the Soviet Union. The film's near-invisibility even in histories of Soviet cinema is explained by the fact that its central storyline was (probably inadvertently) a little too close to that of the notorious Guillaume Affair, one of the more embarrassing 1970s East-West diplomatic flare-ups (dramatised by Michael Frayn's play Democracy), and so the film was barely shown even at home.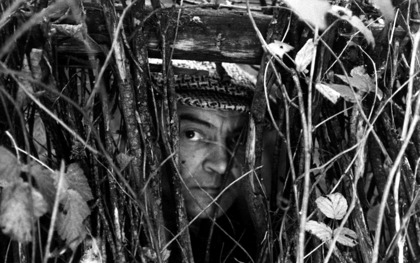 Rendezvous with a Spy (Poland)
By contrast, the Hungarian and Polish titles shun wider political issues in favour of a detailed look at the logistics of spying and spycatching. In the stylish Fotó Háber (Zoltán Várkonyi, 1963), a photography shop is a front for a spy ring, with even its front-window displays conveying hidden messages. Though very similar in its overall suspense-thriller approach, Rendezvous with a Spy (Jan Batory, 1964) devotes more time to those charged with tracking down a spy spotted parachuting into the country.
The Romanian A Bomb Was Stolen (S-a furat o bombă, 1961) is comfortably the season's weirdest entry, a reminder that the early 1960s saw the Theatre of the Absurd and the plays of Eugene Ionesco at their most influential. Made by the distinguished animator Ion Popescu-Gopo, this live-action but dialogue-free feature traces the often accidental voyage of a small atomic weapon concealed in an innocuous-looking bag. It links contemporary (and still prevalent) paranoia about nuclear accidents and terrorism with a tradition of visual humour dating back to Chaplin, Keaton and Tati.
That film is a fair bit subtler than The Great Spy Chase (Les Barbouzes, Georges Lautner, 1964), though this French-Italian romp about assorted spies trying to extract secrets from an arms manufacturer's slinky young widow offers many other pleasures, not least Lino Ventura's impromptu kung-fu fight with multiple Chinese assailants, and a persuasive message that donning a false beard will almost certainly lead to ejection from a speeding train.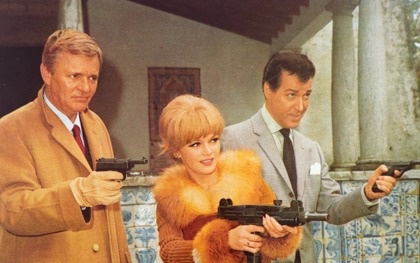 High Season for Spies (Spain/Portugal/West Germany)
James Bond himself is absent, though he casts a long shadow over much of the season. A character in the Spanish-Portuguese-West German mishmash High Season for Spies (Julio Coll, 1966) refers to him by name, and there are plenty of other reminders, such as the presence of Gert 'Goldfinger' Fröbe as Lang's avuncular police chief, an overt display of brand names, and a pervasive fetishising of (then) cutting-edge technology. CCTV cameras (Mabuse's 'thousand eyes', also utilised by Foto Háber's authorities), miniature tape recorders, two-way mirrors and concealed weapons are all pressed into service, with messages conveyed in make-up compacts and encrypted into otherwise innocuous amateur radio broadcasts.
In fact, so pervasive did the genre's tropes become that the Hungarian authorities even shot their secret police training films in a very similar style. Recently unearthed, they were used as the basis for the bizarre documentary The Life of an Agent (2004). Sadly, this is not showing in the season (although it's available online), but its director Gábor Zsigmond Papp is one of many guests who will be introducing films and participating in panel discussions; others include Cold War historian Phillip Knightley, Index on Censorship editor Padraig Reidy, Russian critic Sergey Lavrentiev, season curators Oliver Baumgarten and Nikolaj Nikitin and representatives of various European cultural institutions demonstrating a much friendlier and far less covert example of international co-operation than anything unspooling on screen.
'The Celluloid Curtain' runs 6-9 May at Riverside Studios, London (accompanied by an exhibition of original posters), and from 1-22 June at the Zeughauskino, Berlin.
See also
Double Take reviewed by Jonathan Romney (April 2010)
The International reviewed by Samuel Wigley (March 2009)
The Lives of Others reviewed by Geoffrey Macnab (May 2007)
Degraded dupes: Amy Taubin on Steven Soderbergh's The Good German (March 2007)
The Manchurian Candidate (Demme, 2004) reviewed by Stephen Dalton (December 2004)
Triple Agent reviewed by Ginette Vincendeau (November 2004)
Send in the clowns: Rob White revisits the 1979 television adaptation of Tinker, Taylor, Soldier, Spy (October 2000)
Austin Powers The Spy Who Shagged Me reviewed by Xan Brooks (August 1999)
The Vienna project: Peter Wollen explores the true-life tale behind The Third Man (July 1999)