The Vienna Project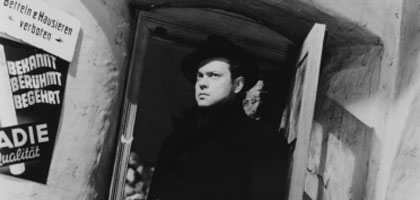 The Third Man: In a Vienna divided into five zones after the end of World War II, American novelist Holly Martins (Joseph Cotten, opposite) arrives expecting to meet his old schoolfriend Harry Lime (Orson Welles, below). But Martins learns that Harry has been killed in a road accident. Major Calloway (Trevor Howard, opposite, holding a phial), a British intelligence officer, tells him Harry was a racketeer, but Martins refuses to believe him. The account of Harry's death given by his associate Baron Kurtz contradicts that of the porter at Harry's apartment, who talks of a mysterious "third man" being present. Martins investigates, hooking up with Harry's girlfriend Anna, a Czech refugee. She is arrested by Calloway and the forged passport Harry acquired for her is impounded. Martins confronts Kurtz and his associates with the porter's evidence. But the porter is murdered and Martins flees. Calloway gives him shelter but proves to Martins that Harry was selling lethal diluted penicillin on the black market. Near Anna's apartment, Martins spots Harry lurking in a doorway...
1948. Ruins - the detritus caused by the massive Allied bombing of March 1945 (747 US bombers, 1,667 tons of explosives) and then, almost without respite, the Red Army assault on the city: artillery duels, raging fires, 37,000 soldiers dead (Russians and Germans) while the Viennese hid underground in their cellars. It was the ruins which struck Graham Greene when he visited Vienna in February 1948 to research the script for The Third Man. "I never knew Vienna between the wars, and I am too young to remember the old Vienna with its Strauss music and its bogus easy charm; to me it is simply a city of undignified ruins which turned that February into great glaciers of snow and ice." It is the images of desolation which we remember best from The Third Man, the classic film for which Greene wrote the shooting script - the ruins, the Big Wheel and the sewers. By July 1948 clearance and repair were well under way and by the autumn, when filming began, Vienna was beginning to change: reconstruction was on the agenda and it would not be long before the damaged monuments were restored and the city returned to a kind of normality. It was not until after Stalin's death in 1953, however, that a peace treaty was finally agreed, the occupying powers withdrew and Austria became, once again, an independent, although constitutionally non-aligned, country.
What was it that took Graham Greene and Carol Reed, the director of the film, and Orson Welles, its most striking personality, to Vienna? The original idea came from the film's producer, Alexander Korda. Hungarian in origin, he had begun his career in Budapest as head of Corvin films immediately after World War I, after the great collapse of the Hapsburg empire, producing films first under the liberal Karolyi government and then under the communist Béla Kún regime. Arrested by the police of the incoming anti-semitic, anti-communist Horthy government, he was taken to be held and tortured in the picturesque Hotel Gellert, a fate he was rescued from by Brigadier Maurice, a British army officer who, according to Korda's nephew Michael, could be "variously described as the representative of MI-5 in Budapest, the British government's secret link to Admiral Horthy and as an adventurer, profiteer and speculator." Maurice intervened personally with Horthy and Korda left for Vienna to pursue his career as a producer, travelling first class in a wagon-lit under British protection, accompanied by his film-star wife Maria Corda. How Korda must have smiled on encountering the figure of Harry Lime, the classic cinematic adventurer, profiteer and speculator and also, in the context of post-war Vienna, very likely a spy - a legendary figure who had been conjured up for him at his own instigation.
In his family memoir Charmed Lives Michael Korda recounts how he was invited to his first grand Alex Korda dinner party - it must have been 1948, because Carol Reed was there and the conversation turned to the problem of getting Welles to appear in a film which Reed would be directing for Korda. As Michael Korda remembered it, the film they were talking about was "a spy story". It was a project his uncle had been toying with already "for nearly three years", a time span which would take us back to the very end of World War II and the establishment of a joint Allied authority in Vienna, which was divided into zones administered by the four powers - Russia, Britain, America and France - with a fifth international zone in the centre where all four co-operated, or not.
From other sources it seems that Korda's first thoughts were of Paul Tabori's book Epitaph for Europe as a possible film project and that he then zeroed in on the idea of a Viennese setting. Tabori, a fellow Hungarian, was invited to meet Korda as the war neared its conclusion, after Korda had read his book, which described the first year of a completely ruined city in Eastern Europe following the war. "I want to buy your book," Korda told him. "You kept me awake all night. It will make a great film." Quite soon after the war had finally reached its end Korda sent Tabori on a research tour of the Balkans. On his return Korda informed him that he had now severed all connections with his former partner MGM, which retained the rights to Tabori's book. Korda baulked at buying his former property back at MGM's high price and the project fell through. Later that year, however, Tabori was recalled to Korda's office for an immediate meeting. The Vienna project was still on his mind.
At the headquarters of London Films, at 146 Piccadilly, Tabori found Korda waiting for him, together with Karl Hartl, the Austrian director and producer who had been Korda's production manager and closest associate on his Austrian films of the 20s. Now, however, they had a very different kind of project in mind - not a costume romance or biblical epic like the early Viennese films, but a comedy set in contemporary Vienna whose "basic idea", Korda told Tabori, "is 'invisible frontiers'. I want you to do a treatment as quickly as possible." Drawing on his own memories of Vienna, where he had been early in 1946, Tabori set to work, delivered his manuscript, discussed it at length with Korda and then waited for something to happen. This draft was presumably the "spy story" which Korda eventually dropped when he decided to turn the Vienna project over to Graham Greene after the runaway success of The Fallen Idol, the film which Greene and Reed had made for Korda in 1947. In the end, the spy story in Greene's hands turned into quite another kind of story, one I would call a spiv story.
The spiv cycle of British films (see 'Riff-raff realism', S&SApril 1998) first came into view towards the end of the war. In essence, it represented a mutation in the traditional British crime film that took place in response to the changing pattern of crime itself, where state regulation of the economy, rationing and rising prices had led inevitably to the emergence of a black market. The crucial difference between the spiv - a flashy black-marketeer - and the classic gangster was the degree of sympathy the spiv attracted among audiences weary of wartime and post-war shortages: black-marketeers may have been outside the law, but they performed an obvious public service. They could even become heroes, fascinating precisely because of the strange way they combined working for the community with rakishness and demonic transports of evil. The line between spiv and spy was a surprisingly thin and permeable one - being a black-marketeer, like being a spy, involved living in a world marked by illegality, subterfuge and betrayal, being at all times a man on the run. It is worth remembering that, soon after the cat has rubbed up against black-marketeer Harry Lime in a dark doorway and his friend Holly Martins has intuited that somebody is there, hiding, the first words he addresses to Harry are: "What kind of spy do you think you are - satchelfoot? What are you tailing me for?"
Indeed, everything to do with The Third Man seems to take us back into the world of espionage. Greene himself worked as a professional spy during the war in a team headed by the legendary master spy, double agent and future defector Kim Philby; his family had a background in espionage and it provided a repeated theme for his stories. His uncle worked on secret business at the Admiralty and helped to establish the Naval Intelligence Department. His elder brother spied on the fascist side in the Spanish Civil War and then worked for the Japanese, though he also kept the British and the Americans informed about what he was doing. His younger sister worked for the Secret Intelligence Service MI6 and recruited Graham himself into its ranks during the war. One of his cousins was jailed as a collaborator with the Nazis at around the same time. Greene's father ran a boys' boarding school in which every pupil was kept under constant surveillance through a well-organised network of staff and fellow pupils and was also subjected to routine interrogations, mainly to make sure that all sexual activities had been totally repressed. It is hardly surprising that Graham too should have joined the ranks. Indeed, as Michael Shelden has noted, "It is impossible to make sense of Greene's life until one acknowledges the extent of his devotion to spying." Greene joined the SIS in 1941, working in the section responsible for counter-espionage. Posted first to Africa, he soon returned to London to work under Philby at Section V, as the counter-espionage division was known. Although he resigned in May 1944, it is clear he did not sever all his ties with the 'old firm', but continued to work informally up to the 80s, as Shelden has shown.
Shelden writes that, "often Greene's main contact was not even an officer of the service but another independent operator like himself. In the early post-war years this contact was primarily his future film producer, Alexander Korda." Korda was particularly close to Winston Churchill - whom he even hired as a screenwriter to help support him during his years in the political wilderness - along with his son Randolph and his confidant Brendan Bracken, who was alleged, maliciously, to be Churchill's illegitimate child. Bracken was also one of the guests at the Claridge's dinner party attended by Michael Korda where The Third Man was discussed. During the war Korda left England for America and was derided as a coward, but on his return in mid-war Churchill, now prime minister, immediately awarded him a knighthood, clearly for intelligence services rendered in the US. In America he had worked clandestinely with BSC (British Security Co-ordination) and had become close to 'Wild' Bill Donovan, head of the OSS, which later evolved into the CIA. In fact isolationist members of the US Senate specifically (and validly) attacked Korda Productions as a centre for British espionage.
The making of The Third Man also proves to have been inextricably bound up with the world of espionage. It has frequently been asserted, for instance, following Greene's own account of events, that Colonel Charles Beauclerk, who was serving as an intelligence officer in Vienna, gave Greene the information about the penicillin racket and the sewer police which he subsequently used in his script. However, Greene had another source. As Norman Sherry notes in his standard biography of Greene: "He was met at the airport by Elizabeth Montagu, daughter of Lord Montagu, who worked for Korda and had the job of looking after Greene and making sure that he saw all that he needed to. She introduced Greene to a friend of hers, the LondonTimes correspondent, now known as Peter Smollett (although his original name was Hans Peter Smolka), who was extremely knowledgeable about conditions and confusions involved in the four-power occupation." According to Sherry, Smolka "was better informed than the young intelligence officer [Beauclerk] about the dirty rackets then operating in Vienna." Smolka and Greene spent several nights together during Greene's reconnaissance trip and "once visited the Russian sector [Harry Lime's sector] so that Greene could call on an old, retired servant who had worked for his mother." According to Elizabeth Montagu, Sherry notes, Smolka also showed Greene some unpublished stories of his, one of which contained information about the watering down of penicillin, which features prominently in The Third Man .
Further research, however, reveals that Smolka had other qualities which must have intrigued Greene, as a connoisseur of espionage. Smolka had been a close friend of Kim Philby. Philby had become converted to communism during the time he was in Vienna, in early 1934. This was the moment when the armed socialist militia, the Schutzbund, was provoked into an ill-prepared attempt to overthrow the Austro-fascist regime of Chancellor Dollfuss. Heavy fighting broke out in Vienna and the regime used artillery against the working-class housing projects from which the socialists drew their political support. The fighting was quickly over, with hundreds of dead and wounded on both sides, perhaps over 1000 in the Schutzbund. The mayor of Vienna, a socialist, was arrested and replaced by a conservative. Many others fled the country or, if they remained, were tried, imprisoned and in many cases executed. Philby had gone to Vienna as a young leftist, not yet a party member, to work with the Austrian Committee for Relief from German Fascism, which turned out to be a communist organisation. There he was directed to stay with Litzi Friedman, a communist activist who later became his wife. Philby delivered packages from Vienna to Prague or Budapest, using a sprig of mimosa as a visual password. It was in Vienna that he made his decision to commit himself to the communist cause and acquired his first taste of clandestine political activity.
It was also where he met Hans Peter Smolka, through Litzi. Like Philby and his new wife, Smolka and his wife left Austria after the debacle of the uprising, but the two couples soon met again in London. Philby and Smolka (now Smollett) started a small press agency which they named the London Continental News Ltd to supply Central European news to journalists working in London. The project failed, but Philby stayed in close touch with Smolka (Soviet code-name ABO) and according to Shelden, "there are some students of Soviet espionage who believe that both men were working as spies for Moscow" - although in Smolka's case, it seems, he was providing information first to Philby and then to Guy Burgess without these links being cleared by Moscow Centre. Evidence in recently published KGB files shows that Smolka was at their service at least by 1939, when he had started work as a journalist for the Times. After the war broke out he became head of the Soviet Relations Division at the British Ministry of Information, a government department run by Brendan Bracken. During this period Philby, according to his own account, approached Smolka and "said to him, 'Listen, Hans, if in your present job you come across some information that in your opinion could help me in my work for England' - and I winked at him - 'come over to me and offer me two cigarettes, I'll take one, you'll keep the other, and that will be a signal that you want to tell me something important.'" Smolka agreed. The deal was done.
In his book on Korda Tabori suggests that it was actually Smolka (referred to in his public capacity as "the Times correspondent in Austria") who suggested the idea for The Third Man to Korda by providing him with "a graphic description of the once-proud Hapsburg capital, now divided between the four occupying powers, on the very edge of the Iron Curtain and (as in 1920, when Alex arrived there first) a happy hunting ground of profiteers, spies and black-marketeers." This would certainly explain why Greene was steered so promptly to Peter Smollett/Smolka on his arrival in the city. Smolka, according to Philby, could not be considered a communist, though he was a sympathiser - and he took a personal decision not to betray either Philby or Burgess or his friend Donald MacLean or the art historian Anthony Blunt, all of whom worked for British intelligence and simultaneously spied for the Soviet Union. When the Russian writer Genrikh Borovik gained access to the Philby files in the KGB archive following the collapse of the Soviet Union he also spoke to Philby at length about a project, suggested to him by Graham Greene, of producing a book which would juxtapose Philby's own recorded account of his career as a double agent with the archival material to be found in the KGB files. Philby, in Borovik's view, was pained by KGB suspicions that he was really a treble agent, working for British intelligence while pretending to be a double agent feeding secret material from London to Moscow. Smolka, in Philby's view as interpreted by Borovik, was that rare figure in the world of intelligence: a man from the world of espionage, with all to lose, who could nonetheless be trusted and who respected personal ties, even when difficulties emerged.
Holly Martins in The Third Man, it turns out, could not be trusted despite his close personal loyalties. He betrayed his oldest and dearest friend Harry Lime. Lime, it should be noted, was living and operating out of the Russian zone (black-marketeers frequently based themselves in the Russian zone, as Inge Lehne and Lonnie Johnson have pointed out, because, having acquired uniforms, they would become immune against arrest there since persons wearing uniforms could not be seized even if they were caught committing a crime). "To a certain extent", moreover, Lehne and Johnson explain, "the Allied clients in each of the occupational zones protected their black-marketeers in order to guarantee an uninterrupted supply of merchandise." In an economy where there were endless shortages and money was virtually worthless, the black-marketeers provided a necessary service (on the black market cigarettes were the currency with flint lighters worth six cigarettes). Penicillin, the new 'silver bullet', was also traded, as in the film.
Penicillin was also used for purposes of espionage, surprising though this may sound. According to James V. Milano, moving spirit of the American Military Intelligence Service in post-war Vienna, one of his operatives, a Major Chambers, discovered a Bulgarian doctor who had opened a clinic for venereal diseases in Wiener Neustadt in the Soviet zone. Chambers, rather like Josef Harbin in Greene's prose version of The Third Man, had access to penicillin from the American Military Hospital in Vienna and supplied quantities to the clinic, which was thus able to attract patients from the Russian military. In return, the Bulgarian doctor obtained information from his grateful patients, meeting weekly with Chambers to establish a wish-list, and even persuading a steady stream of Red Army officers to defect. This operation was actually in effect while The Third Man was in production in Vienna, finally closing down in 1949 when the Bulgarian doctor was secretly shipped out down the so-called rat line to South America.
Thus spies and spivs, the worlds of espionage and the black market, not only co-existed in post-war Vienna but even converged. We remember Lime's fingers desperately quivering through the grating which blocks his flight to freedom just as we remember the spiv Narcy in Alberto Cavalcanti's 1947 spiv-cycle film They Made Me a Fugitive (which I'm sure Greene must have seen, if only because he was screenwriter for Cavalcanti's 1942 Went the Day Well, a film about undercover German infiltrators) plunging to his death off the roof of the Valhalla, with its flashing electric sign, down into the grimy alley below, or the man on the run in Robert Hamer's 1947 spiv-cycle film It Always Rains On Sundays throwing himself on the track as a locomotive rumbles towards him through the dark, deserted marshalling yard. Our sympathy goes even to Narcy, most evil of all, if only for his stubborn refusal to show a single spark of goodness, even as his rotten life ebbs away in the rain. Similarly, we are charmed by Harry Lime, whereas Martins unsettles us. He is 'run' by Calloway, a British intelligence officer; he has acquired some tricks of tradecraft, such as how to rid himself of a shadow by slipping into a cinema; he betrays his oldest friend and comrade to the other side for a price, as Anna protests when she realises that her own freedom has been secretly bartered for Harry's. I can't help wondering whether Greene, who certainly knew how to keep a secret - his Soviet code-name was LORAN - consciously created Holly Martins in antithesis to Hans Smolka, the man who never betrayed his friend's trust, however many deaths lay on that friend's conscience.
The twentieth century saw Vienna collapse from being a centre to being a frontier - at first, after World War I, a frontier with the Balkans, and then, after World War II, a frontier with the Soviet bloc. The Third Man was conceived and made in a transitional period: the Balkans are still there - as they were in Graham Greene's earlier novel Stamboul Train, with its fateful departure from the station in Vienna for the instability and chaos of Yugoslavia, where the train is stopped and passengers removed - but the Soviet bloc was not yet quite in place. The frontier was still, as Korda suggested, an "invisible frontier", but it was becoming more visible every day as the rubble of war was cleared away and the geo-political lines began to harden. Greene - and in different ways Korda and Reed - were all fascinated by the metaphoric power of the sewers, the network of tunnels underground which provided a way of escaping the frontier, of crossing secretly, invisibly from one zone to another. The death of Harry Lime, like a rat in a trap, signalled a goodbye to all that. It was almost like the future shooting down of would-be refugees from East Germany - the grating through which his fingers stretch is like the wall which finally came to symbolise the impermeability of the 'Iron Curtain'.
Reed made one key decision early - there would be no Strauss, no waltzes in his film. That Vienna, the Vienna which could imagine itself at the centre of Europe, was gone for good. Reed's Vienna is a crooked city, a city shot with tilted angles, a city in which the cobbled streets are wet and glistening as if from melted snow, a city in which a few beams of light cut through deep darkness, in which the shadows are all exaggerated. For Reed, who saw himself as a director who respected the script, this Vienna was essentially Greene's Vienna. And for Greene Vienna was a no-man's land, a city on the edge in which the old values were in ruins, a city with no future. By the old values I mean not the values of Mozart or Strauss, but the values of the old political left, which Greene could now find neither in America nor Russia. It was Greene, we should remember, who published a review in 1937 of an Austrian film Tales from the Vienna Woods in which he wrote: "An Austrian film and you know what that means: it means Magda Schneider's deep-sunk eyes and porcine coquetry; courtyards where everyone in turn picks up a song as they mend cars, clean windows, wash clothes; a festival in a beer-garden with old Viennese costumes, balloons, slides, laughter, and driving home together in a fiacre; Magda Schneider's trim buttocks and battered girlishness; a musical tour of Vienna - no sign, of course, of the Karl Marx Hof, only palaces and big Baroque dictatorial buildings."
A few months earlier he had reviewed Pépé le Moko, the central film of French poetic realism which tells the story of a wanted man's failure to escape from the trap of being forced to live in a "shabby, alien quarter", followed inexorably to its "grim conclusion", a film in which "the theme of no freedom anywhere is not lost in a happy ending." Or as Kim Philby put it, reflecting on his own life: "Long ago, back in Vienna, when I was already working for Moscow, I began to prepare myself for the thought that the threat of failure is always present in intelligence work, and so, therefore, is the death sentence." It never came to Philby, as it came to Lime. But then Lime was an American. Had he been American, Philby told Borovik, there would have been "a more 'radical solution'. An 'accident', you know, a car crash, murder by an 'unknown terrorist', 'accidental poisoning', anything like that, including 'suicide', or a slow death that takes six months but requires only a grain of a special drug in a glass of whisky. By the way, that would have been the simplest way to avoid a widespread scandal. No person, no problem." No person, no problem. Lime too had wanted a quick death. He gave Holly a nod, almost a wink, a signal just before the finger tightened on the trigger. No freedom, no happy ending. Falling leaves. Theme music. End credits.