Hidden visionaries:
50 years of the 'other' Spanish cinema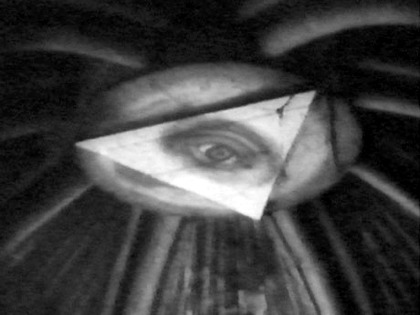 José Val del Omar's Galician Caress (Of Clay)
Mar Diestro-Dópido picks out three blazing highlights of a touring exposition of Spanish experimental discoveries
For a good many years, experimental cinema in Spain was considered, if not non-existent, then at best to consist solely of the films made by Dalí and Buñuel (and paid for with French money).
'From Ecstasy to Rapture', a touring programme of films showing at Tate Modern from 15–17 April, should lay such misconceptions to rest. Programmed by Antoni Pinent and coordinated by Gloria Vilches, the season comprises selections from more than 1,000 experimental films of varying lengths harvested from Spain's cinematheques, film festivals and museums, most of which have rarely screened in public. It spans the late 1950s to the present, and includes work by previously unknown amateurs, younger directors, well-known cult names like José Luis Guerín and Iván Zulueta, and recently rediscovered visionaries such as José Antonio Sistiaga and José Val del Omar. It's a glittering selection that reveals the rich vitality and idiosyncrasy of Spanish cinema of the last 50 years.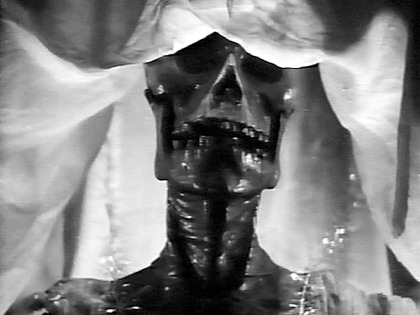 José Val del Omar was both a film theorist and an inventor. Born in Granada, a contemporary of Dalí, Buñuel and Lorca, he belonged to a generation for whom film was unquestionably art. His early immersions in Surrealism gave him a particular way of understanding cinema; he considered himself a 'believer' in film, the boundaries of which he would continually push against by way of his many inventions around image and sound. One such was the technique 'TáctilVision', which in his own words "creates a temporal cubist perspective" and a "super-natural" vision, the latter brought about by pulsating light which "is transformed into a palpable heart-beat". This technique was applied mainly to his most acclaimed film, Fuego en Castilla (Fire in Castile, 1961), which won him a special prize at Cannes for its technical contributions to film.
Fuego en Castilla is the second of Val del Omar's trilogy 'Tríptico elemental de España' ('Elemental Triptych of Spain'), a tactile visual poem begun in 1952 that brilliantly juxtaposes the modern and the folkloric, exploring myth, mysticism, religious imagery, fear, death, fire, rites and delirium. Each short film is set in a different region of Spain and focuses on an emblematic, essential element: water, fire and mud, for Granada, Castile and Galicia respectively. Fuego en Castilla starts with a line written by Lorca about the rituals of Holy Week: "In Spain, every spring Death comes and lifts the curtains."
After the explosion of light and sound in Granada in the first part, the film plays with chiaroscuro, shadow and light, creating movement using the pulsating light technique to bring to life the religious sculptures of Holy Week kept in the museum in Valladolid. Effectively, the symbiosis of human and sculpture will occur in Galicia, where water (Granada) and fire (Castile) will turn the human into a clay figure – a purification by fire.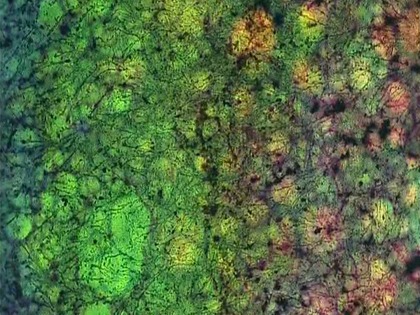 ere erera baleibu izik subua aruaren…
Another welcome inclusion in the programme is ere erera baleibu izik subua aruaren… (1968-70), created by Basque artist José Antonio Sistiaga. (The title is a series of nonsense words invented by a friend.) Although the 'direct' camera-less method that Sistiaga uses in this remarkable film dates back to 1900 and was deployed by contemporaries such as Len Lye, Stan Brakhage (Sistiaga is often compared to the latter, although he had no access to Brakhage's work in the isolated Spain of the dictatorship) and Norman McLaren (whom Sistiaga does cite as an influence), ere erera baleibu izik subua aruaren… is the only full-length film entirely created using this technique.
35mm celluloid filmstrips were Sistiaga's canvas, and he hand-applied his homemade paints onto 108,000 frames of them, every one distinct from the rest. The overall effect is of a burst of light, colours and shapes that become almost three-dimensional in their presence and movement (some of his later works were intended for screens such as the IMAX), yielding, in the words of Jonathan Rosenbaum, "the kind of spectacle one associates with musicals and [science fiction] epics."
"Life is just an explosion in slow motion, and I expect to squeeze it until I turn it into ecstasy; the eternal instant" – Val del Omar's arresting words also capture the essence of Iván Zulueta's cult feature film Arrebato (Rapture), the centrepiece of this selection. Arrebato tells the story of José (Eusebio Poncela), a filmmaker who experiences two life-changing events: firstly his ex, Ana (Cecilia Roth), turns up in his life again, hooked on heroin; secondly one of the many tapes of experimental films sent him by an amateur filmmaker will launch them both into a spiral of addiction and obsession.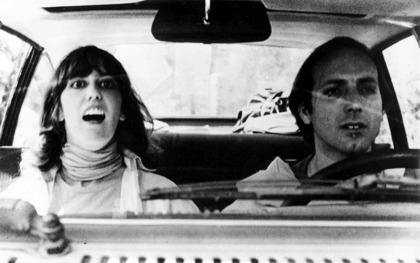 As in Carroll's Alice, we are invited to cross to the other side of the mirror as the protagonists are seduced, then possessed and consumed by a Super 8 camera. Provocative and defiantly honest, as well as at times kitsch and silly, this utterly hypnotic film is a disturbingly accurate portrait of addiction, not just to drugs but to cinema itself, in what turns out to be a journey into the most absolute solitude.
For some critics Zulueta leads directly to Almodóvar; the two were close friends, and Zulueta made a series of unforgettable, instantly recognisable posters for numerous films of Almodóvar's, as well as for Buñuel's Viridiana and many more. But Arrebato worked like a curse, bringing real-life tragedy in its wake. Drugs in general and heroin in particular took their toll on several of the film's performers, and some, like Zulueta, were never able to overcome their addiction. Like his protagonist, unable to accept reality on this side of the mirror, Zulueta became addicted to heroin and effectively disappeared into long-term voluntary retirement at his family home in San Sebastián.
To quote one of the protagonists of Arrebato, the films in 'From Ecstasy to Rapture' will leave you "In ecstasy. Left hanging in the middle of a pause. Ruptured."
'From Ecstasy to Rapture' runs 15–17 April at Tate Modern. 'Arrebato' concludes the programme on 17 April
See also
Iván: Pedro Almodóvar's 2009 eulogy to his deceased friend Iván Zulueta (translated April 2011)
Iván Zulueta, 1943-2009: obituary by Belén Vidal (March 2010)
Alice through the lens: Mark Sinker surveys the key films and illustrations that brought Alice in Wonderland to life (April 2010)
Curiouser and curiouser: Nick Roddick on the mind-blowing cinema of Wojciech Has (September 2009)
The Innovators 1960-1970: The big wig: Mike O'Pray on the films of Andy Warhol (October 1999)