Lech Majewski: still life with movement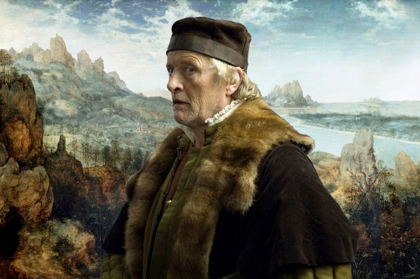 Polish visual artist and filmmaker Lech Majewski talks to Basia Lewandowska Cummings about Bruegel Suite, part of his Moving Walls installation, why he abandoned art school for film school – and why art cannot save us
---
Web exclusive, 27 April 2012
---
In the cavernous installation space at the back of London's The Wapping Project, Lech Majewski's images seem to be hanging on the rough brick walls. His projections move subtly; at a glance they might be stills. Here the installation plays on the composition of a traditional gallery: four large-screen projections sit side by side, evoking four majestic paintings. Yet their movement alters the painterly aesthetic, and the face of Rutger Hauer dressed as Peter Bruegel the Elder, standing regally in front of a dense, digital landscape, unavoidably transports the viewer into a cinematic context.
Merging classic Flemish painting and the most advanced digital technology, Majewski's Moving Walls installation fuses painting and cinema, exploring their synthesis – and dissonance.
You're showing Bruegel Suite at The Wapping Project onto raw brick walls. It seems at odds with the painterly nature of the film.
I love it here. You could say the walls reflect 'the hand of time' made visible; it keeps its own diary. I like that very much. When you look at old unrenovated paintings you can still see this incredible additional texture made by time passing. Nowadays everything is being renovated, so everything looks like plastic. The images projected on The Wapping Project walls retain a sense of time.
When I saw the walls here, I thought, "This is it". The images I'm projecting are from Bruegel Suite, which I made alongside my film The Mill & the Cross, a film that took four years to 'build up'. I use that term because each shot required an enormous amount of construction – there were at least 40 layers in any of the images, and up to 147 in some places. Every layer was shot separately against a green screen, then landscape filters were added, then fog filters, then different angles were included. We had to reflect the fact that Bruegel's paintings were composed of seven contradictory angles in a single landscape, so we were trying to replicate a very magical trick.
And what, other than a visual density, is contained within these layers? They seem to offer multiple perspectives, both literally and in terms of narrative.
Bruegel was reflecting a situation that was absolutely contemporary to his time: issues around Christianity and the death of Christ, particularly in The Procession to Calvary [the painting into which Majewski's film enters]. But then, I'm an artist in the 21st century, doing the same thing again – making it contemporary. So in a sense these layers reflect a series of endless mirrors, or bridges, between Bruegel and myself. It's like Bruegel cast a 1,500 year bridge, and I am casting my own 500 year-old bridge – I'm sure there will be many other artists after me doing the same.
For me, these are pillars from which we can build history; it's real art. Many events that are happening now can't go anywhere because the bridges immediately collapse.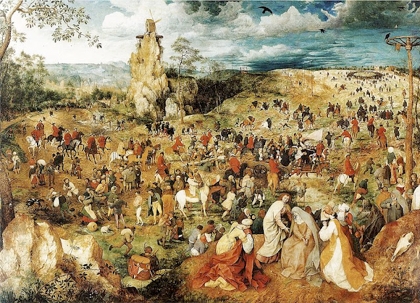 Bruegel's The Procession to Calvary
Which filmmakers would you call 'pillars' of cinema, upon whose bridges you have built upon?
There are so many. Tarkovsky, Fellini… they taught me so much. And Antonioni. In fact, he really introduced me to cinema.
One day, when I was much younger, I travelled to Venice as my uncle was a teacher in the Conservatorio there. Venice really opened my eyes to the beauty that human beings can create, as opposed to the koshmar of socialism I was living in, in Poland – a life of forced happiness. In Venice, I was standing before Giorgione's La Tempesta, and I made the connection to Antonioni's Blow Up, and the scene in the park.
To return to the bridges analogy, I saw another 500-year-old bridge. I thought, if Giorgione was alive today, he'd be making films like Antonioni. And that was it. In that instant I decided to leave the academy of fine arts where I was studying, and go to film school in Lodz. And from then on, I tried to paint in my films.
And do you have a sense that if Bruegel were alive he'd be making films like you?
But Bruegel was making films. I mean, when you are standing in front of Bruegel in Vienna, looking at the paintings, you are in a Fellini film. I mean, all the facciatas, and all those crazy, corpulent guys.
It's true that many of his paintings are very cinematic. Procession to Calvary is like a slow pan.
He is a filmmaker. He's mixing two styles: firstly, an extremely careful composition, which is constructed by an absolutely surreal landscape, mixed with very real costumes and props. But the landscape doesn't exist. I mean, Flanders is as flat as this table, and yet Bruegel's Flanders is full of protruding rocks and mountains, hills. The various perspectives don't really make sense, only in a pictorial way.
Through this technique, he's capturing a magnificent scene; the people seem to be caught off-guard, red-handed. They are captured in an instant. With other paintings, figures are looking at you and they are intensely aware of being painted, posing; they are draped in front of you. When you see Bruegel characters, they don't give a damn whether you are looking at them or not. That is a beautiful thing, psychologically, because it draws you a lot closer, and you are instantly intimate with them, rather than being brought into the draped officialdom of posed paintings.
There is a certain sense of time and movement in Bruegel, and in turn in your film. It's a very slow-moving film – things happen in real time. Does this sense of temporality come from its painterly origins?
Well, my initial idea was to make a feature film of motionless characters… I like stillness, I think stillness happens at the most important moments in life. When you are concentrating, you slow down. When you are horrified, you stop. When you are in love, you slow down and then stop, and you look like an idiot. The crowd passes you by, pushing and punching, but you don't notice anything. It's like Gaston Bachelard says: "vertical time". I like it when time builds upon itself, time that doesn't stretch like chewing-gum. But, in the end I decided to let the characters move. But even so, at the heart of it, when the central part of the film occurs, everything comes to a standstill.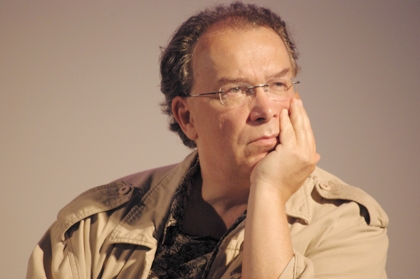 What do you think the effect of vertical time is upon the viewer?
Well, it depends on the viewer. If you want time chewing-gum, you'll be bored. If you are coming to see something different, then perhaps you will be satisfied. I have been showing this film all over the world, 47 countries have bought the film for distribution, every country in Europe apart from one. Can you guess which?
Poland?
No, we're sitting in it. England. It's strange, it's spoken in English, it's got Charlotte Rampling and Michael Yorke. Even Rutger Hauer! Even Andorra bought it.
I'm interested in your relationship to Poland. There is a tendency for artists from Poland to be unable to escape certain interpretations of their work, particularly if there is any violence in it. It's often interpreted in relation to Poland's history. How do you negotiate that? Do you see that as a part of the work?
I don't think Poland is particularly different from other countries. So many countries have suffered. I cannot say that this work is about a history of Polish suffering, because for me the problem lies elsewhere.
The villain of my piece is the 21st century, which has brought with it the absolute devastation of the human figure. It happened in art first, and then one could argue that the armies came afterward and finished the job that the visual world had already started.
Now, we are accustomed to being fooled, we are fed very problematic ideas. I feel very strongly, after spending four years with Bruegel and being a humble observer of his might, that art offers no saviour for us now, no arcadia, no rescue.
Do you see your film as an antidote to this foolishness?
My film is a function of my unease with modern art. Mind you, I was also a perpetrator, and after all, my brainchild was the film Basquiat (1996) [Majewski wrote the screenplay], so I'm not throwing the baby out with the bathwater. There are contemporary artists who are important, but I'm talking about the vast majority of works in the art market right now, a market that is full of chaotic nonsense. So, instead of the brutality of the past, it's a kind of white-gloved brutality now.
And finally, casting Rutger Hauer? How do you get past Blade Runner?
Well, now he's unavoidably Bruegel. He left the blade and hit the canvas.
'Moving Walls' runs at The Wapping Project until 13 May. 'The Mill & the Cross' is reviewed on page 88 of the May 2012 issue of Sight & Sound
See also
Image lib: Jonathan Conlin on John Berger's Ways of Seeing (April 2012)
The Garden of Earthly Delights reviewed by Tim Lucas (October 2008)
Girl with a Pearl Earring reviewed by David Jays (February 2004)
Chihwaseon Drunk on Women and Poetry reviewed by Geoffrey Macnab (June 2003)
This Filthy Earth reviewed by Peter Matthews (December 2001)
Pollock reviewed by Michael Bracewell (June 2002)