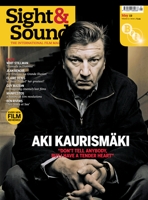 Our new May issue ropes up a motley collection of fugitives from the bustle and fury of modern life, and indeed filmmaking.
In an interview as drolly delightful as his movies, expat Finn (and S&S cover star) Aki Kaurismäki tells Michael Brooke why his late-life resignation has produced one of his most upbeat films ever in Le Havre, a deadpan melodrama of illegal immigration that's his first film in five years.
Itinerant East Coast American satirist Whit Stillman attempts to account for the 14 years it's taken him to make his fourth film, the sweetly goofy college comedy Damsels in Distress, while Andréa Picard explores the wonders of Two Years at Sea, a mercurial portrait of an analogue hermit in the wilds of Scotland that's the first feature from the (admittedly prolific) break-for-the-hills London artist Ben Rivers. On a different note, Kim Newman heads for the dark side of the moon with a reich's worth of exiled Nazis in Timo Vuorensola's Iron Sky.
Elsewhere Nick James charts a brief history of film manifestos, from Futurism to Dogme via the now half century-old Oberhausen Manifesto, Ginette Vincendeau and Hannah McGill consider two French candidates for honour in our forthcoming Greatest Films of All Time poll – La Grande Illusion and Beau Travail – and Jonathan Romney uncovers Guy Maddin's adventures with ectoplasm in the basement of the Pompidou Centre.
Also in this issue: Geoffrey Macnab reports on the advent of the Sundance London Film and Music Festival, Dominik Moll talks to Roger Clarke about his adaptation of 18th-century Gothic novel The Monk, Mark Cousins reacts to the audience reception of his 15-hour documentary The Story of Film, Vlastimir Sudar remembers Yugoslav director Aleksandar Petrovic's 1977 Group Portrait with Lady, Charles Gant counts the grey pounds earned by The Best Exotic Marigold Hotel, and Patrick Russell samples the best of corporate filmmaking at the International Visual Communications Association awards.
Our reviews section this month covers 40 new releases – including Mia Hansen-Løve's Goodbye First Love, our Film of the Month – and 20 new DVD releases, including features on Mizoguchi Kenji, four classics of Polish cinema and Lech Majewski's new The Mill & The Cross. And our Books section runs the gamut from Barbara Stanwyck and Alexander Sokurov to Joseph McBride's screenwriting manual and Hollywood pump attendant Scotty Bowers's kiss-and-tell memoirs. Come fill up!
---
Subscribe today, save £9 on the cover price, get a free DVD and receive new issues hot off the press and direct to your door!
See also
Eccentricities of American college life: Gabe Klinger reports on the Venice premiere of Whit Stillman's Damsels in Distress (September 2011)
Five (not) by Ben Rivers: the former Brighton Cinematheque programmer shares his London Film Festival favourites (October 2011)
Under the influence: Dominik Moll talks Lemming with James Bell (May 2006)
Artist of the floating world: Alexander Jacoby on Mizoguchi Kenji (April 2008)
Faust and furious: Ian Christie on Alexander Sokurov's Faust (December 2011)