Pollock
USA 2000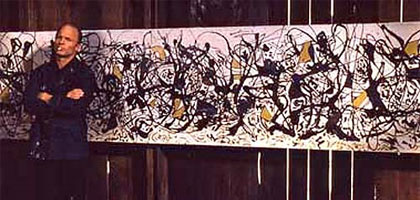 Reviewed by Michael Bracewell
Synopsis
Our synopses give away the plot in full, including surprise twists.
Greenwich Village, 1941. Jackson Pollock (Ed Harris) is a struggling painter sharing an apartment with his brother and wife. Fellow artist Lee Krasner (Marcia Gay Harden) introduces herself to Pollock. The two start dating.
When Pollock's brother gets a job in Connecticut (to avoid the draft), Pollock and Lee move in together. Reuben Kadish, (Matthew Sussman) a drinking friend of Pollock's, introduces him to art dealer Howard Putzel (Bud Cort). Putzel shows Pollock's paintings to wealthy art patron Peggy Guggenheim (Amy Madigan). In 1943 Pollock gets a show at Peggy's Art of the Century Gallery, where he meets infiuential art critic Clement Greenberg (Jeffrey Tambor). He is also commissioned to paint a mural for Guggenheim's New York home. At a party at Peggy's, Pollock's drinking gets out of hand and he urinates into the fireplace (later that night, he has fumbled sex with Peggy). Soon after, Pollock goes missing on a drinking binge, at the end of which he returns to Lee.
Now married, Pollock and Lee move to a small town in Long Island in 1945. Lee puts her artistic ambitions on hold to concentrate on looking after Pollock, who spends most of his time painting. She firmly turns down Pollock's suggestion they try for a child. In 1947 Pollock works on a new technique (so-called action painting) on a series of large-scale canvases. The paintings are a success: Greenberg champions the work and Life magazine do a feature on the artist, turning him into a media star. He also gives up drinking. Defiated by having to recreate his spontaneous methods for a documentary in 1950, Pollock starts drinking again.
Five years later. Pollock's relationship with Lee is strained because of his drinking. Having found out he has a mistress, Ruth (Jennifer Connelly), Lee goes to Venice for a break. Ruth arrives to stay with Pollock, bringing her friend Edith (Sally Murphy). Driving home from a party, a drunken Pollock crashes his car, killing himself and Edith. Ruth survives.
Review
Writing in Art News in 1964, the critic Thomas Hess described Jackson Pollock as "Rodeo Rimbaud". The tag was a good one, like critic Clement Greenberg's ambiguous description of Pollock's early abstraction as "apocalyptic wallpaper". The accent was on rugged masculinity and elemental forces, and in his own time Jackson Pollock was more enshrined in myth than almost any other artist - with the possible, and in Pollock's opinion debatable, exception of Picasso. Pollock, it would seem, was a walking minefield of brilliance and neuroses, and these are the qualities which Ed Harris' visceral and perceptive life of the artist sets out to examine.
The lives of great artists, in fact, tend to make irresistible cinema because of their very affinities with melodrama and myth - most of them possessing "the whole kit", as Tom Wolfe might say, of a classical five-act tragedy. When the form goes wrong - Julian Schnabel's Basquiat, for instance, seemed like one long advert for an isotonic cola - it goes horribly wrong, but in recent years both Derek Jarman's sumptuous Caravaggio and John Maybury's Francis Bacon portrait Love Is the Devil have been involving and to some extent informative. Ultimately, they maintain our fascination with genius.

A defining moment in the genre, and one which would not seem out of place in Pollock, could perhaps be found in Kirk Douglas' portrayal of Van Gogh in Vincente Minnelli's somewhat overheated 1956 biopic Lust for Life: as the tortured artist struggles to paint in a scorching cornfield, demonic crows sweep down on him, driving him to literally rage against his own abilities to capture nature on canvas. The image is both moving and slightly comic; but it also seems to summarise, like some kind of allegorical mise en scène, that all-too human awkwardness - physical and spiritual clumsiness, even - which so often attends the near-cosmic struggle between a great artist, their vision and their work.
Such bruising physicality, set against an almost unbearably acute refinement of sensibility - the Rodeo Rimbaud, in fact - is one of the principal tensions that make Harris' film so compelling and eerily real. There are times within the film - Pollock's drunken attempt to cycle carrying a crate of beer on the handlebars, for instance - which have all the disturbing intimacy of a documentary. As a consequence of this acuity, Pollock raises some enduring questions about the mythologies, often male in origin, of creativity or genius.
For many critics, it was as much the mythology which grew up around Pollock in his own lifetime - the pioneer woodsman of modern art, all furrowed brow and cigarette smoke - as his actual painting which was credited with displacing the progress of modernism from Europe to America. In Harris' film, therefore, as Pollock discovers his signature style of 'dripping' paint (the myth's dynamo, so to speak), there is a satisfying sense of epiphany which just manages to skirt the safe side of cheesy by remaining relatively understated. As the art historian Brian O'Doherty has written of that moment, in relation to the mythology of Pollock: "The drip, of course, in the canon of Pollock's myth, represents cutting the Gordian knot of his difficulties." In Pollock the movie, the drip can also be seen as the beginnings of a whole new set of problems for Pollock as a person riddled with self-doubt.
As Harris both stars and directs, playing Pollock as a man wide open to all the human frailties of mood and temper, part shaman, part ego-maniacal monster, one is struck by his uncanny physical resemblance to his subject. The athletic low brow, broad mouth and square jaw, which made the younger Harris so persuasive as astronaut John Glenn in Philip Kaufman's The Right Stuff (1983), have now become more weathered in their intimation of muscular heroism. The eyes seem darker too, as we first encounter Harris as Pollock in a remarkable flash-forward - a scene which seems slowed down and submarine, as though destiny itself were stilling the moment - to a private view of his paintings at the zenith of his fashionability in the early 1950s. All that was honourable and upright in Harris' portrayal of Glenn as a great American hero can be seen as a troubled, skewed version of itself in his acting of Pollock as a great American anti-hero. The champion is seen as weighed down by his very strength - simian, clumsy, disturbed.
Pollock's compensatory drunkenness for the condition in which his abilities as an artist leave him as a human being is both joyless and boorish - alcohol is almost a character in the film, the fuel and poison of the myth. The Cedar Tavern machismo (of which Andy Warhol would write: "I mean, how corny") leads only to a kind of emotional castration and sexual misery. The latter point is well made in a scene where Pollock, riding high and roaring drunk, attempts a clumsy fuck with his patron Peggy Guggenheim. Bent double with premature ejaculation and self-loathing, Pollock stumbles from the room as Guggenheim, who has predicted disaster from his first drunken lunge, looks on with a mixture of pity, embarrassment and exasperation. Guggenheim herself is a towering inferno of studied hauteur, as though Ethel Scull had tutored with Edith Sitwell.
Alcohol and women become the factors in Pollock's life - his milk and his mother - the need for which entwines to coil a mainspring of domestic tension. Marcia Gay Harden's portrayal of his wife, the artist Lee Krasner, is nothing less than an essay in sexual politics as they are lived within the twin arenas of art and marriage. And if Krasner is seen at times to be little more than the handmaiden to Pollock's genius, then that role is more than questioned by the film's sympathy to both partners. As Anne Wagner has written in Krasner's Presence, Pollock's Absence: "The point is not to dispute the relevance of particular biographical circumstances, but rather how to recognize how and when any one account hardens those circumstances into stereotype."
In Pollock the account is primarily one of addiction: how do Lee and Jackson survive within their addictions, to substances, to other people, and most of all to each other. Krasner, for example, is crystal clear that she wants to marry Pollock in belief of his genius, but equally clear that she does not consider either of them capable of being parents. And as Pollock lashes out against the nearest breakable object when she tells him this, so she stops him dead in his tracks with a burst of chilling conviction: "I refuse to bring another human life into - this." Withering her husband's violence with a look, she forces him to realise that his own actions - his infantilist mess - prove her point.
As Pollock once said of himself, "I am Nature", so Harris' film describes a confrontation between genius and human frailty, acting out the stations of art's particular cross in a plain cold world of booze and envy. As such it tracks a mythology of creativity which runs from Caravaggio to Patti Smith, and is running still, unended.
Credits
Director

Ed Harris

Producers

Fred Berner
Ed Harris
Jon Kilik
James Francis Trezza

Screenplay

Barbara Turner
Susan J. Emshwiller

Based on the book Jackson Pollock: an American Saga by

Steven Naifeh
Gregory White Smith

Director of Photography

Lisa Rinzler

Editor

Kathryn Himoff

Production Designer

Mark Friedberg

Music

Jeff Beal