More on Jafar Panahi's This is Not a Film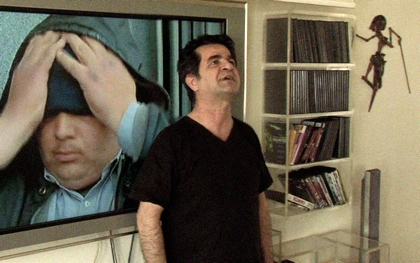 Gabe Klinger, 20 May
The disingenuously titled This is Not a Film, Jafar Panahi's surprise entry to the festival (co-directed with Mojtaba Mirtahmasb), is by its very nature one of the most vital films in Cannes. Simply made but far from simple, it's a radical cri de coeur from a filmmaker whose itch to express himself remains intact despite efforts by Iranian authorities to silence him. As Panahi makes unambiguous in the film through candid mobile-phone conversations, he will likely go to jail. This devastating reality does not seem to interfere with his capacity to reflect lucidly on his filmmaking process in relation to Iranian censorship, and to speak playfully and generously with the (few) people around him (his wife and daughter are curiously absent from the film, though they were in attendance at the official screening here in Cannes).
The film reaches an unexpected crescendo in the final ten minutes or so, as Panahi follows his doorman on rubbish-collection routine. Unexpectedly cathartic, this sequence is a powerful testament to Panahi's filmmaking dexterity, his capacity to find poetic substance in the most ordinary of situations. This is Not a Film is built from nothing, and yet every moment has a powerful urgency to it.
The way the film came to be in the festival is still unclear. At the screening, Thierry Fremaux mentioned that This is Not a Film was smuggled out of Iran using "high technology."
The comment turns out to be facetious. Afterwards I ran into a festival staffer who said that, in fact, the digital file containing the film was put in a pen drive that made it out of Iran's borders in a remarkably – almost unbelievably – simple vessel: a cake.
---
Once Upon a Time in Anatolia »
See also
The green badge of courage: Gabe Klinger talks to filmmaker Rafi Pitts about the imprisonment of Jafar Panahi and Mohammad Rasoulof and his open letter to Iran's President Ahmadinejad Badlands (March 2011)
Offside reviewed by Julian Graffy (June 2006)
Crimson Gold reviewed by Julian Graffy (November 2003)
The Circle reviewed by Julian Graffy (October 2001)