Round the slow campfire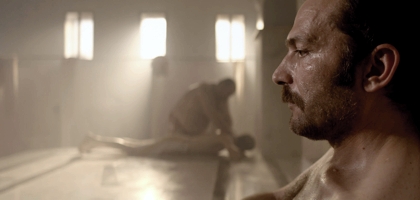 Nick James, 21 May
The last Friday evening competition slot in Cannes is a difficult one for journalists, nearly all of whom are in a state of utter exhaustion. But it's thought to be a canny slot from which to influence the jury, who (presumably) are much better rested and in a state of excitement and anticipation about the closing weekend.
Which is both good and bad news for Nuri Bilge Ceylan's super-subtle, ultra-slow-burn of a crime film Once Upon a Time in Anatolia (Bir Zamanlar Anadolu'da, Turkey/Bosnia-Herzegovina). This somewhat reticent tale requires one's concentrative powers to be at their sharpest as we witness a three-vehicle police team being led through the night by the perpetrators of a murder to locate the corpse they buried somewhere out in the anonymous and hard-to-distinguish rural hills.
A change in style for Ceylan in its seeming reluctance to bait and hook its audience too soon, this is a rumination on investigative storytelling told as if round a campfire. The drama is relayed from character to character – explosive veteran cop to terrified killer, troubled investigator and haunted doctor.
Ceylan saves and delivers his jewel-like surprises with the precision of a Chekov. But whether audiences will stay with this extraordinary tour de force long enough or whether Robert De Niro's jury has the patience to soak in its exquisite details remains to be seen.
---
See also
In search of lost roots: Frances Morgan on themes of memory and ties to family and location at the London Turkish Film Festival (November 2010)
Sight & Sound's films of the 2000s including Nuri Bilge Ceylan's Uzak (Distant) (February 2010)
Three Monkeys reviewed by Jonathan Romney (March 2009)