Wow and what next?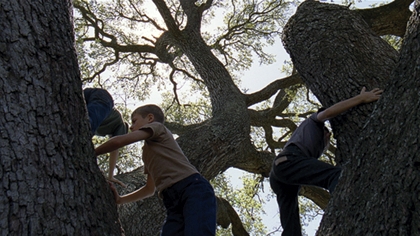 Nick James, 22 May
As I write this, it's early morning on Cannes prize day. For me the rapture has already happened – it was being at this festival in a glorious year. Now, as I'm back at home in London falling asleep, waking and falling asleep again, the one omnipresent thought I have is that it will be a huge injustice today if Terrence Malick's The Tree of Life (pictured) doesn't win the Palme d'Or. I say this not because I think it was the 'best film' – this hymn-like celebration of creation and destruction seems almost allergic to drama as you watch it – but because it was so overwhelmingly the event of the festival.
This remains true despite all of Lars von Trier's sad efforts to make it not so. One can see von Trier as the rogue planet Melancholia and Malick as the spinning earth but collision was avoided because von Trier proved to be the fly-by rather than the end of days he'd like to be. I've written before in the magazine that the 'best film' accolade is no longer the point at Cannes – the 'wow' factor is the goal now, and Malick's film wowed more than any other.
That said, there is a worry for cinephiles coming off the back of this festival – the lack of a next set of authoritative auteurs. For this really has been the Cannes of the usual suspects. Nanni Moretti was the only regular to turn in a weak film in Habemus Papam and even that had a wonderful last 20 minutes.
Of the newer talents only Michel Hazanavicius, director of The Artist, is remotely in the same league. There is so much to be said for experience in this field. The absolute verve and confidence with which the Dardenne brothers, Aki Kaurismäki, Pedro Almodóvar, Nuri Bilge Ceylan, Terrence Malick, von Trier and Paolo Sorrentino make films has been hard won, but they need pressure from putative replacements.
I was most impressed by American indie films from Sean Durkin (Martha Mary May Marlene – in Un Certain Regard) and Jeff Nichols (Take Shelter – in the Critics week), Australian Justin Kurzel's Snowtown was truly powerful and Na Hong Jin's phenomenal Korean chase thriller The Yellow Sea (aka The Murderer – in Un Certain Regard). But these films lack the trademark distinctiveness of the veterans. It will come only if such new talents get plenty of opportunities to hone their ideas and craft.
My winner: The Tree of Life (Malick)
Likely winner: The Artist (Hazanavicius) or Le Havre (Kaurismäki) or (outside chance) The Skin That I Live In (Almodóvar)
'Best film': probably Ceylan's Once Upon a Time in Anatolia, but I'd like to see it again before making up my mind.
---