Nuns on the verge of a nervous breakdown:
Cristian Mungiu's Beyond the Hills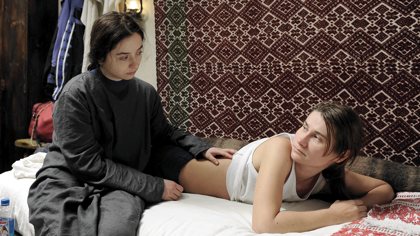 Geoff Andrew on the Palme d'Or alumnus's return to the Competition
---
Web exclusive, 20 May 2012
---
Film of the day
Since Cristian Mungiu's 4 Months, 3 Weeks and 2 Days was only his second feature, having been preceded by the promising but unremarkable Occident, it was hard to tell until now whether his Palme d'Or-winner might have been a flash in the pan. Happily, judging by his third feature, it seems it wasn't. Though Beyond the Hills lacks the taut dramatic suspense that made its predecessor so riveting, it nevertheless stands as the most consistently satisfying film to have screened in Competition so far.
Inspired by a true story and based on a couple of 'non-fiction novels' dealing with the incident and its aftermath, Beyond the Hills chronicles the chain of events that occur when Voichita, now a young nun, receives a visit from Alina, who had been her closest friend in the orphanage they grew up in. Alina, returning from a lonely sojourn in Germany and emphatically not a believer, wants her friend (and, perhaps, former lover?) to give up the monastery and her devotion to God. But Voichita, like all her 'sisters', is happy to obey the instructions of the Orthodox (in all senses of the word) priest who tends to the spiritual well-being of the place. And that means putting her duty to God and the Church above all other considerations, including that of human love – and, perhaps, genuine compassion.
It's Alina's dependence on Voichita, and the nuns' and priest's response to her demands, that drive the eventful, pacy, faintly over-extended narrative of Mungiu's quietly assured film. As disagreement and negotiation turn to conflict and, finally, an attempt at exorcism, there are perhaps a few too many repetitive instances of the 'Help! Come see what she's doing now!' variety, but at the same time Mungiu exhibits an admirable patience and fair-mindedness in teasing out the situation's ethical complexities. For all the priest's talk of sinfulness, no one here is a heroine or a villain; indeed, Mungiu asks (in the press notes and, implicitly, in the film) whether one of the most dangerous manifestations of 'Evil' might not be the sin of indifference, and the film pleasingly reflects that non-judgmental refinement of thought.
While there's an almost tragic inexorability to the events depicted, the film frequently surprises by providing small but telling details and ambiguities. In short, it has both substance and subtlety.
---
« 'No' for a lighter, nicer Chile
See also
Hadewijch reviewed by Jonathan Romney (March 2012)
The Portuguese Nun reviewed by Peter Matthews (February 2011)
Eastern promises: James Bell finds the Romanian New Wave still rolling on at both the Transilvania Film Festival and the Romanian Film Festival in London (July 2010)
Slow lift-off: Geoff Andrew sees Cristi Puiu's Aurora at Cannes (May 2010)
Where there's pomp: Cristian Mungiu talks to Nick Bradshaw about Tales from the Golden Age (November 2009)
Eastern promise: Nick Roddick on the inspirations behind the Romanian New Wave (October 2007)
4 Months, 3 Weeks and 2 Days reviewed by Ben Walters (January 2008)