Sex on tap:
Ulrich Seidl's Paradise: Love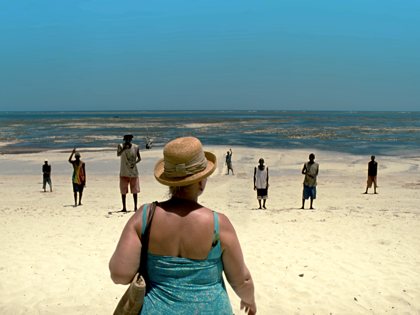 The Austrian director's sex-tourism drama could be his richest film yet, says Pamela Jahn
---
Web exclusive, 20 May 2012
---
Film of the day
If a number of the Competition films so far seem to have divided critics down the middle – Matteo Garrone's Gomorrah follow-up Reality and Jacques Audiard's Rust and Bone come to mind – then another noteworthy Competition film, coming from ferocious Austrian provocateur Ulrich Seidl (Dog Days), was probably always destined to join them, no matter its low-key premiere on Friday afternoon. Yet if Seidl's previous feature Import Export (2007) was a rigid, often almost unbearably brutal look at the exploitation of human labour on both sides of what used to be called the Iron Curtain, his new Paradise: Love (the first part of a 'Paradise' triptych spanning Faith and Hope) finds him moving into emotionally warmer territory.
A group of chubby, sexually undernourished middle-aged women have found their utopia in a luxury Kenyan hotel complex where they hook up with local beach boys eager to accommodate them for money. First-time visitor and single mother Teresa, who has parked her teenage daughter with her sister for the duration of her trip, initially feels uneasy about the prospect of finding sexual fulfilment with an underage boy, however – until she can no longer resist.
Boasting a pitch-perfect performance by Margarethe Tiesel as Teresa, Seidl's film is full of mildly absurdist dialogue, contrasting the banal environment of the tourist facility with the brutal and cynical craving for sex on tap. Seidl enjoys pushing Teresa further and further up the emotional creek, but the film is attuned to the moral complexity of the situation, and also surprisingly tender.
Still, it's fair to say no film here has really yet caught fire. Then again, we're only a few days into the festival, and my hopes remain high for the second Austrian Competition entry, Michael Haneke's Love, screening in bracing fashion at 8.30am Sunday morning.
---
« Nuns on the verge of a nervous breakdown:
Cristian Mungiu's Beyond the Hills
Mortal mischief: Raul Ruíz's La Noche de Enfrente »
See also
Dog Days reviewed by Richard Falcon (September 2002)
Hideous Kinky reviewed by Philip Kemp (February 1999)