Love by Michael Haneke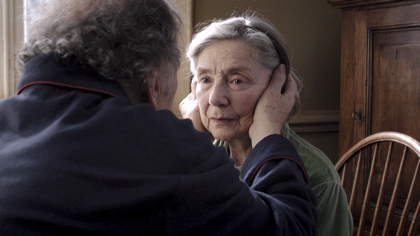 Jean-Louis Trintignant and Emmanuelle Riva in Amour
Nick James checks his notes: the festival's most tender as well as telling film so far comes from the Austrian disciplinarian
---
Web exclusive, 21 May 2012
---
Film of the day
Michael Haneke's Amour (Love) is the par excellence film so far at this festival, a chamber piece that's as meticulously controlled in tone as you'd expect of the Austrian master. With the exception of one piano-performance scene at the beginning, the film never leaves the apartment of married couple Georges and Anne, elderly former music teachers. The only other people we meet are visitors, including their musician daughter Eva (Isabelle Huppert), her English husband Geoff (William Shimell) and the pianist Alexandre Tharaud (playing himself as someone they taught).
As the decisive, forthright Georges, Jean-Louis Trintignant has a role to match that in Kieslowski's Three Colours Red, his calm, insistent voice still resonant with maximum authority. Emmanuelle Riva is Anne, all elegance and insight. One morning, not long after a Schubert concert by Alexandre that we've seen them attend, they are in the kitchen when Georges finds that Anne has 'switched off' – she's sitting there but he can't get a response. A few minutes later she's herself again. With no maundering and the minimum of hand-wringing Georges sets about dealing with Anne's failing struggle with her fading powers after a double stroke.
Scene after scene is an exquisite masterclass of astonishing acting from both – though Riva's performance of her efforts to talk is beyond anything I've seen an actor do for a while – and telling detail from Haneke (though he spares the dignity of his leads). For once, the only cruelty present in a Haneke film is the ultimate cruelty of life's end. I've spoken to several people here who've had to attend to the decline of their parents, and every one attests to the tender accuracy of this uncharacteristically emotional film.
The actors have it
The fact that the most impressive film here is such an actor-centric piece fits the programme so far. I've never seen a Competition so full of great performances, too often in films that themselves don't quite make the mark. Marion Cotillard and Matthias Schoenaerts (Rust and Bone), Aniello Arena (Reality), Margarethe Tiesel (Paradise: Love) and Cosima Stratan (Beyond the Hills) have all amazed. The same is true for Mads Mikkelsen in Thomas Vinterberg's The Hunt, a tremendously gripping melodrama about a man wrongly accused (as far as we can see in the film) of paedophilia.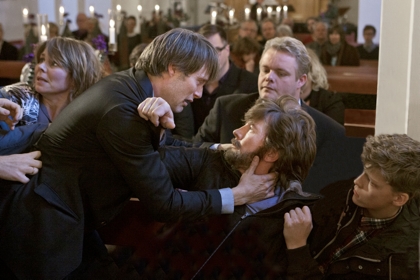 It's the mid-point, after a constant rain-stormy weekend. I've seen 23 films, which seems enough of a sample to draw some tendencies. If Cannes was at its end now I'd have to say for much of the time it was a pretty damp affair all round. But of course good weather and strong films may yet return. I'm all too aware that the complaining of veterans like myself is always at its height mid-festival.
But as a final note I'd like to mention only in passing that Kiarostami's ambiguous Like Someone in Love – a brief encounter between a young girl who may be a prostitute, an old man who may be her client and the insanely jealous young man who may be her boyfriend – seemed rather slight on a single viewing for a viewer who was soaked to the skin.
---
« Mortal mischief: Raúl Ruiz's La Noche de Enfrente
Last works and wakes: Alain Resnais in the underworld »
See also
Poetry reviewed by Trevor Johnston (August 2011)
His & Hers reviewed by Samuel Wigley (April 2011)
Still Walking reviewed by Trevor Johnston (February 2010)
Unexpected tenderness: Catherine Wheatley on hints of a new softness in Michael Haneke's The White Ribbon (December 2009)
Secrets, lies and videotape: Catherine Wheatley on Michael Haneke's Hidden (February 2006)
The Piano Teacher reviewed by Tony Rayns (November 2001)
Code Unknown reviewed by Richard Falcon (May 2001)