Mortal mischief:
Raúl Ruiz's La Noche de Enfrente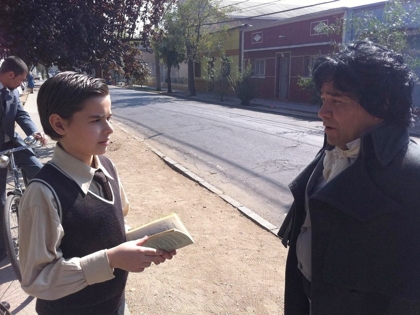 Jonathan Romney on the late Chilean master's fond farewell to a life of artistic delinquency
---
Web exclusive, 21 May 2012
---
Film of the day
As a follower of the wildly prolific Raúl Ruiz for some 30 years, it seems hard to believe that a time has come when I won't be looking forward to his latest film of the year, month, even week (as it has sometimes felt). Still, he can't have bowed out in more stylish fashion than with his Chilean-filmed swansong La Noche de Enfrente (loosely, The Night Before Us), given a special screening in Directors' Fortnight. Many people regarded his Portuguese epic Mysteries of Lisbon as his valediction, given that it was preoccupied with the idea of wrapping up the narratives and legends of a person's lifespan (but then, so were many of his films). Lisbon may have been his last major film, his Testament with a capital C, if you like, but La Noche de Enfrente is, as it were, a codicil to the will, and a fond farewell note.
A rather abstract quasi-narrative, in keeping with some of Ruiz's French films of the 80s, the film is ostensibly about an elderly Chilean, Don Celso, who, on retiring from his office job (in which he seems to have found the secret "of working and relaxing at the same time"), awaits the arrival of the mysterious stranger who will before long kill him. In the meantime, he discusses words and poetry with his teacher Jean Giono (Christian Vadim), who may or may not be the novelist of the same name; and remembers his childhood, in which he philosophised with adults and conversed with his guiding spirits Beethoven and Long John Silver.
The film is very much the proverbial 'poem in images', and a truly free-associative one, in vintage Ruiz style. There are some marvellous verbal finds – I love the idea of the passing moments solidified as "marbles of time", and there are some delightful running gags, like the waiter who keeps turning up to remove a bust of Beethoven as if it were an empty salt cellar. The digital photography is gorgeous, particularly in its use of rose pastels and the bronze look of its seascapes. There are winks at earlier Ruiz films – notably, his adaptations of Giono, Robert Louis Stevenson and Arthur Adamov – and while the musings on death may be in a black-comic mode, they're remarkably jolly. I especially liked the scene in which the dead hold a séance to contact the living.
All in all, there can't ever have been a case of a director making such a cheery, mischievous film to contemplate his own mortality (Ruiz, ill with cancer, had already risked death to complete the epic Mysteries). The Directors' Fortnight send-off was suitably jolly too, with one associate remembering that Ruiz's idea of teaching film students was to espouse "artistic delinquency".
Producer François Margolin cheekily paid tribute by saying that he'd tried to contact Ruiz for the occasion, but without luck: "He still doesn't have a mobile." But he read out a note that he said the great man had dictated from the afterlife: the producers up there don't understand digital, but not to worry, he has his Sony up there with him, is busy shooting, and expects to bring the results to Directors' Fortnight next year. You know what? Don't be surprised if he does.
---
See also
Mysteries of Lisbon reviewed by Jonathan Romney (January 2012)
Raúl Ruiz, 1941-2011: obituary by Jonathan Romney (August 2011)
Mexico rising: Ruiz talks to Nick James (January 2006)
Comédie de L'innocence reviewed by Paul Julian Smith (March 2002)
Time Regained reviewed by Keith Reader (January 2000)
The rubicon and the rubik cube: Gilbert Adair on exile, paradox and Raúl Ruiz (Winter 1981/82)