Last works and wakes:
Alain Resnais in the underworld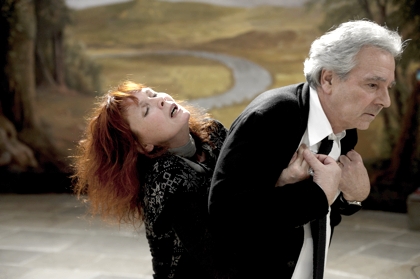 You Ain't Seen Nothin' Yet
Amy Taubin hopes death succeeds patriarchy as the flavour of this year's festival
---
Web exclusive, 22 May 2012
---
Death is inescapable at Cannes this year. In the best film so far, Michael Haneke's Amour, two legendary French actors, Emmanuelle Riva and Jean-Louis Trintignant, play respectively a dying woman and the husband who is her caregiver 24/7. But no one watching this unsparing and compassionate film could doubt that the actors, with over 50 years of their careers behind them, were rehearsing, before our eyes, the way that death might come to them as well as to their characters.
Film of the day
The 90-year-old Alain Resnais does it differently, couching death as the essential element of a great romance as well as of an absurdist comedy. Resnais' previous film, the surrealist manifesto Wild Grass, is one of his greatest; You Ain't Seen Nothin' Yet is slighter by comparison, but still has many ravishing moments that are at once poignant and exhilarating. It was rumoured to be Resnais' final film, but happily he is already embarked on another. Nevertheless, the governing concept of YASNY is that of the posthumous work, a concept that is then overturned, and perhaps overturned again.
A group of actors have been summoned to what they believe is the wake for the writer of Eurydice, a modern adaptation of the myth of Orpheus and Eurydice, in which they all performed. They are asked to view an experimental film version of the play, but, being actors, they are incapable of sitting still and watching a movie; instead they are irresistibly drawn into recreating the characters they played when they were much younger. Film space and theatrical space merge and separate and merge again until who knows which is which.
The version of Eurydice that Resnais employs is a condensed version of the 1942 play by Jean Anouilh. In the press booklet for the film, Resnais recounts seeing the original production and afterwards riding around Paris on his bicycle in an extremely emotional state.
What he doesn't mention in his notes or dramatise in You Ain't Seen Nothin' Yet is that the play has a subtext that is specific to the Nazi occupation of France. It's a play which was virtually written in code. Anouilh's Eurydice isn't simply the damaged woman who would become the object of desire in the noir films that Resnais loves; the specific sin for which she can't forgive herself is that of sleeping with the enemy, albeit she did what she did to save people she loved. And while the Occupation may be nearly as far in the past as ancient Greece, the play seems a bit lightweight without that frame of reference.
Nevertheless, the film is more than the play. Most of all, it gifts us with its actors, the most memorable of whom are Mathieu Amalric and Michel Piccoli.
Patriarchy from the east to the west
While not exactly a cause celebrate for international feminism, the absence of female directors from the Competition slate has been angrily noted on many blogs and in many press conferences. Of course, the problem doesn't start with festival programmers, here in Cannes or elsewhere. It's the refusal of most producers and moneybags to back female-directed projects that results in programmers having very few to choose from.
There are, nevertheless, a handful of movies directed by women in various sidebars. By the end of the festival we'll know if Sandrine Bonnaire's J'Enrage de Son Absence and Alice Winocour's Augustine (both in Critics' Week) or Noemie Lvovsky's Camille Redouble, Yulene Olaoizola's Fogo and Catherine Corsini's Trois Mondes (all in Directors' Fortnight) would have shown to better advantage in the main Competition.
On the other hand, we've already seen two Competition films directed by men that depict patriarchal institutions as the enemy of liberty, even after reactionary regimes have been overthrown. The underrated Egyptian film, Yousry Nasrallah's After the Battle, makes it infuriating clear that even though they were on the front lines, women won next to nothing in the revolution at Tahir Square.
Nasrallah is not entirely successful in depicting a complex political landscape (his male characters tend toward caricature) but his female protagonist, an economically privileged young woman turned workers'-rights organiser and something of an animal activist, makes the film both satisfying – if the feminist struggle is something you care about – and uncommon. And the final sequence is heartbreaking.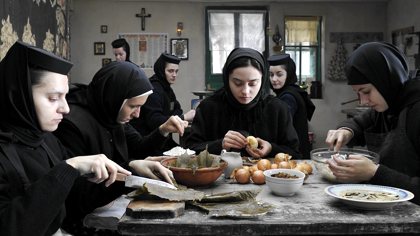 Cristian Mungui, who won the Palme d'Or in 2007 for his unsparing 4 Months, 3 Weeks, and 2 Days, aka 'the Romanian abortion movie', is back at Cannes with the harrowing, bleak-humoured Beyond the Hills. As in 4 Months, he places two young women at the centre of the narrative. Best friends and almost certainly lovers when they lived in an orphanage, they separated when they came of age, one going to Germany to look for work, the other winding up in a tiny snowbound Christian Orthodox community. This is all backstory, deftly communicated shortly after the film begins.
The young woman who went to Germany returns to Romania to find that her friend has drunk the religious Kool-Aid. When she attempts to rescue her, the priest and his corps of brainwashed novices deem her possessed by the devil. An exorcism ensues and ends badly. An atheist's version of Dreyer's Day of Wrath, Beyond the Hills is a film of great formal rigour and a furious indictment of religion as an instrument of patriarchal oppression.
---
Still dreaming wild things:
Bernard Bertolucci goes underground »
See also
Mortal mischief: Jonathan Romney on Raul Ruíz's valedictory La Noche de Enfrente at Cannes (May 2012)
Where the wild things grow: Adrian Martin on Wild Grass (June 2010)
Pas sur la Bouche reviewed by Ginette Vincendeau (May 2004)