Muddy waters run deep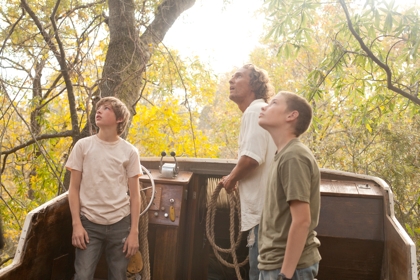 Geoff Andrew sees Take Shelter director Jeff Nichols close out this year's Competition with an impressive Southern river adventure that owes a debt to Mark Twain
---
Web exclusive, 26 May 2012
---
Film of the day
In what was seen by some as a slightly disappointing edition of Cannes, populated by plenty of decent and interesting films but boasting fewer than usual (if any) truly great ones, Jeff Nichols' Mud, the final film in competition, came as a welcome last-minute surprise. Admittedly, its final 20 minutes fell into generic contrivance and cliché – however early you plant a poisonous snake in a movie, everyone knows that by its end someone, somehow, is going to get bitten – but for the most part Nichols' follow-up to Take Shelter feels pleasingly fresh and for-real.
Set on and around the Mississippi in Arkansas, it centres on two 14-year-olds, Ellis and Neckbone, who take refuge from their dysfunctional home lives by messing about on the river where their families own houseboats. On a nearby deserted island they encounter Mud (Matthew McConaughey), an initially sinister but soon perfectly friendly type who they soon discover is wanted for killing a man; Ellis, however, himself half-besotted by a slightly older local girl, is more than happy to help Mud out when he's reassured that the latter only committed the crime out of a desire to protect Juniper (Reese Witherspoon), the girl he's loved since childhood. So the boys make it their business to reunite the fugitive with Juniper, notwithstanding the fact that he's being sought not only by the cops but by a team of thugs hired by the dead man's daddy (a welcome rare Joe Don Baker cameo).
What makes Nichols' film so satisfying, at least until the melodrama of the final act, is the deftness of the characterisations and the constant sense that things are probably considerably more complex than they're perceived by the impressively practical but still inexperienced boys. Though the movie feels authentic as a portrait of the contemporary South, it's also reminiscent of the world of Mark Twain; indeed, Nichols apparently had Tye Sheridan and Jacob Lofland, the young actors who play Ellis and Neckbone, read The Adventures of Huckleberry Finn during production.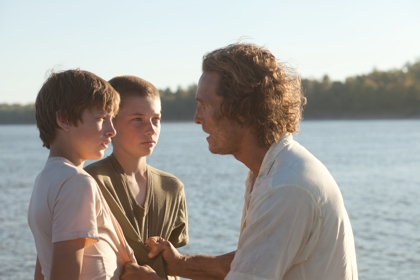 And it's those echoes that help to render convincing and even quite magical the potentially implausible story of the boys helping out their desperado friend, no matter the dangers involved. The performances, too, are strong – most of them by comparative unknowns, with Sam Shepard and (briefly) Michael Shannon the most familiar – as are Adam Stone's 'Scope renditions of the wide river and flat landscapes. A shame, then, that the compulsion to go for a thriller climax and tidy up loose ends turns a good, intelligent drama into something more conventional and artificial; after all, ending a movie with a father and son reassuring one another of their mutual love went out of fashion years ago.
---
« Slow war cinema and Bollysploitation:
In the Fog and Miss Lovely
A history of violence: After Lucia »
See also
Trouble in mind: Nick Pinkerton interviews Take Shelter star Michael Shannon (December 2011)
Frozen River reviewed by Ryan Gilbey (August 2009)
Suzhou River reviewed by Lizzie Francke (December 2000)
The River reviewed by Bryony Dixon (November 2004)