Slow war cinema and Bollysploitation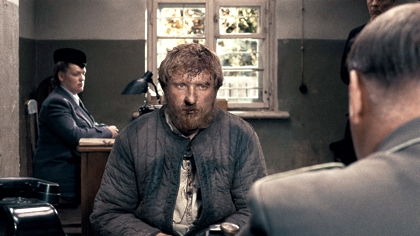 Jonathan Romney hails the Tolstoy-esque simplicity of Sergei Loznitsa's possibly bleak, certainly slow In the Fog – and the meta-Troma invention of Ashim Ahluwalia's Miss Lovely
---
Web exclusive, 25 May 2012
---
Film of the day
Spoiler alert: this post gives away plot twists
One Tweeter in Cannes complained today about critics automatically using the words 'slow' and 'bleak' as terms of approval. So I might want to be careful what I say about In the Fog, by Belarusian-born director Sergei Loznitsa. This was the Competition film I was perhaps most keen to see, given that I loved Loznitsa's underrated My Joy, which played here in 2010 (and strangely remains undistributed in the UK).
In the Fog is a simpler, substantially less strange film than My Joy, which wove together several seemingly unrelated anecdotes into a panorama of the chaos and violence that Loznitsa sees as the historical base note in Russian society. The new film is a war drama, based on a novel by Vasil Bykov, set on the western edges of the USSR in 1942, under German occupation.
The film begins with an extraordinary long-take tableau that culminates in the hangings of three men, and then follows three different men and shows how the causes and effects of those hangings in their lives. The three are partisans Burov (Vlad Abashin) and Voitik (Sergei Kolesov) and Sushenya, a disgraced railway worker (Vladimir Svirski), whom the partisans are going to kill on suspicion of having betrayed the dead men.
As the main drama develops, Loznitsa gives us extended flashback interludes, rather like self-contained short stories, one for each of the three characters. The bitter irony at the centre of the film is that it is Sushenya, who has taken part in an act of anti-German sabotage and then refused to betray his comrades, who is hanged. In an act of exquisite cruelty, German commandant Grossmeier (Vlad Ivanov, whom you may recognise as 'Mr Bebe' from Cristian Mungiu's 4 Months, 3 Weeks and 2 Days) sets him free, knowing he'll become a pariah, as well as bait for the partisans he wants to capture.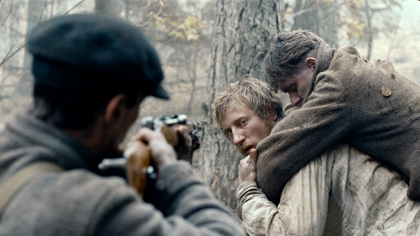 Possibly the slowest and most contemplative war film ever made, In the Fog is a delicately complex work of shifting perspectives, and like My Joy, a contemplation on narrative and the act of storytelling. The wonderfully bitter payoff of the Sushenya flashback is that he has at last stated the case for his defence – even if it's not one that can possibly save him – but it's only at the end that he realises he's told it to a dead man.
The film's consideration on justice, moral integrity and martyrdom unfolds in a way that's all the more telling because it's so simple – and I've just had a conversation with someone who regarded the film as mundane. Yet to me, the theme's development felt lucid in a particularly deep way – it's the lucidity and depth of Tolstoy's short stories.
The film is extraordinarily acted, largely in a sotto voce style that expresses the dogged determination and patience of these characters. Actors and landscapes alike could have come out of nineteenth-century Russian paintings; as Sushenya, Svirksi's looks and stillness make him the embodiment of an age-old Russian archetype – the wise peasant who embraces his fate against all promptings of worldly logic.
Yes, the film is slow – shot by Oleg Mutu, it's edited with only 72 cuts – and I suppose you might call it bleak, although it shows an enormous faith in human capacities. But I'm not automatically praising it because of those qualities. It's just among the handful of truly eloquent and moving films here.
Indian independence
A brief word for Miss Lovely in Un Certain Regard. This started off as a shock to the system – an Indian film like I'd never seen, it follows the 1980s misadventures of an aspiring filmmaker struggling at the very arse-end of Bollywood, helping make sex-and-horror exploiters (think of Troma with matronly vamps doing soft porn).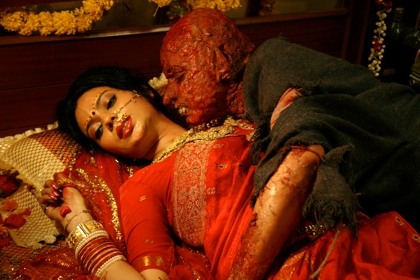 The film is mesmerising for the first hour or so, during which, the echoes of Boogie Nights aside, I found myself thinking of Wong Kar-Wai, Scorsese, Matteo Garrone's Gomorrah and even Irma Vep. Unfortunately the film then palls somewhat – director Ashim Ahluwalia can't hold onto a story, or develop characters. But while it's good it's very good indeed, and had it been that touch better (and shorter) it could have been a game-changer for Indian cinema.
I'll be eager to see Ahluwalia's second film. I know in reality that often means I'd like to see him get a second chance to remake the same film as it should have been. But seriously, I would: he's a very impressive talent, and given the oppressive conventions of the Indian film industry, he's clearly an independent spirit and then some.
---
« Cinema-chewing:
Leos Carax's Holy Motors
Muddy waters run deep: Jeff Nicols' Mud »
See also
Doing time: Henry K. Miller on the AV Festival's 'Slow Cinema' weekend (March 2012)
Dark nights of the soul: Jonathan Romney's first glimpse of Angelina Nikonova's Twilight Portrait at Venice (September 2011)
Strange energies from the east: Jonathan Romney on two notable Russian discoveries at the Berlinale (February 2011)