The lost Left: My Back Page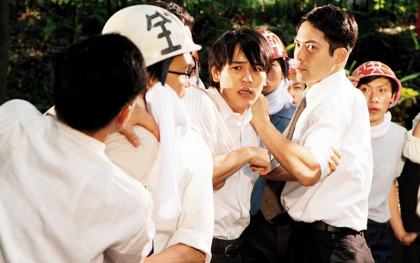 Frances Morgan, 31 October
Tokyo, the turbulent late 1960s. A young man, played by Kenichi Matsuyama, is at the heart of an emotionally charged narrative about youthful identity, named after an iconic pop song of the period. But lest that sound a little too familiar, it should be noted that My Back Page's similarities with Norwegian Wood pretty much end there. Where Tran Anh Hung's adaptation of the Murukami novel focused on the psychological conflicts of its beautiful young protagonists, with the Zenkyoto student riots and occupations as a bewildering background noise, My Back Page, adapted by Nobuhiro Yamashita from an autobiographical novel by Saburo Kawamoto, is all about how the personal and political inform one another, in a gripping story about ethics, betrayal and idealism.
Matsuyama plays Umeyama, a volatile young activist operating under a false name, and the film's pivotal character but not its hero. We see events mostly through the eyes of young reporter Sawada (Satoshi Tsumabuki), who's increasingly drawn into his orbit not only because he could get a major scoop but also because he's forming some radical ideas of his own, the culmination of an adolescence spent during one of Japan's most turbulent political periods. He's tired of doing sentimental 'undercover' stories about poverty, and wants to be where the action is. As Umeyama urges more than once, the two of them together, as activist and reporter, could be "the real thing".
Umeyama's grand plans for revolution with his laughably amateur 'Sehiko Army' rather predictably spill over into real violence, although perhaps not in the way he might have hoped; and Sawada's belief system, not to mention his fledging career, are threatened. Their relationship is the emotional crux of the film, but My Back Page excels in providing a context to that relationship, helping us to understand that these aren't just angry young men (and women – Umeyama's group includes two females) out to prove themselves, but that their actions come at the end of a long decade of protest in Japan, sparked in the early 1960s by renewal of the US-Japan Security Treaty (ANPO).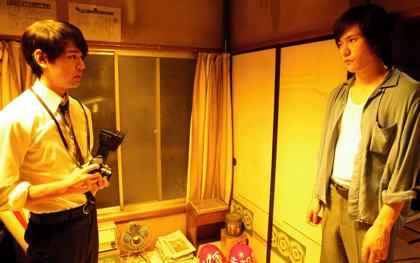 The notion that the Left has lost its way and a new, more chaotic brand of activism is in the air is vocalised by two strong supporting characters – veteran journalist Nakahira and charismatic older outlaw Maebashi (an intense Takaya Yamauchi, espousing the need for "scoundrels… fighting alone") – and while some prior knowledge of the ANPO saga is probably helpful, Yamashita does a great job of disseminating historical information within this coming-of-age story.
He doesn't overplay the period references either: clothes and décor are understated and a little dingy, and a scene where Umeyama and Sawada shyly sing Credence Clearwater Revival's 'Have You Ever Seen the Rain?' is one of the few pop moments in the film. (A modern, rocky Japanese and English version of the Dylan song of the title is also belted out over the closing credits.)
Compared to Norwegian Wood's musical panache – with its Jonny Greenwood score and well-placed Can tracks – and visual elegance, My Back Page is far less cool, and enjoyably so. The actors too convey youthful awkwardness with an unforced charm: the kids of the Sehiko Army are gauche, the young women far from glamorous, and Tsumabuki's worried-looking Sawada is certainly no self-assured leading man or tragic hero.
Matsuyama can't help but bring a nervy charisma to his role, but he's anomalous and dangerous. Romance drives the story – it drives the boys' friendship, Sawada's ambitions, the young activists, and perhaps much of the wider movement around them – but My Back Page is too tempered by a messy, complex, rueful empathy to be entirely a romantic film.
In a year where we've seen the idea of Japan in the 1960s and 70s revisited anew on film, with not only Norwegian Wood's heightened, poetic evocation of the era but also BFI's Shinkjuku Diaries season of rare experimental Japanese cinema, it offers another, compelling side to the story.
« Albert Serra: "I am the best one"
Across the universe: Braden King's HERE »
See also
Two documentaries by Tsuchimoto Noriaki reviewed by Chris Fujiwara (September 2011)
Down the Bunka: Jasper Sharp on Japan's 1960s experimental Theatre Scorpio and its multimedia performance collectives (July 2011)
30 key films of the 2000s including Wakamatsu Koji's United Red Army (February 2010)
Character observations: Nick Bradshaw sees the bizarrely valiant 1974 Extreme Private Eros in a Hara Kazuo retrospective at Sheffield Doc/Fest (November 2009)
In the realm of Oshima: Alexander Jacoby on the fiercely modern 1960s Japanese films of Oshima Nagisa (September 2009)
The Emperor's Naked Army Marches On reviewed by Tim Lucas (October 2007)