Sundance week two: the kids are too much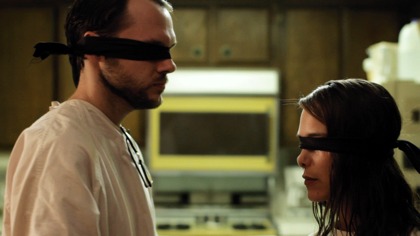 Zal Batmangli's The Sound of My Voice
---
Park City, Utah, USA
January 2011
Sender: Hannah McGill
---
Is adolescence the most interesting phase of human life? Or the site of the experiences that most define what it is to be human? Were one a freshly-landed alien inclined to glean one's information on earthling society from the programme of the Sundance film festival, one might be driven to assume so.
Showy, soapy takes on teen malaise included Sam Levinson's shrill Another Happy Day and Erica Dunton's agonisingly self-important and silly to.get.her – which, bafflingly, took script and audience prizes respectively. Better by far was Azazel Jacobs' Terri, a kind, eccentric take on an off-centre experience of school and home life. The adult male protagonists of Joshua Leonard's The Lie and Jacob Aaron Estes' The Details clearly hadn't watched enough sad indie movies, because they yearned to return to teendom – if only for the weed and the incautious sexual dabbling. Deeper regression formed the core of Michael Tully's rather more intriguing Septien, in which disturbed brothers holed up on a rural farm addressed the ghosts of their childhood.
Seclusion from society was another trend, with a number of films addressing religious extremism, cult living and preparation for apocalypse. Best by far – and a standout of the whole programme, despite being press-screened only in the festival's dying days, and inexplicably placed in the low-impact Next section instead of the main competition – was Zal Batmangli's assured, mysterious thriller Sound of My Voice. Neither under-ambitious nor self-indulgent, Batmangli's film stood out for its brisk storytelling, its committed performances and its astute flashes of humour – all of which lend authenticity to an ambiguous and thought-provoking story of manipulation and betrayal.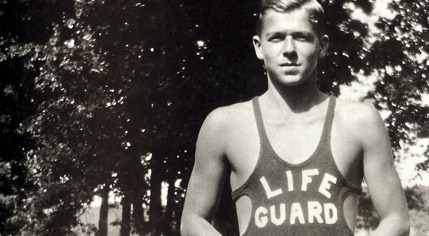 Further strong documentaries included Eugene Jarecki's Reagan, which took heat from some for giving its subject too easy a ride, but impressed me with its cool-headed determination to present both sides and let the facts speak for themselves. Constance Marks' Being Elmo: A Puppeteer's Journey was as much one of those Sundance feelgood slam-dunks as its title suggests, but it nonetheless proved astute about creativity, ambition and hype. Goran Hugo Olsson's The Black Power Mixtape deservedly won the festival's editing award for its intelligent presentation of unseen interview footage shot by Swedish crews at the height of the black power movement.
Elsewhere, Grand Jury prizes went to Drake Doremus' Like Crazy for US drama and Peter D Richardson's How to Die in Oregon for US documentary; Danfung Dennis' Afghanistan chronicle Hell and Back Again for World documentary; and Anne Sewitsky's Happy, Happy for World drama.
British filmmakers fared well in the awards: Asif Kapadia's widely admired Senna, a career portrait of the Formula One star, took the audience prize for documentary, and fellow Brit James Marsh was recognised in documentary direction for his tale of chimp experimentation Project Nim. Paddy Considine won the world dramatic directing award for Tyrannosaur, and performance awards went to his stars Peter Mullan and Olivia Colman.
Teenage angst might have dominated a lot of days in Park City, but the odd grown-up story still won out. Now for next year, couldn't the programmers consider a temporary moratorium on rites-of-passage, comings-of-age, and middle-class-suburban-dysfunction? Just a thought…
See also
Sundance week one: 'lo-fi', low key: Hannah McGill on the usual blend of coming-of-age tales, dysfunctional-family dramas and up-to-the-minute documentaries – plus Kevin Smith in revolt (January 2011)
This is Afghanistan: Tim Hetherington talks to Tom Dawson about his Sundance-winning documentary Restrepo (October 2010)
On a wing and a lark: Shane Meadows talks to Nick Bradshaw about improvising his five-day feature Le Donk and Scor-Zay-Zee with Paddy Considine (October 2010)
Far North reviewed by Jonathan Romney (January 2009)
Bloody Yorkshire: Nick James on the adaptation of David Peace's Red Riding novels (March 2009)
Man on Wire reviewed by Catherine Wheatley (August 2008)
Boys' own stories: Henry K. Miller plots the progress of the Indiewood-Frat Pack generation of gifted comedians and wry auteurs (March 2008)
Reasons to be cheerful: Ryan Gilbey on a wealth of bad-mannered new British movies (October 2002)
Vanishing Americans: Michael Eaton on James Marsh's parable of frontier hubris, Wisconsin Death Trip (June 2000)
Boys Don't Cry reviewed by Xan Brooks (April 2000)
A Room for Romeo Brass reviewed by Mark Kermode (February 2000)