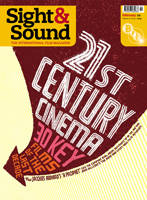 Our February special issue looks back at the last decade to reflect on the state of 21st Century Cinema so far: the directors, countries, trends and technological changes that defined the 2000s, not to mention 30 great films of the decade (from Adaptation to Workingman's Death). Our writers report on the decline and fall of star power, examine how national cinemas rise and revolt, refute reports of the death of American cinema, contemplate the subtle spread of 'Slow Cinema', and probe the transformations wrought by digital technology and the new culture of instant availability. Six of our favourite directors – Pedro Costa, the Dardennes, Claire Denis, Michael Haneke, Jia Zhang-ke and Apichatpong Weerasethakul – meanwhile describe their distinctive approaches to film-making in their own words.
Speaking of slow cinema, we also shed new light on Japanese master Ozu Yasujiro, the subject of a major retrospective this month at the BFI Soutbank. In Ozu Yasujiro, tofu maker Tony Rayns overturns preconceptions of the director as a uniquely Japanese and 'domestic' filmmaker, profiling a wide-ranging movie fan whose life was rarely like those of his protagonists.
In the here and now, we feature three of the month's best new films: Jacques Audiard's gripping French prison gangster drama A Prophet, John Hillcoat's ambitious adaptation of Cormac McCarthy's supposedly unfilmable The Road and Jason Reitman's wicked George Clooney-starring corporate comedy Up in the Air.
We also interview Atom Egoyan – back making Chinese boxes with Adoration – producer-turned-director Lee Daniels (whose _Precious_ was the audience hit of Toronto and Sundance) and critic-turned-magical-maestro Miguel Gomes about his Our Beloved Month of August. And we report on the Viennale festival, the revival of Egyptian masterpiece The Night of Counting the Years and the imminent completion after 30 years of Nicholas Ray's last testament We Can't Go Home Again.
Our elite cadre of reviewers sift through 36 new cinema releases – including Kore-eda Hirokazu's Still Walking, our film of the month – and 22 DVD releases, including a box set of 'Lubitsch in Berlin', Patricio Guzmán's essential guerilla epic The Battle of Chile and Warner's post-Johnny Weissmuller Tarzan films-to-order. And our books section reviews Peter Biskind's Warren Beatty biography, new books on Rififi and La Grande Illusion and an audacious account of films as bodies.
See also
Subscribe now!
Save £9 on the cover price, get a free DVD and receive new issues hot off the press and direct to your door.
View our archive
Order back issues, or search our online database of reviews and features from the magazine