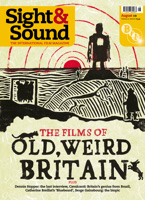 With summer upon us and thoughts moving from the bustle of the city to the pastoral tranquillity of the countryside, we turn our attention to the films of the 'old, weird Britain'; for what better time of year is there to unearth the ancient rituals and traditions that seep through soil into British films? From The Wicker Man's pagan Summerisle and the haunting of Suffolk lands in Witchfinder General to the old Albion of A Canterbury Tale and the enduring links between British folk culture and artists' filmmaking, we dig into this often overlooked side of British cinema.
We also pay tribute to the legend that was Dennis Hopper: surveying his boundary-pushing life and work in movies, and publishing one of the last interviews he ever gave, in which he cuts loose in inimitable fashion about his parallel careers as director, painter and photographer.
Equally in need of remembrance is the unjustly neglected Brazilian-born Alberto Cavalcanti who, perhaps more than any director bar Hitchcock, had a profound influence on the development of British Cinema in the 1930s and 40s.
Meanwhile, as Catherine Breillat's Bluebeard is released, we talk to the director about her film and chart cinema's long preoccupation with the fairytale.
Plus: surviving Werner Herzog's Rogue Film School, Andrew Kötting on Ivul, the National Film Archive's 'Most Wanted' list, silent shorts at Oberhausen, noisy movies and Roddy McDowall's little-seen The Ballad of Tam Lin.
We've reviews of 34 new film releases – including Gainsbourg, our film of the month – and 20 new DVDs, among them Glauber Rocha's spectacular Antônio das Mortes, John Ford's Stagecoach and two horror films, Girly and Goodbye Gemini, both influenced by Tennessee Williams' Southern Gothic. And our books section covers new publications on the Dardenne Brothers, Sweet Smell of Success, Romantics and Modernists in British Cinema and a survey of 100 New Directors.
See also
Subscribe now!
Save £9 on the cover price, get a free DVD and receive new issues hot off the press and direct to your door.
View our archive
Order back issues, or search our online database of reviews and features from the magazine