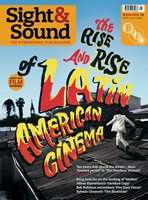 Our September issue probes the ongoing renaissance of Latin American cinema, from Amores Perros to this month's releases The Maid and The Secret of Their Eyes.
We also talk to Mother's Bong Joon-ho, Five Easy Pieces's Bob Rafelson and Certified Copy's Abbas Kiarostami and Juliette Binoche, and rediscover the films of Czech legend Frantisek Vlácil.
Plus Australian Outback fables, Japanese monster movie Mothra, Sylvain Chomet's The Illusionist and 37 other film releases. On sale now – subscribe today!
See also
Subscribe now!
Save £9 on the cover price, get a free DVD and receive new issues hot off the press and direct to your door.
View our archive
Order back issues, or search our online database of reviews and features from the magazine