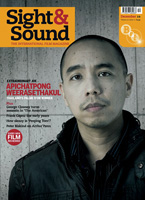 Our December issue delves into the entrancing world of the Thai filmmaker Apichatpong Weerasethakul, aka Joe, one of the most exciting directors at work in world cinema over the past decade, and the winner of the Palme d'Or at Cannes 2010 for his remarkable new feature Uncle Boonmee Who Can Remember His Past Lives. Adrian Martin probes the syndromes and mysteries of Apichatpong's universe, while Kieron Corless talks to the Thai director about Buddhism, Ray Bradbury and the making of Uncle Boonmee.
Moving back within these shores, Graham Fuller looks again at Michael Powell's notorious Peeping Tom, which was reviled on its initial 1960 release, but which 50 years on is canonised for its analysis of voyeurism. John Wyver delves into the BFI's new 'Shadows of Progress' project, a collection of documentary shorts from the 1950s to the 1970s, and finds in it an array of astonishing and adventurous work by some unjustly neglected British filmmakers that offer evocative glimpses of a vanished world. Lastly, Quentin Falk reports from the set of writer-director Rowan Joffe's new version of Graham Greene's classic Brighton Rock, which sets the story in the mod era of the 1960s.
Like Bourne and Ripley before him, George Clooney's antihero in director Anton Corbjin's The American is a well-travelled killer who finds Europe a fitting backdrop for existential dilemma. Nick James follows the tracks.
We also celebrate two great, if very different American directors. Peter Biskind pays tribute to Arthur Penn, who died in September, and who for the space of a decade, with films like Bonnie and Clyde, Little Big Man and Night Moves, was one of US cinema's most challenging directors. Frank Capra was never a thorn in the side of the establishment in the same way, but, argues his biographer Joseph McBride, the man celebrated each Christmas for the 'Capracorn' of It's a Wonderful Life deserves reappraisal as a director in the light of the restoration of his 1920s silents and his luminous talkies of the early 1930s. Plus, Kate Stables revisits Capra's timeless It Happened One Night, and finds not just the urtext of the romcom, but also a document of the Great Depression.
Plus highlights of San Sebastian and Pordenone, feminist film and dance pioneer Yvonne Rainer, Brad Stevens on Arthur Penn's unfairly neglected late film Penn & Teller Get Killed, and a report on the exciting film talent emerging from the ashes of Greece's economic ruin.
We've reviews of 31 new film releases – including the Mexican cannibal horror We Are What We Are, our film of the month – and 22 new DVDs, including Terrence Malick's masterful The Thin Red Line, and Joseph Strick's stab at Henry Miller's Tropic of Cancer. And our Books section spans Nino Rota, Montgomery Clift, the new edition of David Thomson's Biographical Dictionary of Film and a provocative new analysis of class in recent British cinema.
See also
Subscribe now!
Save £9 on the cover price, get a free DVD and receive new issues hot off the press and direct to your door.
View our archive
Order back issues, or search our online database of reviews and features from the magazine