Film of the month: We Are What We Are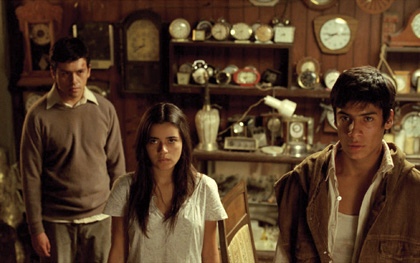 Following a family of flesh eaters as they struggle to make ends meet in modern Mexico, Jorge Michel Grau's debut We Are What We Are spices its horror with a bracing dash of social comment, says Paul Julian Smith
In a recent round-up of the current crop of Mexican movies, respected critic Carlos Bonfil wrote that too many young directors merely imitate maestros of the past, and that all are mesmerised by current conditions in the country. Although Mexican society may have "collapsed" (his word), riven as it is by drug-fuelled violence, surely a national cinema could find a new topic to tackle?
Although the auteurist Bonfil is no fan of We Are What We Are (he called it the worst film he saw at the national showcase Guadalajara Festival), Jorge Michel Grau's debut follows the critic's prescription for a Mexican new wave. Strikingly original in technique, it pays no heed to the old masters of Mexican film; alluding only indirectly to present social conditions, it rewrites the horror genre with a premise that is outrageously novel: a cannibal family hidden in the heart of the capital.
The pre-credit sequence, wholly wordless, says it all. Shot from a disorientating high angle, a middle-aged man ascends an escalator, clutching his stomach. Emerging in a sterile shopping mall, all grey steel and glass, he stumbles towards a shop window, gesturing towards the bikinied dummies within. He sees – we see – his face, bearded and decrepit, reflected in the glass. Collapsing to the floor and whimpering, he vomits what appears to be black tar. Without missing a beat, cleaners come to drag the body away, mopping up the foul liquid from the shiny floor and making the mall safe for shoppers once more.
While this sequence is clearly a mordant commentary on consumerism (Mexico is now a middle-income country with a large moneyed class), it also functions perfectly in a genre context, announcing a new mode of horror that cites zombie and vampire pictures but places them in a setting that is all too everyday.
Avoiding the clichés of gore or torture porn, then, writer-director Grau convincingly establishes the banality of cannibalism. His central family may live in a memorably weird house (shabby, crowded and packed with clocks), but their lust for human flesh, only gradually revealed to the audience, is not so different from the equally pressing demands of so many households that have lost their breadwinner in the current crisis. As daughter Sabina (Paulina Gaitán) comments early on, with both urgency and mystery, "We just have to go on like before." Even the original Spanish title Somos lo que hay – which translates as something like "We're all there is" – suggests not the defiant assertion of identity of the English version, but rather an impassive acceptance of a pre-existing predicament.
In equally original fashion, Grau implies that the basic conflict is not so much between the monstrous and the normal as among the surprisingly domesticated outcasts themselves. His females are tougher than his males: the mother (Carmen Beato) slaps and scolds elder son Alfredo for his timidity, and dispatches victims with a vigorous battering with a club. Later she prepares a corpse with her daughter, both expertly wielding hooks. (The potentially gory ritual is shot mainly through a curtain of cellophane and softened by candlelight and mirrors.) Shy Alfredo (cute Francisco Barreiro), who proves to be gay, quarrels constantly with his impulsive brother Julián, who appears to have a thing for his strong-willed sister.
The film's moral is clearly that the family that preys together stays together. But these boys are barely competent as kidnappers – victims escape their clutches with unusual ease. And when Alfredo bashfully follows a potential morsel through the city (trailing him from street to metro and into a throbbing gay nightclub), he seems more scared of his object of desire than the victim is of his predator. Who, then, is the pursuer and who the pursued?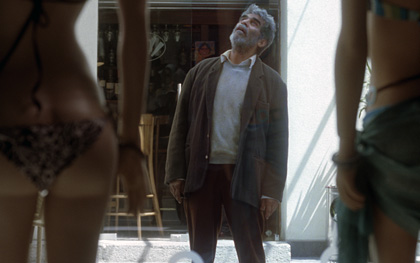 A seminal gay novel of Mexico City was actually called The Vampire of the Pink Zone (citing the entertainment district known as the 'Zona Rosa'). And Grau's film slyly suggests that social exclusion, whether of gays or the destitute, is more of a monstrosity than cannibalism. The metaphor is made explicit when a mortician (a cameo by veteran Daniel Giménez Cacho), having found a red-nailed finger in the stomach of a corpse, comments ruefully to a policeman: "So many people eat others in this city."
The cannibal "ritual", much mentioned by the family but unseen, thus stands in to some extent for the cycle of violence, corruption and stasis that many Mexicans diagnose in their country. The incompetent policeman, for example, hopes that if he solves the case he will be congratulated by the president for contributing to the latter's (spectacularly unsuccessful) war on crime. And at another point a character refers to the Bicentennial Projects intended to spruce up the capital for 2010, the much heralded 200th anniversary of the start of the struggle for independence from Spain.
Needless to say, the vision of Mexico City offered by the film is more dystopian than these optimistic public works would suggest. The opening shopping mall is contrasted with a more colourful traditional market, where the family make a doomed attempt to sell watches. But more typical urban locations in the film are the shadowy spaces beneath highway bridges, where the homeless live and the cannibals lurk.
Yet Grau's technique prevents us from reading his film as a genuflection to old masters of urban grunge such as the adoptive Mexican Buñuel – this is no new Los Olvidados for the bicentennial. Social realism is rather subordinated to film form. Shadowy night shooting combines with rhythmic crosscutting: as Alfredo finally kisses the gay boy he so desires and fears in the nightclub, his mother prepares bloodily for the cannibal ritual, and the incompetent policemen continue their fitful investigation.
The expert visuals are matched by the sound design. As the bereaved family, stricken with grief and hunger, moon about their squalid home, they are accompanied by ticking clocks and dripping taps. This is surely a sign that time (and water) are running out for the hard-pressed citizens of the megalopolis, who now number some 25 million. Late in the film, mirrors and knives glow ominously in the candlelight. It's a handsome mise en scène that owes something to that cosmopolitan reinventor of horror – who also eludes the established tradition of Mexican auteurship – Guillermo del Toro.
Mexicans sometimes complain with reason that the violence in their country is overstated abroad. And it is indeed the case that the murder rate in Brazil, little cited, is twice as high as in Mexico. Yet as any casual visitor can attest, the most relentless publicists of Mexican horror are the local press, competing to splash over their front pages the latest deeds of the drug cartels ("Decapitated!" is one not untypical headline). As a proficient genre movie, albeit an unusually innovative one, We Are What We Are cannot be reduced to an allegory of such intractable social problems. But a warning note is still sounded in the film's final credits. The name of Alan Chávez, who played hot-headed son Julián, is followed by a cross. Aged just 18, he was shot dead in a gun battle with police outside a shopping mall. There could surely be no clearer and crueller sign of what Carlos Bonfil calls the collapse of Mexican society – and of its brutally direct mirroring in Mexican cinema.
Jorge Michel Grau discusses the collision of violence and the family on page 53 of the December 2010 issue of 'Sight & Sound'
See also
FrightFest preview: undead and kicking: Mark Pilkington interviews FrightFest founder and horror handmaiden Alan Jones (August 2010)
The Exterminating Angel and Simon of the Desert: Tim Lucas reviews two of Buñuel's Mexican satires (April 2009)
The Orphanage reviewed by Maria Delgado (April 2008)
Diary of the Dead reviewed by Kim Newman (March 2008)
Girl interrupted: Mark Kermode hails Pan's Labyrinth, Guillermo del Toro's girl's-eye fantasy set during the Spanish Civil War (December 2006)
Mexico rising: Chilean director and polymath Raúl Ruiz passes on his advice for young filmmakers at the Morelia film festival in Mexico (January 2006)
Land of the Dead reviewed by Kim Newman (October 2005)
Shaun of the Dead reviewed by Kim Newman (May 2004)
Border control: Edward Buscombe on Robert Rodriguez's south-of-the-border western Once upon a Time in Mexico (October 2003)
Heaven's mouth: Paul Julian Smith detects a resurgent Mexican cinema in the sexy teen movie Edward Lawrenson interviews its director Alfonso Cuarón (April 2002)
Pup Fiction: Edward Lawrenson introduces Amores perros and Bernardo Pérez Soler interviews its director Alejandro González Iñárritu (May 2001)