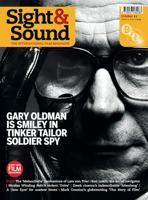 "I was thrilled to be asked to play someone very still, who was all raging underneath, and who couldn't show it," says Gary Oldman about Tomas Alfredson's decision to cast him against type as the quiet, ever-watchful mole-hunter Smiley in his masterful adaptation of John le Carré's Tinker Tailor Soldier Spy. In our October cover feature, Oldman also talks to James Bell about stepping into the shoes of Alec Guinness and the latter's famed portrayal of Smiley in the 1979 television series, and how he set about making the role his own – from modelling the character's voice on le Carré himself to his emphasis on Smiley as a sad, lonely man.
Alongside the interview, John Sutherland probes the Swedish director's adaptation and finds a murky, paranoid vision of the Circus in the 70s that perfectly captures the mood of le Carré's novel.
Elsewhere in the issue, other outsider eyes provide a fresh gaze on familiar terrain. In Cary Joji Fukunaga's Jane Eyre, Claire Monk is relieved to find not another period extravaganza, but a film with a "quietness of style and mood that feels suited to austere times." It's a film that she believes could only have been made by a "youthful, cultural outsider" not burdened down by earlier adaptations.
Meanwhile, with Drive, Nicolas Winding Refn leaves behind his native Copenhagen (the setting of his Pusher trilogy) but brings his obsession with violence and male machismo to the streets of Los Angeles. It's "one of the tensest, most stylish and most perfectly realised crime thrillers since Point Blank", finds Nick Roddick, who talks to Refn about refashioning a Hollywood blockbuster into an independent European film and finding inspiration in the Grimms' fairytales.
Looming large in the issue, like the life-threatening planet in his latest film Melancholia, is Lars von Trier. In a candid interview with Nick James he discusses his writing habits as well as his controversial outburst at this year's Cannes Film Festival. The provocateur calls his disaster movie his "kindest film", but our reviewer Tony Rayns has other ideas: "a wish fulfillment fantasy for manic depressives" is his conclusion.
No stranger to controversy himself is Ken Loach, here the subject of an extended feature. John Hill excavates the British director's lesser-known early films while Michael Brooke rediscovers a 40-year old documentary suppressed by its charity sponsor for wandering too far off the promotional piste. Alongside, directors, writers and collaborators including Luc Dardenne and Tony Garnett pay tribute to Loach's work.
Add Athina Rachel Tsangari's extraordinary Greek drama Attenberg into the mix and there's a wide, all-encompassing snapshot of world cinema old and new that Mark Cousins might welcome. His globe-trotting odyssey The Story of Film takes in a multitude of films as well as studios, cities, even filmmaker's graves. Ian Christie explores the 15-hour documentary and finds a passionate and highly adventurous ode to cinema bursting out of the small screen.
Our front-of-magazine Rushes section looks at the bonfire of 25 million DVDs in Sony's Enfield warehouse, studies Kristin Scott Thomas's box office bankability, interviews Tomboy's Céline Sciamma, remembers Alan Pakula's personal later work See You in the Morning, celebrates the legacy of New York maverick Jack Smith and mourns the late film poet Raul Ruíz.
Meanwhile our reviews section offers a smorgasbord of critical opinion: Nick Pinkerton cheers on the reaper in the latest installment of the Final Destination franchise; Mark Fisher delves into Gillian Wearing's Self Made while Jonathan Romney champions Pablo Larrain's chilling character study Post Mortem, our film of the month.
We've reviews of 37 new film releases and 23 DVDs, including features on Ingmar Bergman's 1976 psychodrama Face to Face, Jerry Schatzberg's overlooked 1971 Al Pacino gem The Panic in Needle Park and the post-punk melodrama Breaking Glass. And our Books section roves across 1970s New Horror, Basil Dearden's closet-opening Dirk Bogarde vehicle Victim (1961), a history of British municipal cinema and the memoirs of the overlooked British editing hero Jim Clark. Dive in!
---
Subscribe today, save £9 on the cover price, get a free DVD and receive new issues hot off the press and direct to your door!
See also
Send in the clowns: Rob White on the original TV series of Tinker, Tailor, Soldier, Spy (October 2000)
Romantic setting: Jane Campion talks to Nick James about filming Bright Star, her portrait of Keats in love (December 2009)
Mansfield Park reviewed by Andy Richards (April 2000)
Natural selection: Jonathan Romney on Nicolas Winding Refn's Pusher trilogy (March 2006)
How do you solve a problem like von Trier?: José Arroyo on Dancer in the Dark (September 2000)
Cannes auteurs AOC?: Jonathan Romney on Lars von Trier's distinction at Cannes (May 2011)
Ken Loach essay contest for young writers (July 2011)
Kes reviewed by Jack Ibberson (Autumn 1969)