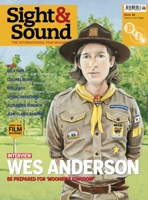 Our June issue scoops a talk with cover star Wes Anderson about his new film Moonrise Kingdom, on the eve of its unveiling as the opening gala at this year's Cannes Film Festival. Set on a remote island off the New England coast in 1965, it's a fantasia about two 12-year-old runaways who "fall in love in a way that is overwhelming for them – and slightly disturbing to everyone around them," the director tells Nick Pinkerton. "I remember what it was like. When somebody that age falls in love, it can be so powerful, it almost becomes some kind of fantasy – the whole world is altered," he reminisces, before turning to consider the wonders of Benjamin Britten and the mysteries of polypropylene book-jacket covers.
We catch up, too, with Hungary's visionary Béla Tarr as he bids leave from filmmaking with the formidable The Turin Horse, a film he says is "mostly about death and human beings and daily life" – in other words, the distillation of everything he's made until now. "You know what I want?", he asks Jonathan Romney. "You have to resist, against me."
Screenwriters Paul Laverty and Jean-Claude Carrière also open up – the former about the forthcoming single-malt heist caper The Angel's Share, his tenth collaboration with Ken Loach, the latter about his much-decorated career working alongside talents from Luis Buñuel to Peter Brook to Gérard Depardieu.
Elsewhere we investigate Bertrand Tavernier's 1980 Glaswegian sci-fi one-off Death Watch, the cinema of the Arab Spring, the influence of the Bauhaus on cinema, the art behind The Life and Death of Colonel Blimp – and the strange urge to compile cinema 'top ten' lists.
Plus – Morocco's Yto Barrada talks to Ian Francis about the overlaps between her lives as an artist and the owner of the Cinématheque de Tanger, Tony Rayns reports on a committedly vulgar new comedy at the Hong Kong International Film Festival, Philip Kemp remembers German Helmut Käutner's defiantly Vigoesque 1944 Under the Bridges and Charles Gant sees the Dardenne brothers and Nuri Bilge Ceylan outdo themselves at the UK box office.
We've reviews of 36 new film releases – including Alexander Sokurov's Faust, our film of the month (read Ian Christie' take on the film here) – 21 DVD releases, including features on the 1932 H.G. Wells adaptation The Island of Lost Souls, Radu Muntean's "scalpel-precise" Tuesday, After Christmas and the golden-age cartoons of UPA (United Productions of America).
And our Books section welcomes a new collection of Satyajit Ray's writing on cinema, a study of two decades of the New Argentine Cinema and (in particular!) the first full-length history of the BFI in over 40 years. Read all about it!
---
Subscribe today, save £9 on the cover price, get a free DVD and receive new issues hot off the press and direct to your door!
See also
The Darjeeling Limited reviewed by Ryan Gilbey (December 2007)
Lesser-spotted fish and other stories…: Wes Anderson talks to Kevin Conroy Scott about The Life Aquatic (March 2005)
Family album: Jonathan Romney on The Royal Tenenbaums (March 2002)
Rushmore reviewed by Richard Kelly (September 1999)
The Man from London reviewed by Michael Brooke (January 2009)
Werckmeister Harmonies reviewed by Jonathan Romney (April 2003)
The Exterminating Angel and Simon of the Desert reviewed by Tim Lucas (January 2009)
In the mood for love: James Mottram visits the set of Ae Fond Kiss (March 2004)
The Wind That Shakes the Barley reviewed by Edward Lawrenson (July 2006)
Bread and Roses reviewed by Peter Matthews (May 2001)