Forgotten pleasures of the multiplex, pt 3:
Films K-R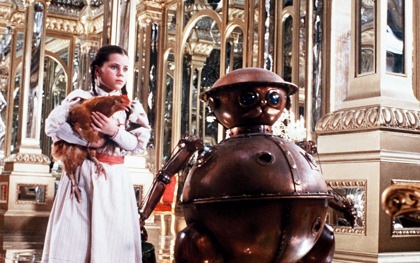 Walter Murch's Return to Oz (1985)
Unloved, unlauded but no longer alone: 80 mainstream movies from the past 30 years that were either commercially or critically buried
---
« Introduction | « Entries A-D | « Entries E-J |
Keeping Mum
Niall Johnson, UK/US, 2005
By Mar Diestro-Dópido, Sight & Sound
Beautifully twisted and dark, not to mention utterly English, Niall Johnson's understated comedy tells of a murderous old housekeeper (Maggie Smith) – a sort of inverted Mary Poppins – who pops up one day to take care of the dysfunctional family of a good-natured village vicar (Rowan Atkinson) who's lost touch with his job, his wife (Kristin Scott Thomas) and his teenage daughter (Emilia Fox). Blessed with a crisp, perfectly pitched script, much of the pleasure of Keeping Mum derives from watching an outstanding cast relishing a golden opportunity – including the late Patrick Swayze as a seedy American golf trainer. Atkinson and Thomas underplay and syncopate brilliantly around the overwhelming wit and charisma of Maggie Smith, who unsurprisingly steals the film. There's more than a nod to Ealing productions of yore, such as The Ladykillers, as the film plays skilfully with our expectations by delivering its shocking elements offhandedly and within a polite, decidedly English suburban milieu, while still managing to feel new and contemporary. With sharp, ingenious comments on marriage, sex, old age and religion, the quiet affability of Keeping Mum's surface subtly conceals a critical take on the small-village mentality, portrayed here as the true menace lurking within the disturbingly oppressive charm of a certain traditional Englishness. It definitely deserves cult status.
The King
James Marsh, US/UK, 2005
By Catherine Wheatley, academic and critic, UK
Back in 2006 I was the only person to select James Marsh's debut feature in my contribution to S&S's films of the year poll and assumed my critical faculties had failed me. Others were not kind to The King; indeed Variety's Todd McCarthy expressed particular distaste, condemning the film as "noxious" and "aggravating", before taking Marsh to task for the film's uneasy occupation of a middle ground between atmospheric emphasis and docudrama intensity. Yet as 2008's much-lauded Man on Wire has borne out, it's precisely this quality that gives Marsh's films their discomforting hold over us. Revisiting The King today, it's remarkable how much Marsh's Southern gothic prefigures another pair of critical hits from that year, namely No Country for Old Men and There Will be Blood. It was Marsh, not P.T. Anderson, who first connected the angular, earnest severity of Paul Dano with religious zealotry, casting him alongside Gael García Bernal as the Abel and Cain sons of a Texan preacher played by William Hurt (an underrated classic himself). It was his film, before the Coens', that squeezed out an ophidian narrative that went nowhere we expected it to but that was constantly infused with the faint, nauseating stench of unfathomable evil. The King is worth seeing for these reasons and many more, but especially for one indelible tracking shot that features towards the film's end. It's dreadful and gorgeous, and lingers with me even – perhaps especially – on the brightest of days.
Knowing
Alex Proyas, US, 2009
By David Jenkins, Time Out London, UK
Critic Roger Ebert was – I think – the first person to review Knowing, and not long after his rave write-up appeared on the internet, a wave of vicious pans dismissing it as sub-Shyamalan hooey followed. This prompted Ebert to write a follow-up blog in which he restated his admiration. He admits that the plot of the film is preposterous (it's wilfully distasteful too!), but to insist on its inconsistencies and pretentions is to ignore what makes the film so pleasurable and distinctive. For one, there's a neat dovetailing of theme and form, as it's a film about hysteria that plays out at hysterical pitch. This is bolstered by the involvement of Nicolas Cage, who scurries about sweating, shouting, locked in his own private universe – the Kinski comparisons were there for the taking long before Bad Lieutenant. Cage plays a renegade astrophysicist sporting gravity-defying hair who discovers a series of numbers that prophesy an Old Testament-style day of reckoning. In between National Treasure-style codebreaking waffle there are extraordinarily vivid and disturbing scenes of catastrophe: one in which Cage surveys the appalling wreckage of a recently crashed passenger plane evokes Andrei Rublev observing the brutality of the Tartar invasion of Vladimir. How many popcorn movies can you say that about?
The Last Starfighter
Nick Castle, US, 1984
By Patrick Fahy, BFI
Deemed in its day a mere Star Wars clone, Castle's charming and uplifting wish-fulfilment adventure for teenage boys has all the panache of the Lucas/Spielberg adventure that inspired it but with an added freshness of tone. Put-upon trailer-park teen Alex is whisked off into space to fight an alien armada, after proving his skills on an arcade game that he didn't know was the intergalactic equivalent of a job interview. Jonathan Betuel's witty script boasts robust cameos for Robert Preston and Dan O'Herlihy as unlikely aliens, romantic comedy (Alex's robot replacement on earth twitching amusingly at girlfriend Maggie's attentions) and a twist that brings good out of our hero's initial reluctance to fight ("Save the whales but not the universe?"). Grounded in credible atmosphere, with amiable leads, imaginative visual effects and Craig Safan's beautiful score, the film (one of the first to be entirely computer generated) soars above the sum of its parts.
The Love Guru
Marco Schnabel, US, 2008
By Vic Pratt, curator, BFI archive
Describing a "new low" for Hollywood comedy, S&S reviewer Michael Atkinson was mystified by The Love Guru's flat jokes, declaring it "a thumbscrew experience". I get the feeling he may not have liked it. I like it. Mike Myers reminds me of Jerry Lewis. Like his misunderstood predecessor, Myers follows his comedy wherever it takes him, however bewildering it may be; regardless of the critics, he dares to be silly. Undaunted by the seeming permanence of a Hollywood movie, he showcases slight material others might think twice about for a late-night sketch show. Undeniably, The Love Guru is hit-and-miss stuff. Yes, it includes a bizarre restaging of the pop video for Extreme's 'More Than Words', but it is precisely this kind of mind-boggling non-sequitur that makes this a genuinely surprising film. Buried deep within this dangerous shambles is Myers's self-centred comedic one-man show; writing, starring, powering the film with his ego, he ensures that somewhere, amid the mass of material that doesn't come off, erupts the occasional brilliant joke.
The Man in the Moon
Robert Mulligan, US, 1991
By Isabel Stevens, Sight & Sound
On its release, veteran director Robert Mulligan's final film bypassed audiences, while critics largely derided it as sentimental. At a time when teen movies meant classroom hierarchies, prom woes and a script full of catchy one-liners, Mulligan's gentle coming-of-age melodrama must have seemed the kind of film your dad would make. And yet the anguish of unrequited love was just as tenderly sketched by Mulligan in 1950s rural Louisiana as it was by Hughes and co in the corridors of an urban high school. Reese Witherspoon – in her debut role – carries the film as Dani, a 14-year-old tomboy who ditches Elvis to pine over the boy next door, 17-year-old Court. The languorous summer setting (lyrically shot by Freddie Francis) makes it all feel like a memory, while Dani's tentative flirtation with Court is just the right mixture of goofy and adorable. But then, just after their first kiss, what you've feared all along will happen does happen. Bewitched by her older sister, Court doesn't even look at Dani and heartbreak is administered in the most casual of phrases: "Goodbye kid."
Menace II Society
Allen Hughes, Albert Hughes, US, 1993
By Dylan Cave, curator, BFI archive
This film divided critics, not least in the UK, where its depiction of violence among amoral Watts teenagers was regarded as offensively one note. Boyz N the Hood (1991) was the crowning glory of a new cycle of urban gangster movies and, to some, Menace II Society marked a downturn in the genre towards mindless glorified violence. And yes, it is brutal, episodic and one note, but then the lifestyle the film depicts is vicious, directionless and emotionally stunted. Without the moral guidance of Boyz's father figures, the Menace teens have no sense of right or wrong. Ruthlessly blasting away innocent strangers but tongue-tied in the presence of grandparents, these gangsters aren't striving to reach the top of the world, they just want to survive it.
Midnight Run
Martin Brest, US, 1988
By Ali Jaafar, critic, UK
No buddy movie ever got as close to poetry as Martin Brest's Midnight Run. Smarter than 48 Hours, jazzier than Lethal Weapon and more profane than Stakeout, the film – about a bounty hunter (Robert De Niro) charged with bringing in an accountant (Charles Grodin) on the run from the Mob – ticked all the high-concept boxes required by 1980s cocaine-fuelled Hollywood executives. Car chases, exploding helicopters and equally inept Mafia hitmen and FBI officers punctuate a relentlessly simple story elevated to near perfection by George Gallo's eminently quotable screenplay. Featuring career-best work from Brest – just watch the director's later Meet Joe Black as evidence – and featuring a supporting cast having so much fun they almost let Yaphet Kotto's sunglasses run away with the film, Midnight Run ultimately belongs to Robert De Niro and Charles Grodin. Their exchanges as the chain-smoking, ulcer-suffering Jack Walsh and the deceptively whiny Jonathan 'The Duke' Mardukas resemble a bullfight on ice. "I suffer from aviaphobia… I also suffer from acrophobia and claustrophobia," Mardukas informs Walsh at one point. "If you don't cooperate, you're gonna suffer from fistophobia," comes the inevitable reply.
Muddy River (Doro no kawa)
Oguri Kôhei, 1981, Japan
By Jasper Sharp, critic, UK
Despite him winning the Jury prize at Cannes for The Sting of Death (1990) Oguri is a relatively unknown director in the West. Rarely seen in recent years, his debut is one of the finest Japanese releases of its decade, and was nominated for an Oscar following its North American release in 1982. Set in Osaka in the mid-1950s, following the departure of the Allied Occupation troops, this independent low-budget gem depicts the unconditional friendship between the young son of a noodle bar owner and the similarly-aged son of a common prostitute who plies her trade from a barge moored on the riverside next to his parent's restaurant. Beautifully shot in monochrome, it portrays the complex world of adult human relations through the purity of a child's eye perspective in a series of subtly realised and touching scenes that recalls Ozu – or, to be more accurate, the outsider milieux of Ozu's contemporary Shimizu Hiroshi.
O.C. and Stiggs
Robert Altman, US, 1985
By David Jenkins, Time Out London, UK
How is it possible that a film whose entire narrative is framed as a prolonged crank call to Gabon's then-president Omar Bongo is not a mainstay of the retro/cult screening circuit? Altman's pungent, unloved satire – about two aberrant hipster high-schoolers and the summer they spend terrorising the right-wing, nouveau-riche suburbanite Schwab family – not only repays repeated viewing but almost demands it with its ultra-scathing humour and typical 'controlled chaos' structure. Leisurewear'd patriarch Randall Schwab (Paul Dooley), head of Arizona's Schwab Insurance, makes a hell of a hate figure, citing "drinking" and "the continent of Africa" as personal bugbears on his hilariously shonky, western-inspired television infomercial. Though one might view the film as a more sophisticated, less winsome retooling of John Hughes's Ferris Bueller's Day Off (1986), it's more in the anarchic spirit of Nashville or Brewster McCloud, and Altman clearly has no time for learning, trusting, bonding, growing or symbolically taking a boot to daddy's Ferrari: O.C. and Stiggs celebrates teenagers as wild, impulsive, obstructive, obnoxious and politically astute, thereby making a complete mockery of the so-called teen movie.
One True Thing
Carl Franklin, US, 1998
By Kenneth Turan, Los Angeles Times, US
Nothing is harder to do and given less critical respect than films that successfully offer honest emotions in a mainstream way. Maybe it's because failed attempts at these kinds of pictures can be marred by contrived and mechanical sentimentality, maybe it's because it is too easy to denigrate them as 'women's pictures' in the rush to celebrate, say, the latest horror auteur. But viewers who revisit films like One True Thing will find that this family drama starring Meryl Streep, Renée Zellweger and William Hurt is above all a human story, honest and compassionate about its characters and accessible to anyone willing to feel. Though his background was in darker films such as One False Move and Devil in a Blue Dress, Franklin and screenwriter Karen Croner (working from the Anna Quindlen novel) understood that the complexity of personal relationships is the most compelling of subjects. Their belief in the power of simple things, the transcendent nature of the ordinary, is riveting. By exercising restraint, One True Thing creates the space necessary for audiences to react fully, allowing us the freedom to step forward and embrace the emotion, making it completely our own.
Palmetto
Volker Schlöndorff, US/Germany, 1998
By Geoffrey Macnab, critic, UK
Volker Schlöndorff's foray into film noir, loosely based on a James Hadley Chase novel, is on the self-conscious side. Schlöndorff's admiration for Billy Wilder is well chronicled and at times in Palmetto he tries a little too hard to emulate Wilder's Double Indemnity. The critics excoriated the film, with Variety calling it a "routine exercise" in "noir-by-numbers". Nonetheless, the film delivers exactly what it promises – namely sex, murder and mayhem. Woody Harrelson is enjoyably venal, confused and easily swayed as the reporter just released from jail after trying to expose wrongdoing. The stickiness of the overheated Florida setting accentuates the lust and corruption of the characters, while Schlöndorff throws in all the elements you'd expect – the garish femme fatale (Elisabeth Shue), the precocious stepdaughter (Chloë Sevigny) and a wildly overdetermined plot. What makes the film effective and enjoyable is the skilful way it balances irony and self-mocking humour with hardboiled genre elements.
A Perfect Getaway
David N. Twohy, US, 2009
By Nick Pinkerton, critic, US
A Perfect Getaway's set-up is as simple as its resolution is devious (and the title is dull). Two young couples team up while they are hiking perilous trails through the Hawaiian wilderness towards a remote beach, paranoid with rumours of a recent thrill-killing in Honolulu. Narrative information is filtered through the yuppie couple, Cydney and Cliff (Milla Jovovich and Steve Zahn), and the viewer shares their suspicions, which first land on a roughneck couple of hitchhikers, and then on their new travelling companions, Gina and Nick (Kiele Sanchez and Timothy Olyphant). Everything about macho Nick is dodgy; he seems a compulsive liar who spins yarns about his exploits as a "goddamn American Jedi" in Special Ops and imagines himself played by Nicolas Cage in a biopic (complete with impersonation). Perfectly tuned performances sustain the movie. Olyphant excels at amiable intimidation, while Zahn, his shapeshifting physique revealed strategically by writer-director Twohy, more than fulfils his half of their territory-marking contest. A Perfect Getaway also entertains a quiet subtext of class anxiety. Just tumble with the final rug-pull and appreciate the pleasures of its well-turned sleight of hand.
Pineapple Express
David Gordon Green, US, 2008
By Charlotte Garson, Cahiers du Cinéma, France
In 2008, a mainstream wind blew through the American independent scene. Even director Peter Sollett, who had shone with Raising Victor Vargas (2000), began filming New York from a West Coast viewpoint, having swapped Victor Vargas's unknown teenagers from the Lower East Side for rising star Michael Cera in Nick and Nora's Infinite Playlist. That same year, Pineapple Express mixed several genres in a cocktail unfairly dismissed as facile when the film actually radicalises every genre it touches. In the hands of the Superbad writing team of Seth Rogen and Evan Goldberg the buddy-movie aspect, for instance, plays up the blatant homosexual subtext to a declaration of friendship from weed dealer James Franco to unwitting murder witness Seth Rogen in the woods: "You know how they say, 'Don't dip your pen in company ink?' Well, I'm totally glad I dipped my pen in your ink." The stoner-movie aspect is also subverted; joint smoking would generally justify the characters' delirious state but here they are constantly drawn back to reality. Pineapple Express finally becomes an action film in a climactic assault on a vast marijuana plantation by "the Asians". It's the most mainstream aspect of the film, but is followed by an epilogue in which Red, a common ally of the heroes who received a stomach injury yet came back to save them, shares a diner breakfast with them and pledges his friendship as a "BFFF" (Best Fucking Friend Forever). He is still bleeding profusely but, like the effects of the "pineapple express" [a powerful marijuana strain], those of genre quickly dissipate, leaving these immature teenagers stuck between childhood and a golden age.
The Razor's Edge
John Byrum, US, 1984
By Michael Atkinson, critic, US
Unpredictable and freakishly sad, this all-but-unseen Somerset Maugham adaptation, a vanity project for Bill Murray (his reward for the Ghostbusters franchise), remains one of the most disquieting, off-kilter movies of the Reagan administration, a portrait of spiritual craving lit up by an irrational warmth but also spiked by money-zombie class-war satire not too far from Fassbinder's Whity, and by Murray's irrepressible lapses into hyper-irony, arriving in flashes and making Margaret Dumonts out of the rest of the cast. This might be the best Larry Darrell we'll ever have, equal parts deadpan clown, genuinely befuddled nowhere man and utter mystery; in other words, he is a complete person, running with his very private devils. Murray's sense of lostness gives the film extra dimensions – is it Murray, Darrell or both running so awkwardly for the foxhole in the war scenes? Is that persistent throat-lump signal representative of the actor's unease or the character's? Director John Byrum, perhaps inadvertently, imbues the movie with the buzz of an elegiac fever-dream, but it's the disarming details, from Murray/Darrell's mocking seal impersonation to his cheek-press against his murdered lover's lips in a Paris morgue, that stick in the memory like little heartbreaks.
Return to Oz
Walter Murch, US, 1985
By Sophie Mayer, academic and critic, UK
I was the target demographic when Return to Oz was released: bored on holiday at the seaside (outside the cinema there was a promotional tour bus with a wind-up Tik-Tok) and far too young to get the alternately camp and tragic associations attached to the original The Wizard of Oz (1939). Murch's adaptation of two later books in the Oz series was as brilliant a nightmare as you'd expect from the editor of Apocalypse Now and The Conversation. Not that I knew that then; I was simply deliciously scared of Princess Mombi's gallery of heads, of the shrieking Wheelers (Murch's sound design coming up trumps) and of the implacable Nome King. There's no kindly wizard here, only a resourceful, wide-eyed, firmly non-singing Dorothy and her talking chicken Billina. Handed a $25 million budget by Disney, Murch made some odd decisions, chicken and electroshock therapy included. The film tanked in the US, but – proof of a true cult classic – it's the subject of fan documentary, Return to Oz: The Joy That Got Away (2007), and it launched the wild career of its young star Fairuza Balk, Hollywood's first goth outsider chick.
Ronin
John Frankenheimer, US, 1998
By Nick James, Sight & Sound
When I first saw Ronin, it answered a deep need. When the Ronin archetype was later fed wholesale into The Bourne Identity, it seemed that this need was widespread. My appetite for this kind of thriller comes partly from Melville – his compelling worlds of bleak, wordless, professional machismo – and partly from all those cool television series I grew up with like Danger Man, The Saint and The Avengers. Ronin, though, is nothing like as self-aware. It's a simple rogue-heist-gang set-up, with an IRA cell hiring mercenaries to steal a macguffin before the Russians get it. Frankenheimer favoured conspiracy thrillers set in colour-bled historic European backgrounds (see Year of the Gun, 1991) but Ronin feels like the happiest of accidents. De Niro, as the former CIA man, was supposed to be coasting his latter-day career, but being paired with twinkly Jean Reno seemed to wake him up and showed what a responsive team player he could be when surrounded by the flavourful likes of Stellan Skarsgård, Jonathan Pryce, Sean Bean, Michael Lonsdale and the coltish Natascha McElhone. And there's that outstanding car chase through Nice with De Niro and Reno flying in a bronze Mercedes 450 SEL 6.9. Something about Ronin makes you watch it with your foot rammed into an imaginary accelerator. "Draw it again. It's a simple diagram, draw it again."
The Runaways
Floria Sigismondi, US, 2010
By Jane Giles, head of content, BFI
The Runaways is that rare bird, a female coming-of-age movie. This fact, plus its 15 certificate, the box-office curse of being a biopic and some sniffy reviews (cinematographer Thomas Townend described first-time writer-director Sigismondi as having "the structural sensibilities of a spider on LSD") resulted in a film that was overlooked by nearly everyone. Real-life fragile dreamer Cherie Currie (Dakota Fanning) is plucked from the dance floor of Rodney Bingenheimer's English Disco in mid-1970s LA by impresario Kim Fowley (Michael Shannon) to join the phenomenal Joan Jett (Kristen Stewart) in a barely legal, attitude-heavy all-girl rock band. The Runaways hit the road to play support in a string of dive bars, but with Fowley forever at the twisted end of a telephone wire they're soon signed to Mercury and making it big in Japan. Unable to walk the line between entertainment, experimentation and exploitation, Cherie cracks and everything falls apart – while Jett goes on to record the anthem that sold ten million copies, 'I Love Rock 'n' Roll'. George Hickenlooper's documentary Mayor of the Sunset Strip (2003) shows how close The Runaways is to the real-life spirit and look of its subject. Sigismondi was influenced by such true-life music/drug features as Christiane F. (1981) and Sid and Nancy (1986), and was stylistically inspired by characteristic 1970s filmmaking. It's also easy to see connections with the work of John Waters, as well as with similarly overlooked cult movies such as Rock 'n' Roll High School (1979). With all this, plus a killer soundtrack (Iggy Pop, David Bowie, Suzi Quatro, the Sex Pistols – and a sensitive moment with Don McLean), I'm just so glad that The Runaways is out there waiting to find its audience. It's a real blast.
---
See also
Sight & Sound's collected film polls and surveys
Everywhere and nowhere: Jonathan Romney on The Matrix phenomenon (July 2003)