About Schmidt
USA 2002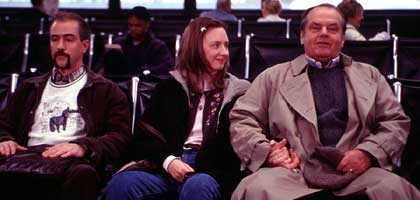 Reviewed by Xan Brooks
Synopsis
Our synopses give away the plot in full, including surprise twists.
Omaha, Nebraska, the present. Insurance-company actuary Warren Schmidt (Jack Nicholson) struggles to cope with life after his retirement. To alleviate the boredom he sponsors an impoverished African infant Ngudu by letter and prepares for his daughter Jeannie's (Hope Davis) wedding to waterbed salesman Randall (Dermot Mulroney). Warren's wife Helen (June Squibb) dies suddenly. After the funeral he discovers a stash of love letters that reveal his wife once had a brief affair with his best friend Ray (Len Cariou).
Warren abandons his home and takes off in his luxury motor-home on a roundabout two-week trip to attend Jeannie's wedding in Denver in hopes that Jeannie might look after him. Along the route he writes letters to Ngudu explaining his feelings of worthlessness, his resistance to Jeannie's marriage and his regret that he wasn't a better husband to Helen. Arriving in Denver, Warren becomes a guest at the home of Randall's hippie mother Roberta (Kathy Bates). In vain, he begs Jeannie not to marry Randall. More successfully, he resists Roberta's attempts at seduction. At the wedding Warren leads his daughter up the aisle and later gives a gracious speech in which he thanks Randall for supporting Jeannie through the trauma of her mother's death. He drives home still beset by the sense that his life has been without purpose. Back in Omaha, Warren opens a letter containing a drawing from Ngudu.
Review
In the opening scene of director and co-writer Alexander Payne's black comedy About Schmidt, Jack Nicholson's middle-ranking Midwestern office drone sits at his desk watching the clock tick down to his official retirement. There is a turtle-like quality to the trap-mouthed set of his jaw and a heartbreaking care in the way his hair is arranged across his bald forehead. As an insurance-company actuary, Warren Schmidt can calculate the exact age at which a client is expected to die. After surveying his own data, he estimates he has nine years left to live.
During his white-hot creative peak in the 1970s, Nicholson (in the likes of Five Easy Pieces, The Last Detail, Chinatown and One Flew over the Cuckoo's Nest) forged a screen image as the ultimate untamed American maverick. In old age he is increasingly exploring a different - though not entirely unrelated - western archetype. His sad-sack actuary in About Schmidt stands as a kind of spiritual cousin of the anguished ex-cop he played in 2001's The Pledge (and a distant descendent of Arthur Miller's salesman). Both are retired Americans who realise, too late, that they have built their lives on false ideals, and who become consumed by feelings of rage and impotence once the props of their career are tugged away. And yet where The Pledge's Jerry Black embarks on a personal quest that leads first to isolation and then to madness, Warren Schmidt is ultimately too domesticated for such a rush to destruction. His anger manifests itself as a few peevish kicks at the world around him, and his great escape takes the form of a meandering round-trip that leaves him feeling exhausted and unchanged. Even his final breakdown - sobbing over a crayon drawing sent by an African orphan - feels as much a retreat into pre-packaged sentimentality as it does a genuine catharsis. His is a horribly real, tragically humdrum journey.
It's hard to fault Nicholson's work. His acting is at once edgy and restrained, holding his natural exuberance on a tight leash, festering with dormant energies and allowing the camera to fetishise his hairy ears, doughy jowls and veiny ankles. What's more debatable is whether this performance melds properly with the picture as a whole. Throughout About Schmidt one has the sense that Payne is struggling to process the raw matter his star is providing, and that Nicholson's performance is leading the film as opposed to being led by it. Harried by an over-jaunty score, Payne's film veers from poignant, textured drama through acid social satire to over-broad, near-slapstick comedy. The secondary players are an underdrawn mixed bag (Hope Davis' chill, petty daughter; Dermot Mulroney's buffoonish suitor) who seem more projections of Schmidt's misery than entities in their own right. Only Kathy Bates' uptight hippie mom (outwardly cuddly, inwardly hard as nails) hits the right note - a robust, colourful foil to Schmidt's passive aggression.
For his last film Election (1999) Payne rustled up a brilliantly black, sure-footed comedy of corn-fed ambition in the American heartland. But for all its richness and insight, About Schmidt - bigger in scale, more far-reaching in intent - is the less successful movie. Ultimately this is a frustrating patchwork: an uneasy marriage of Louis Begley's source novel (About Schmidt) and an old Payne screenplay; a restless tale of one man's restlessness; an unformed narrative that winds up at the mercy of a mighty central performance.
Credits
Director

Alexander Payne

Producers

Harry Gittes
Michael Besman

Screenplay

Alexander Payne
Jim Taylor

Based on the novel by

Louis Begley

Director of Photography

James Glennon

Editor

Kevin Tent

Production Designer

Jane Ann Stewart

Music

Rolfe Kent