Laissez-passer
France/Germany/Spain 2001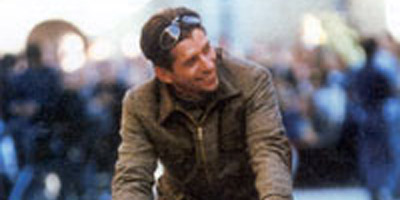 Reviewed by Keith Reader
Synopsis
Our synopses give away the plot in full, including surprise twists.
Paris, 1942-43. The French cinema industry is largely under the sway of the German-controlled production company Continental Films, founded in 1940 by Alfred Greven. Directors, screenwriters and actors are in profound disagreement about whether working for Continental is a way of "hiding between the wolf's fangs, where it cannot bite you", or tantamount to collaboration.
The film traces the contrasting itineraries of two real-life figures, director Jean-Devaivre (Jacques Gamblin) and screenwriter Jean Aurenche (Denis Podalydès). Devaivre, happily married with a small child, joins Continental because it provides excellent cover for his Resistance activities. Aurenche, in constant transit between his three women lovers, uses any possible excuse to turn down offers of work from the Germans, jeopardising his livelihood. Devaivre's brother-in-law Jacques Dubuis (Olivier Brun), a film extra, is seized by the occupying troops because of his work for the Resistance; we learn he was to die in prison at the age of 20. Devaivre and Aurenche survive the war and continue their careers.
Review
"Were things as black and white as people subsequently made out? Where do you draw the line between collaboration, survival and resistance? No film has ever dealt with these issues." Tavernier's grand claims for his most recent feature did not succeed in convincing the French public: Laissez-passer did very poorly at the box office there, perhaps a sign that the French may finally be reaching saturation point where les années noires are concerned. The film stands at the crossroads of two well-established genres, the Occupation/ Resistance movie and the film about film-making. In many respects it represents a throwback to the earlier type of Resistance movie - from René Clément's La Bataille du rail (1945) to Jean-Pierre Melville's L'Armée des ombres (1969) - dominant before Louis Malle's Lacombe Lucien (1973). Full- blown collaboration is conspicuous by its absence, the Germans are oppressively clean cut and given to barking orders, Resistants bomb trains and - despite Tavernier's statement - the good, the bad and the ugly are on the whole clearly and instantly identifiable.
The distinctiveness of Tavernier's approach lies in his use of real-life characters drawn from the 1940s French film industry, including the actor Michel Simon and the two protagonists. Jean-Devaivre was a minor film-maker whose best-known work La Dame d'onze heures was revived in France a few years ago at Tavernier's instigation. Jean Aurenche is a far better-known figure - one half, along with Pierre Bost, of the most influential scriptwriting team in Fourth Republic cinema. (He also worked on several of Tavernier's early films.) This is significant because Laissez-passer derives much of its resonance from the allusions it makes to major recent debates in French film. Aurenche and Bost were denounced by the critics working for Cahiers du cinéma, notably François Truffaut, as the constipated epitome of a reactionary cinema, and Tavernier's adoption of them was a provocative gesture which led to his work thereafter - including the current film - receiving short shrift from Cahiers. Other film-makers who appear as characters in Laissez-passer - André Cayatte, Jean-Paul Le Chanois - were key figures in what Cahiers derisively called "le cinéma de qualité", so Tavernier's film can be read as a defence and reassertion of a cinematic tradition long eclipsed by the New Wave.
In its use of muted, often muddied colours, Laissez-passer recalls Tavernier's post-World War I epic Life and Nothing But (1989) as well as other Occupation movies such as Claude Berri's Uranus (1990), though it differs from those films in using no major stars. Denis Podalydès is a suitably schizoid Aurenche - crafty and astute in his avoidance of collaboration, almost comically tumultuous in his private life - while Jacques Gamblin makes Devaivre convincing as a fearless Resistance hero of the old school. But ultimately Laissez-passer is a team film rather than a star vehicle, providing a further slant on a period many might have thought done to death, and skilfully scripted to sustain attention throughout its almost three-hour running time. Tavernier shows us, in more ways than one, that le ciné ma de qualité lives on.
Credits
Director

Bertrand Tavernier

Producers

Alain Sarde Frédéric Bourboulon

Scenario

Jean Cosmos Bertrand Tavernier

Dialogue

Jean CosmosFreely inspired by remembrances of Jean Aurenche Jean-Devaivre [Added final frame:] 'Notably inspired by remembrances of Jean Devaivre'

Director of Photography

Alain Choquart

Editor

Sophie Brunet

Art Director

Émile Ghigo

Music

Antoine Duhamel