Keeping Your Head
Film of the Month: The Lady & the Duke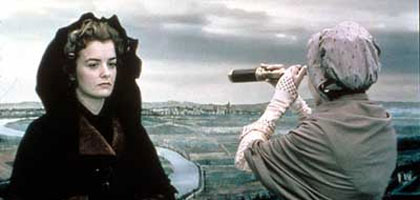 Why has Eric Rohmer turned to historical drama and anti-realism, asks Philip Horne.
Eric Rohmer said not long ago that, 'I... try hard each time to give something new to my spectators.' His admirers have long been struck by the powers of self-reinvention he has shown in more than two dozen features since 1959. Despite a partiality for a trademark style of serious-talking comedy, he has repeatedly, in Ezra Pound's phrase, 'made it new.' Even so, when the veteran director brought out in 1998 the charmingly mellow An Autumn Tale (Conte d'automne), the last instalment in the Tales of the Four Seasons series that had occupied him for the previous decade, it seemed the perfect moment for a graceful and well-earned retirement. Aged 81, the creator of subtly varied studies of modern life in the series Moral Tales (Contes moraux, 1962-72), Comedies and Proverbs (Comédies et proverbes, 1980-87) and Tales of the Four Seasons (Contes des quatre saisons) looked unlikely to make any ambitious new departures. So no one could have predicted The Lady & the Duke (L'Anglaise et le duc) - a surprise on at least two fronts.
First, in terms of subject matter. Here Rohmer jumps back to the 1790s and the period of the Terror during the French Revolution to tell the tale of a female Scarlet Pimpernel - Grace Elliott, the passionate but proper former lover of the British Prince of Wales and of Philippe, Duke of Orléans (Jean-Claude Dreyfus, best known for a very different role in Delicatessen). By Rohmer's standards the film is action packed, and indeed it has a body count to match Die Hard's. The royalist Elliott (Lucy Russell, from Christopher Nolan's Following) repeatedly risks her life to help an aristocrat escape the guillotine, undergoes night-time house searches by unruly revolutionary patrols and comes up against Robespierre and his Comité de Surveillance in a frighteningly farcical show trial. After being imprisoned among other aristocrats, many of whom go to the block, she is finally saved only by Robespierre's fall.
This thrilling material, remarkably, is based closely on the real-life Grace Dalrymple Elliott's memoir Journal of My Life during the French Revolution, written at the beginning of the 19th century 'at the express desire of His Majesty King George the Third', as an editor noted in 1859. (This may partly account for its fiercely royalist tinge, as Rohmer has pointed out: 'She is probably less of a royalist than she says, given that she wrote her book in anti-Revolutionary England.') Rohmer learned of this wonderfully vivid text (last reprinted in English c. 1959) from a digest in a history magazine.
Elliott's manner in the book is strikingly plain and frank (though there are doubtless distortions and suppressions, and she never admits to having been Orléans' mistress). When she has sheltered the wounded aristocratic fugitive the Marquis de Champcenetz (Léonard Cobiant) during the September massacres despite Orléans' warnings, her reaction is forthright: 'I told him [Orléans] that I had not been fortunate enough to save anybody in the dreadful night; that I wished it had been in my power to do it even at the risk of my own life; that I thought the scenes of yesterday and this night were horrible; and I hoped they would cure all the admirers of the abominable Revolution.'
Rohmer has said he was touched by 'her British stiff upper lip: a certain modesty and self-control, a completely unaffected way of talking about herself and above all a way of looking at events that makes her the heroine of a novel.' Certainly the admirable aristocratic restraint of the dialogue her memoir inspired has a classical theatrical force to which Russell and Dreyfus do full justice. And though Rohmer has denied the film was made for 'any political reasons', Elliott's horror at the Terror's gruesome atrocities must have chimed with the thinking he expressed in a 1983 interview with Jean Narboni: 'I think that in order to build, we mustn't destroy... That's why, politically, I'm a reformist rather than a revolutionary.'
Rohmer evidently also recognised the core of a tragic love story in the vexed, tender, courteous but free-spoken relationship between Elliott and the ill-fated duke; and perhaps also Elliott's familial resemblance to his talkative, insistent but often touchingly inconsistent heroines. His characteristic insight gives emotional depth to Elliott's revulsion at the duke's treacherous vote for the king's execution. In the memoir it is presented as moral and political: 'I never felt such horror for anybody in my life as I did at that moment at the duke's conduct.' But the film subtly connects the intensity of Elliott's feelings to the duke's espousal of a new mistress with revolutionary leanings, and to Elliott's bitterness at her abandonment by the man she still loves: 'I've never felt so revolted by anyone. Having belonged to him once, I cannot bear myself.'
The second great cause for surprise in The Lady & the Duke is its wholesale use of digital technology, its overt combination of painted sets and backdrops based on pictures, engravings and street maps of the period with live-action figures and animated elements - actual birds fiying above engraved streets, a real Seine fiowing under a painted bridge. We never leave the studio - a distinctly unsettling departure for one of cinema's most sensitive renderers of natural light, weather and place, who said in Positif of An Autumn Tale: 'I work from the actors' surroundings, from what they themselves can sense.' Working against blue or green screens is hardly going to yield the acute response to nature that is unforgettable in, say, The Green Ray (Le Rayon vert, 1985), where Marie Rivière is brought to tears by the sway and rustle of a summer breeze in the treetops. The rules of this new game take some learning, at the hands of a Rohmer who now says in interview: 'I do think that resorting to a highly visible artifice gives me truth.' The method provides an image of reality without supporting a full illusion of it, a self-conscious stylisation that's at the opposite end of the spectrum of CGI historical recreation from the realism of Ridley Scott's Gladiator.
There is a precedent in Rohmer's career for this radical simplification. His Perceval le Gallois (1979), a presentation of the medieval poem by Chrétien de Troyes, espoused an extreme theatricality - what he called 'a mise en scène which deliberately turns its back on ordinary cinematographic realism, a theatrical mise en scène, if you like, inspired by medieval scene painting, but also by the lessons of modern theatre in the round.' The film emphasised, in what Rohmer probably wouldn't call a Brechtian style, its studio-bound artifice and origin in a written text. As Rohmer said, 'The actors in the film are narrators who, caught up by their text, finish by acting out what they had intended simply to recite.' The audience thus - if it stayed the course - consciously participated in the creation of the story.
In The Lady & the Duke, Grace Elliott's text comes to life in a slightly different way, as the static picture-book images of the opening start to move (perhaps echoing the very inception of cinema, the Lumière showings where still images suddenly jerked into motion). But the paradoxical effect is similar: the artificiality of the film's look, the sincerity of the enterprise of storytelling and the paring-down to the essential concentrate our attention on the human complexities of a tragic tale that is well worth retelling.