Vanilla Sky
USA 2001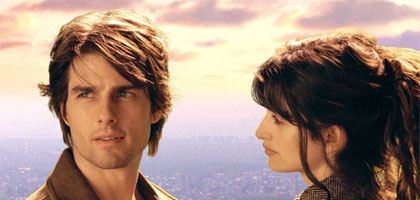 Reviewed by Xan Brooks
Synopsis
Our synopses give away the plot in full, including surprise twists.
Encased in a surgical mask, New York publishing tycoon David Aames (Tom Cruise) is interviewed by a psychiatrist, McCabe (Kert Russell), in connection with a murder. David's reminiscences lead back to his pampered playboy lifestyle, revisiting his casual relationship with model Julie (Cameron Diaz) and his fateful meeting with Spanish dancer Sofia (Penelope Cruz). After spending a romantic - but chaste - night with Sofia, David accepts a lift from the jealous Julie, who drives her car off a bridge in a hysterical rage. Julie is killed. David is physically disfigured and emotionally traumatised. After bungling a reconciliation with Sofia, he collapses drunk on the street outside her apartment.
The next morning Sofia takes him in and the pair begin a relationship. Plastic surgeons repair his face. But David becomes haunted by visions of Julie and begins to confuse his new love with his old lover. Eventually he smothers Julie with a pillow and is arrested for Sofia's murder. David and McCabe travel to the mysterious Life Extension Corporation where the mystery is cleared up. It transpires that David is one of the corporation's clients. He committed suicide a few years after his car crash and is currently living a 'lucid dream' that began on the night he fell asleep outside Sofia's apartment. The visions of Julie were just kinks in his subconscious that have now been ironed out. Edmund Ventura (Noah Taylor), a scientist at the corporation, takes David on to the roof of his headquarters and asks him to decide whether to stay in his dream state or choose death. After kissing Sofia goodbye, David leaps to his end in the street below.
Review
Having paid tribute to his rock journalist background on Almost Famous, writer-director Cameron Crowe describes his latest project as 'a cover version', a Hollywood reprise of Alejandro Amenábar's Spanish-language 1997 puzzle picture Open Your Eyes (Abre los ojos). Crowe's version is lustrously well textured, impeccably produced, and as cold as a penny. Its Hollywood sheen masks a strange and discomforting curio. From eerie intro to barmy send-off, this presents an alienating portrait of alienation, a study of hollow lifestyles and phoney dreams that sometimes feels hollow and phoney itself.
Vanilla Sky's success or otherwise finally depends on how intentional you believe this whiff of fakery to be. One could argue, of course, that Crowe's film fails because it lacks a convincing dynamic between the living state of its lead character and the 'lucid dream' he later moves into. The obvious riposte is that the life led by Tom Cruise's spoiled publishing heir (with its palatial apartments, beautiful hangers-on and air of moneyed indolence) is as close to fantasy as it's possible to get, and as much an immaculate, Gatsbyesque construct as his later, virtual existence. This may explain why the whole of Crowe's film - be it 'real life' or 'lucid dream', sunny scene or dark disturbance - has the same airbrushed, hyper-real quality. Vanilla Sky is not a thriller about a man jolted between solid reality and nightmare fiction. Instead, it's a portrait of two parallel unrealities that refiect and inform each other to such a degree that you can barely see the join.
In the US some have already viewed the film as an extended metaphor for Tom Cruise's rarefied movie-star existence. Certainly there's something gloriously narcissistic about it all. At times this views like a loving showcase for Cruise's shark-white grin, or an indulgent calling-card for his new off-screen paramour Penélope Cruz (repeating her role from Amenábar's original), who plays a perpetual winsome, dark-eyed peek-a-boo over fridge doors, or the sketchpad she doodles on. On other occasions - as Cruise dons road-victim make-up - it seems infected by a sex symbol's paranoia about losing his looks (though even these scenes have the compensation of fiexing his acting muscles; shambling around with a dead, dangling arm like some latter-day Richard III).
Vanilla Sky ultimately winds up on a building overlooking the World Trade Centre, with a dreamy muddle of an explanation that ties up some loose ends and leaves others hanging. It's an appropriate end for a fiawed, frustrating but oddly engrossing picture - a study of millennial Manhattan tensions that juggles (unintentional?) pretension with (unintentional?) profundities. Alright, so maybe Vanilla Sky is finally more about artifice than it is about art. Yet - as with the two levels it moves between - its skill is in making you wonder if there's really much difference between the two.
Credits
Director

Cameron Crowe

Producers

Tom Cruise
Paula Wagner
Cameron Crowe

Screenplay

Cameron Crowe

Based on the film Abre los ojos written by

Alejandro Amenábar
Mateo Gil

Director of Photography

John Toll

Editors

Joe Hutshing
Mark Livolsi

Production Designer

Catherine Hardwicke

Music

Nancy Wilson