A.I. Artificial Intelligence
USA 2001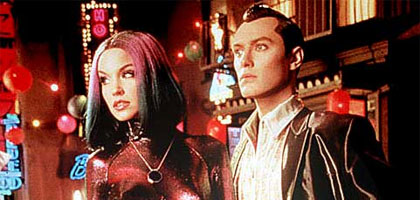 Reviewed by Philip Strick
Synopsis
Our synopses give away the plot in full, including surprise twists.
The Earth's melting ice-caps have drowned countless cities, but population control has ensured the US is still an island of prosperity. Professor Hobby of Cybertronics Manufacturing (William Hurt) proposes the ultimate robot, a child-like construction which can experience emotions. The prototype, a robot called David (Haley Joel Osment), is placed with Cybertronics employee Henry Swinton (Sam Robards) and his wife Monica (Frances O'Connor), whose own child Martin (Jake Thomas) has been cryogenically frozen until a cure is found for his terminal illness. The experiment is a success, with Monica and David sharing an ecstatic relationship. Monica even gives him Martin's supertoy Teddy, a mini-robot with superior reasoning.
When Martin is cured, David is no longer needed; Martin jealously makes trouble for him. When Monica reads them the story of Pinocchio and the Blue Fairy, David is convinced that he must become a 'real' boy in order to keep his mother's love. After an accident in which David nearly drowns Martin, Monica abandons David and Teddy on a distant wasteland where he is soon captured along with a load of discarded robots. He avoids being destroyed as ghoulish entertainment for the crowds at the Flesh Fair arena. With the help of Gigolo Joe (Jude Law), a 'love robot' who is on the run after being framed for murder, David makes his way to Rouge City, a riotous leisure centre where an omniscient computer tells him the Blue Fairy is to be found at the end of the world, formerly Manhattan.
Dodging the police, Gigolo Joe takes him to the drowned city by helicopter, reuniting him with a delighted Professor Hobby who has been producing innumerable further Davids. In despair at this revelation, David throws himself into the ocean but discovers, far below, a statue of the Blue Fairy and begs her to make him 'real'. Trapped in a sunken helicopter, he remains confronting the statue for 2,000 years until alien visitors release him and decipher his memory. Using a lock of Monica's hair that Teddy has preserved, they are able to reconstruct her for a single day and David at last gets his wish. As the joyful day closes, mother and son fall asleep together as Teddy watches over them.
Review
For years, rumours emerged infrequently from the Kubrick domain that he was planning a film about artificial intelligence. A safe assumption seemed to be that the story of HAL 9000, the misunderstood computer of 2001: A Space Odyssey (1968), would in some way be continued. Given the prevalence of pre-programmed, zombie-like characters in Kubrick's work (think A Clockwork Orange or Full Metal Jacket), an exploration of possible tensions within a part-robotic society seemed an entirely logical route for him to take. We now know that the launch-pad for the project was a Brian W. Aldiss story written in 1969, 'Supertoys Last All Summer Long'. We know too that Kubrick, unlike Aldiss, saw this as a version of Collodi's classic fairy-tale Pinocchio, and that he developed it (under the title Supertoys) in parallel with what became his final film, Eyes Wide Shut. Already hampered enough by other distractions, Eyes Wide Shut will be little enhanced by a Pinocchio comparison, although the curious odyssey of its frustrated hero, concluding in a Christmas toy shop, is not without its resonances. What appears to overflow directly into Eyes Wide Shut from the Aldiss text, however, is both its sense of bereaved passion and, more fundamentally, the question asked by the story's robot three-year-old (aged nearer 11 in A.I.): 'How do you tell what are real things from what aren't real things?' To which, at story's end, the all-knowing robot 'supertoy' Teddy replies: 'Nobody knows what 'real' really means', a typical Aldiss aphorism. In Eyes Wide Shut, the big scene of revelation in which the terrified husband is assured that nothing of the previous night was 'real' casts an overpowering uncertainty across his adventures. And in A.I., illusion and pretence are the only perpetual realities, and fakery is entirely forgivable in direct ratio to the amount of happiness it generates. At heart, A.I. and Eyes Wide Shut prompt the same questions.
In bequeathing his project to Steven Spielberg, complete with draft scripts and hundreds of futuristic designs, Kubrick found the ideal successor, another Pinocchio fan. As early as his 1972 telefilm Something Evil, in which a mother has to rescue her young son from demonic possession, Spielberg was showing us 'lost' children in a persistent battle of the generations that finds its way as much into Indiana Jones and the Last Crusade (1989) as such obvious derivatives as E.T. (1982) or Hook (1991). The most blatant Pinocchio reference prior to A.I. can be found in the Spielberg-scripted Close Encounters of the Third Kind (1977), where the increasingly childlike father tries to persuade his offspring to see the film he identified with at their age. As he is enfolded into the embrace of the mother-ship after his long quest, a triumphant fragment of the Disney Pinocchio theme is briefly on the soundtrack...
Spielberg says he was a different person back then: tackling aliens today (extraterrestrials make a final-reel appearance in A.I.) needs a more pragmatic, less idealistic approach. All the same, the primary alien function remains, it seems, to make dreams come true (especially the one about immortality). And combining extraterrestrials with the Blue Fairy (Pinocchio's mother-substitute) produces - as Aldiss feared it would - an uneasy alliance. While it's just about excusable that aliens can be expected to do anything, and would be poor judges of an unstable robot's misguided fantasies, the result unavoidably verges on the ludicrous.
With their wish-fulfilment benevolence, and their matchstick appearance, the aliens of A.I. are closely related, in fact, to the thinnest Close Encounters visitor. Fascinated by the still-functioning robot-child David, lightly garnished with the accumulated mould of 2,000 years, they can magically reconstruct out of nothing much his 'home' and his 'mother' - but not, of course, his disagreeable 'father' and 'brother' - for an unrepeatable (such are the inexplicable limits of magic) 24 hours. And whatever happened, by the way, to all the other durable Davids - and Darlenes - revealed in Professor Hobby's lair? Hastily reverting to the bedtime-story tones of a conciliatory commentary for a few details of their halcyon day, the film switches itself off at the peculiarly Oedipal final image of artificial repose. It is hard to imagine Kubrick as the Geppetto to all of this, but Spielberg's identification with his marionette couldn't be plainer.
For all Spielberg's loyalty, Kubrick would undoubtedly have filmed it differently. The immaculate corridors and palatial rooms of Eyes Wide Shut, furnishings agleam with mellow light, and above all the restless Steadicam patrols, leading and pursuing the performers with an urbane attentiveness, have a magisterial authority familiar from The Shining (1980) or Barry Lyndon (1975), but find little reflection in the surfaces of A.I.. Instead, Spielberg exercises his usual skills - a no-nonsense pace, huge bursts of sound and action, eye-popping special effects - with a nod to Kubrick-style images: the docking scene from 2001, the smashing of mannequins from Killer's Kiss (1955), the plunge into the frozen maze from The Shining. The decorative asides to a tale told well, if at some length, are all Spielberg's: the captured Moon hinting at a silhouette or two, the motor-bikes with Jurassic fangs, the use of blazing white to signify angelic innocence, and the affectionate movie reference whereby the 'love robot' Gigolo Joe, with a twitch of the shoulder, summons Dick Powell's romantic ballad (and Busby Berkeley's audacity) from Dames (1934).
Of particular note are Spielberg's underwater sequences, replete with the foreboding he has been injecting since Jaws (1975). In Always (1989) it was a sunken plane and a trapped pilot, in Amistad (1997) a line of tethered slaves sinking helplessly, and in Saving Private Ryan (1998) a horrific welter of the drowning wounded. In A.I. a swimming-pool accident leads to David's expulsion from the family that owns him (a vertiginous aerial shot shows him marooned at the bottom of the pool), while the later scenes of an engulfed New York provide some of the finest ever vistas of that special disaster genre in which Manhattan is always the prime target for submersion. Some future nightmare seems bound to emerge from these murky fathoms. Meanwhile, Spielberg's other triumphs in A.I. are in his deployment of the vast gladiatorial settings of the Flesh Fair and the neo-Vegas glitter of Rouge City, reminding us he can handle massive crowd scenes with a touch of skilful artwork and a nonchalant elegance. If A.I. is too soft-centred to do little more in the end than Star Wars (1977), Blade Runner (1982) or Cherry 2000 (1988) to prepare us for the dubious rewards of robotic integration, at least it restates HAL's case with commendable vehemence and a kaleidoscopic ingenuity.
Credits
Director

Steven Spielberg

Producers

Kathleen Kennedy
Steven Spielberg
Bonnie Curtis

Screenplay

Steven Spielberg
Based on a screen story by
Ian Watson
Based on the short story Supertoys Last All Summer Long by
Brian Aldiss

Photographed by

Janusz Kaminski

Editor

Michael Kahn

Production Designer

Rick Carter

Music

John Williams