Brother
Japan/UK/USA/France 2000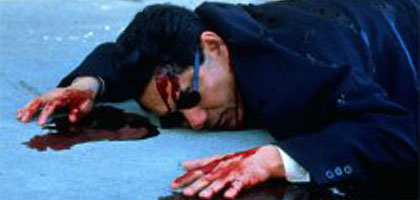 Reviewed by Mark Kermode
Synopsis
Our synopses give away the plot in full, including surprise twists.
Tokyo. When yakuza officer Yamamoto (Beat Takeshi)'s boss is killed in a war with a rival gang, a former comrade lets Yamamoto flee to the US instead of killing him as he'd been ordered. Arriving in Los Angeles, Yamamoto traces his adopted brother Ken (Claude Maki). Ken introduces Yamamoto to Denny (Omar Epps), whose eye Yamamoto had just injured during a chance encounter. Ken and Denny are members of a small-time drug-pushing gang; bringing his violent yakuza ethic to bear on his brother's situation, Yamamoto despatches Ken's supplier and wipes out a Chicano gang whose turf Ken now takes over.
As Ken's business increases, a bond grows between Yamamoto and Denny. Yamamoto also forges an alliance with rival crime-lord Shirase (Masaya Kato), creating a drug empire spanning Chinatown and Little Tokyo. When the Mafia demand their share of the profits, Yamamoto's gang orchestrates a killing which provokes all-out war with them. A series of increasingly bloody battles ensues, during which Yamamoto's associates are killed. Yamamoto takes Denny to sanctuary at his mother's house, where he discovers her slain. After setting free his Mafia rival, whom he had kidnapped, Yamamoto sends Denny off, then holes up at a remote diner, before walking out into a rain of Mafia bullets. Alone in his car, Denny opens the bag left behind by Yamamoto, and discovers it to be full of money.
Review
On the official Japanese website of Office Kitano, the centre of operations for Kitano Takeshi's eastern film-making empire, a somewhat stern announcement declares that their co-production of Brother with westerners Recorded Picture Company "will challenge what has never been attempted in the Japanese cinema industry; to fuse the Hollywood film-making method... and Kitano's film-making as an auteur." The collaborative tension between the pragmatic demands of the international movie business (the film was "completion bonded", an occurrence Office Kitano calls "unprecedented for a Japanese film-maker") and the artistic concerns of Japan's most hands-on director (he writes, directs, edits and stars) is a defining element of Brother. Kitano's first full-on foray into the English-speaking marketplace, Brother is a peculiar hybrid, part blood-splattered post-Woo Hollywood heroism, part old-school Japanese samurai asceticism. This unruly crossbreed often seems to walk a tightrope between pragmatics and parody as it attempts to raise the profile of Kitano, a household name in the East, among western audiences.
Shot with the assistance of his regular "Kitano-Gumi" cohorts, Kitano's international adventure is big on spectacle and melodrama, with highly choreographed gun battles spicing up a twisted family saga. The story is a simple international parable involving Yamamoto, played by Kitano, who is a yakuza warrior drenched in the ancient traditions of Japan. On fleeing to LA, Yamamoto discovers that his true brother is not the Americanised adopted sibling Ken but the African-American stranger Denny, whom initially he assaults in an outburst which looks uncomfortably like racial hatred, then later embraces as his true kin.
Continuing Kitano's ongoing obsession with the yakuza code of loyalty and belonging, and making the most of its 'stranger in a strange land' premise, Brother boldly juxtaposes images of geographical displacement and transience with underlying themes of cultural permanence and immutability. Forced to flee from a world in which he has become an outsider, Yamamoto swaps Tokyo for Los Angeles only to recreate his familiar lifestyle in this foreign environment. To Kitano, LA appears to have no indigenous culture of its own; he portrays it as nothing but a blank space on which immigrant Japanese, Italians, Africans and Hispanics do battle for supremacy, apparently unencumbered by the laws and 'customs' of America. Just as Yamamoto understands, but generally declines to speak English, so Kitano's film attempts to inhabit terrain mapped out by the North American film industry (albeit through a British conduit, producer Jeremy Thomas) without engaging in any ongoing dialogue with the compromises for which it has become infamous. It is an endeavour which is only partially successful, and which perhaps proves that no man - not even one as doggedly determined as Kitano - is an island entire unto himself.
Increasingly drenched in the trademark violence familiar from Kitano's earlier thrillers such as Sono otoko, kyobo ni tsuki/Violent Cop (1989) and 3-4 Jugatsu/Boiling Point (1990), Brother veers uneasily between the borderline monotony of the noisy firearm shoot-outs that have become an anodyne staple of contemporary Hollywood and moments of sublimely precise suffering which skewer the viewer into uneasy recoil. Just as the BBFC was moved to snip moments of "interpersonal" physical contact from John Woo's Hard Boiled while generally leaving the gunplay intact, so audiences bored by the spectacle of yet more bulletry should be rightly shocked by the scene in Brother in which a yakuza slices off his finger after his former adversary has just committed a form of hara-kiri. Although seemingly eager to embrace the shoot-em-up style of old-school Westerns, Kitano's screen blows hit home most painfully when he allows us to observe the conflict between assailant and victim at close quarters, as in the wince-inducing scene when Yamamoto grazes Denny's eye with a broken bottle. It is in these encounters, which invoke the spectre of samurai sword fights rather than frontier shoot-outs, that Kitano's talent for provocative, confrontational film-making is to the fore. Elsewhere, Kitano's distinctive blend of aggressive visuals and the lyrical, elegiac scoring of his regular composer Joe Hisaishi raise the tone from the sensational to the spiritual, reminding us of Sonatine's haunting mix of music and mayhem.
What's most alarming about Brother is the weirdly upbeat epilogue, which looks for all the world like that most heinous Hollywood invention, the post-preview-screening reshoot tag-on. Although it is all but certain that this closing sequence, in which Yamamoto puts Denny, played by the excellent Omar Epps, out of danger's way, was always in Kitano's game-plan, its inclusion seems to suggest an artist inclining his ear to the imagined demands of a mainstream western audience. Compare the happy highway coda of Brother with the road-to-nowhere conclusion of Sonatine, and it's impossible not to feel that something has been lost in translation. Presumably an audience which has never before encountered Kitano's deadpan artistry won't notice this incongruity, and it is surely them whom the admirably cross-cultural production team of Thomas and his fellow producer Masayuki Mori hope to woo. If Brother does indeed succeed in shaking hands across the ocean, it will have been a compromise worth making.
Credits
Director

Takeshi Kitano

Producers

Masayuki Mori
Jeremy Thomas

Screenplay

Takeshi Kitano

Director of Photography

Katsumi Yanagijima

Editors

Takeshi Kitano
Yoshinori Ota

Production Designer

Norihiro Isoda

Music

Joe Hisaishi