The Straight Story
USA/France/UK 1999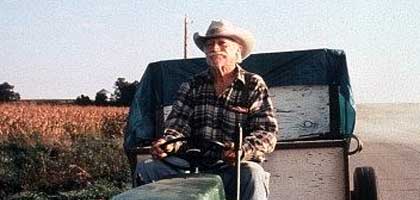 Reviewed by Kevin Jackson
Synopsis
Our synopses give away the plot in full, including surprise twists.
Laurens, Iowa, 1994. Alvin Straight, a stubborn 73-year-old widower who lives with his adult daughter Rose, suffers a bad fall and is sent to the local clinic. The doctor warns him he is in dangerously poor health and needs to take better care of himself, but Alvin shows little sign of mending his ways. Rose takes a phone call and learns Alvin's estranged older brother Lyle has had a stroke. Despite Rose's warnings and the incredulity of his fellow townspeople, Alvin is determined to travel to Lyle's home in Mt. Zion, Wisconsin, and try to patch up their ancient quarrel - by an idiosyncratic means of transport: a motor-driven lawnmower.
On his slow and often interrupted chug to Wisconsin, Alvin meets and befriends a variety of people, including coach tourists heading for a grotto; a pregnant teenage runaway; a woman whose daily commute to work usually involves crashing into and killing deer; volunteer firefighters; a generous family who allow him to live in their garden while his lawnmower is being repaired by identical-twin mechanics who constantly bicker with each other; a World War II veteran with whom Alvin shares anguished memories of combat; and a hospitable priest. At long last, Alvin reaches the ramshackle wooden house where Lyle lives. The two old men sit together on the porch, largely wordless though seemingly deeply moved by their long-deferred reunion.
Review
All the usual elements are present and correct at the start: the mock-innocent lilt of an Angelo Badalamenti score; a threateningly bland vista of one-storey clapboard houses and trimmed gardens; the mildly grotesque figure of a plump, recumbent woman sunning herself with a reflector while gobbling unappetising foodstuffs; a chillingly slow, predatory camera move in towards the house on the left; a sudden thumping noise from deep within. Any minute now, you expect David Lynch to bring on the severed genitals, the dwarves who talk Atlantean, the psychopath who injects himself in the pineal gland while crooning hits from Broadway shows of the 20s. Something like that, anyway.
Well, forget it. Behind the eerily normal and wholesome facade of Laurens, Iowa, are eerily normal and wholesome folks living ordinary lives. If you sit through The Straight Story waiting for Lynch to cut the cornpone and turn weird and ugly, then you will pass 111 minutes in vain, for the film is pretty much as good as its punning title promises. Its narrative has digressions, but not a single kink.
To be sure, there are a few sequences showing Lynch in a more familiar vein, such as Alvin's encounter with a woman who has inadvertently become a serial 'bambicide' ("Every week I plough into at least one deer and I love deer!"), or his dispute with the identical-twin mechanics who spend more time sniping at each other than tinkering with engines. And the film sometimes sounds as well as looks like a typical Lynch product: when Alvin and another old-timer sit at a quiet bar recalling the guilty horror of their war service, the air gradually becomes filled with the crash and wail of heavy artillery. On the whole, though, this is a film made by David Lynch the sometime Eagle Scout from Missoula, Montana, not David Lynch the inspired sicko behind Blue Velvet and Eraserhead.
Grant this disconcerting limitation, and there's a lot to admire about the film, from Freddie Francis' cinematography (it's hard to do much new with sweeping fields of Iowan corn, but Francis manages it: some of the aerial shots render these growths as burnished tweed) to the impeccable and moving tact of the final reunion between the two brothers. Harry Dean Stanton's appearance as Lyle is as haunting as it is brief, though the film's richest performance belongs to Sissy Spacek as Alvin's "simple" daughter Rose who, with her speech impediment and habit of building bird-houses, initially seems like a refugee from the Lynch carnival but gains in gravity with every scene. The Straight Story also has the best crane-shot joke in years: the camera catches Alvin's puttering progress from behind, rises into the sky with epic majesty, then gracefully sweeps down again to reveal Alvin, about four feet further down the highway.
But to enumerate redeeming features is to confess a need for redemption. Lynch's film risks being nothing more than sweet-natured, and its habit of treating ornery old Alvin like a kindly wizard who sets people's lives to rights with a twinkle and a yarn can be more than a trifle sickly. In its least beguiling moment, Alvin tells a sad runaway a little homily about binding sticks together into a bunch so they won't break. "That's family," he sums up; at which point, ill-natured viewers will snarl that the Romans used to call such wooden bundles fasces and look where that homely symbol ended up.
Credits
Producers

Mary Sweeney
Neal Edelstein

Screenplay

John Roach
Mary Sweeney

Director of Photography

Freddie Francis

Editor

Mary Sweeney

Production Designer

Jack Fisk

Music/Music Conductor/Orchestrator

Angelo Badalamenti

©The Straight Story, Inc.

Production Companies

Alain Sarde presents with Le Studio Canal+ and with the participation of Film Four a Picture Factory production

Executive Producers

Pierre Edelman
Michael Polaire

Production Co-ordinator

Anne Johns

Unit Production Manager

Billy Higgins

Location Manager

Bob Medcraft

Post-production Supervisor

Spike Allison Hooper

Assistant Directors

Scott Cameron
Simone Farber
Eric Sherman

Script Supervisor

Jules M. Stewart

Casting

Jane Alderman
Lynn Blumenthal
Associates:
Catherine Head
Sarah Jane Hill
Nancy Briggs

Aerial Directors of Photography

David Nowell
David Butler

Camera Operator

Gordon Hayman

Special Effects

Gary D'Amico

Set Decorator

Barbara Haberecht

Costume Designer

Patricia Norris

Costume Supervisor

William T. Zacha

Make-up

Bob Harper

Hair

Sally Harper
Deborah Dee

Special Make-up Effects

Crist Ballas

Titles/Opticals

Pacific Title/Mirage

Music Editor

Walter Spencer

Score Engineer/Mixer

John Neff

Soundtrack

"The Most Requested Song (from Strange Tales of the Late West)" by Middlejohn, John Neff; "Y' Ready" by Spade Cooley, performed by The Radio Ranch Straight Shooters; "Solo Spin Out" by/performed by The Radio Ranch Straight Shooters; "Happy Times" by Sidney Fine, performed by Jo Stafford


Sound Design

David Lynch

Location Sound Mixer

Susumu Tokunow

2nd Engineer

Bryan Arenas

Re-recording Mixers

John Neff
Additional:
Patrick Giraudi

Supervising Sound Editor

Ron Eng

Dialogue Editor

Walter Spencer

Effects Editors

Ron Eng
Doug Jackson

Foley

Supervisor:
Howard Neiman
Artists:
Diane Marshall
David Fein
Recordists:
Lucy Sustar
Mary Erstad
Editor:
Howard Neiman

Stunt Co-ordinators

Rick LeFevour
Jim Fierro

Helicopter Pilot

Bobby 'Z' Zajonc

Cast

Richard Farnsworth

Alvin Straight

Sissy Spacek

Rose Straight

Harry Dean Stanton

Lyle Straight

Everett McGill

Tom the John Deere dealer

John Farley

Thorvald Olsen

Kevin Farley

Harald Olsen

Jane Galloway Heitz

Dorothy

Joseph A. Carpenter

Bud

Donald Wiegert

Sig

Tracey Maloney

nurse

Dan Flannery

Doctor Gibbons

Jennifer Edwards-Hughes

Brenda

Ed Grennan

Pete

Jack Walsh

Apple

Max the Wonder Dog

farm dog

Gil Pearson

bus driver

Barbara June Patterson

woman on bus

Anastasia Webb

Crystal

Max Guidry

Steve

Bill McCallum

Rat

Barbara Robertson

deer woman

James Cada

Danny Riordan

Sally Wingert

Darla Riordan

Barbara Kingsley

Janet Johnson

Jim Haun

Johnny Johnson

Wiley Harker

Verlyn Heller

Randy Wiedenhoff

Jerry E. Anderson
firemen

John Lordan

priest


Garrett Sweeney

Peter Sweeney
Tommy Fahey
Matt Fahey
Dan Fahey
boys in truck

Russ Reed

Mt Zion bartender

Ralph Feldhacker

farmer on tractor


Certificate

U

Distributor

Film Four Distributors

10,029 feet

111 minutes 26 seconds

Dolby digital

Colour by
FotoKem

Anamorphic [Panavision]