Barber of Siberia
Russia/France/Italy/Czech Republic 1999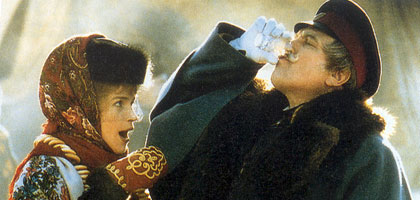 Reviewed by Julian Graffy
Synopsis
Our synopses give away the plot in full, including surprise twists.
Springfield, Massachusetts, 1905. Writing a letter to her son Andrew, a recruit at a US military camp, Jane Callahan reminisces about the events of 20 years ago.
Russia, 1885. Travelling across Russia, Jane meets Andrei Tolstoy, an officer cadet who falls in love with her. Jane is in Russia to help the inventor McCracken secure a contract for his 'barber', a machine for cutting down the Siberian forests. For this purpose, she attempts to seduce General Radlov, the head of the Military Academy. Radlov falls in love with her and asks Tolstoy, who speaks English, to translate his proposal to Jane. The cadet, however, uses this as an opportunity to declare his own love for Jane. Radlov is humiliated but cannot punish Tolstoy who is to take the lead the next day in a production of The Marriage of Figaro before Grand Duke Aleksei. Later Jane spends the night with Tolstoy.
During the opera, Tolstoy overhears Jane continuing her advances on Radlov; in his jealous rage he assaults the general. He is arrested and accused of an attack on the Grand Duke, to which he pleads guilty to protect Jane's reputation. He is sentenced to hard labour in Siberia.
Ten years later, Jane visits Siberia with McCracken, to whom she is now married, for the inauguration of his 'barber'. She fails to see the exiled Tolstoy. Having related all of this in her letter to Andrew, she visits the boy with a photograph of his father, Andrei Tolstoy.
Review
For two decades Nikita Mikhalkov, born into a family of the Soviet cultural elite, has been the most famous of Russian film directors both in his own country and abroad. Mikhalkov's celebrity status - consolidated in December 1997 when he became chairman of the Russian Union of Film-makers - has turned the release of his recent films into major media events in Russia, none more so than The Barber of Siberia. By the time of its premiere in the Kremlin Palace of Congresses in February 1999 the film had already generated acres of newsprint, as much because of its enormous budget (reported as $45 million) and its link to Mikhalkov's alleged desire to be president of Russia as for its epic proportions and ambitions. Here was a film that would restore national self-esteem and re-invigorate cinemagoing in Mikhalkov's native land, as well as explain the enigmas of Russian identity to expectant western audiences, perhaps even picking up the Academy Award for Best Foreign Language Film on the way.
In Russia the film did attract huge and satisfied audiences, though the critical reception was mixed, if not cool. But its Cannes showing last year was a fiasco, and it subsequently failed to impress the Oscar voters. With this damaged reputation The Barber of Siberia limps belatedly into the UK.
It would be wrong to look to The Barber of Siberia for historical authenticity or cultural specificity - the film, in Mikhalkov's own words, is "not about how things were but about how things should be." So we are served a mythological stew, a souvenir Russia made up of vast birch forests and famous Moscow landmarks, epic drinking, fatal passion and doomed love leading to duel, scandal and exile in the Siberian snow. In what seems like a concession to ignorant western audiences, the hero is given a famous Russian name, Tolstoy, but to make them feel at ease this Tolstoy admits he couldn't make it to the end of Anna Karenina. Perhaps some western viewers will be satisfied with this reading of Russia, but its greatest appeal is surely to Russian audiences so exhausted by their recent tribulations that they will embrace any lazy reiteration of warmed-over cliché without pausing to wonder why the young officers to whom the film is dedicated are so childish and their mentor is a drunk. Western audiences may balk, however, at being represented only by rogues, or by Sergeant 'Mad Dog' O'Leary, who thinks Mozart is a girl, and a Russian one at that.
The film's aspirations to represent the relationship between Russia and the US in symbolic form are not supported by any psychological acuity in the characterisation. The bigger the role, the more the actor flounders. Julia Ormond is too bland to convey either the scheming or the bitter regrets of Jane Callahan. Oleg Menshikov, meanwhile, an actor of great range and emotional subtlety, has been badly cast in the role of Tolstoy; pushing 40 when he made the film, he is reduced to rehearsing the pert mannerisms of an ingénu. After his embarrassing declaration to Jane in the presence of Radlov, he asks "May I be excused?", which is likely only to provoke inappropriate memories of the classroom among British audiences. The best acting comes in the cameo roles, from Marina Neelova as Tolstoy's actress mother and Elizabeth Spriggs as the countess Perepyolkina.
The exiguous and predictable plot is fleshed out by a number of grandly staged set pieces, including a ball, Russian Shrovetide celebrations, a parade before Tzsar Alexander III (played by the director himself), the production of the opera, the depredations of McCracken's monstrous machine. You can, at least, see where the money has gone. The film concludes with a sly double ending, happy for western audiences - young Andrew wins his battle over Mozart, whom he refuses to defame at his military camp - and tragic for Russians, just the way they like it: his parents are not reunited. On the way it tries first to make us laugh, then, less successfully, to make us cry through a slew of novelistic clichés. Occasionally, the film comes alive - Menshikov playing Figaro in a production of The Marriage of Figaro finally casts off the strait-jacket of having to play a much younger character; his assault on Radlov is also one of the film's most powerful scenes.
Mikhalkov's finest films Unfinished Piece for Mechanical Piano, Five Evenings and Urga demonstrate that he is best at the small scale, at the delicate rendering of intense human emotion. His old-fashioned and seemingly interminable Barber discards these qualities as insouciantly as McCracken despoils the Siberian forest. What remains seems ill suited as a model, either for Russian society or for Russian cinema.
Credits
Director

Nikita Mikhalkov

Producer

Michel Seydoux

Screenplay

Rustam Ibragimbekov
Nikita Mikhalkov
in co-operation with
Rospo Pallenberg

Story

Nikita Mikhalkov

Director of Photography

Pavel Lebeshev

Editor

Enzo Meniconi

Production Designer

Vladimir Aronin

Music

Edward Nicolay Artemyev

©Studio Three T, Caméra One

Production Companies

Michel Seydoux presents in association with Intermedia Films
a production of Three T Productions (Russia)/ Caméra One (France)/ France 2 Cinéma (France)/Medusa (Italy)/ Barrandov Biografia (Czech Republic)

Executive Producers

Leonid Vereschagin
Prague Shoot:
Oldrich Mach
Portuguese Shoot:
António da Cunha Telles

Co-producer

Nikita Mikhalkov

In Charge of Production

France:
Armand Barbault

Production Supervisor

Marc Jenny

Co-ordinator

Nicole Cann

Production Co-ordinators

Lubov Bodunova
Ekaterina Prosvirkina
Elena Ficenko

Production Services

Prague:
Prague International Films
Portuguese Shoot:
Animátografo-Producão de Filmes

Production Managers

Alexey Balashov
Jacques Vidal
Sergei Gurevich
Prague Shoot:
Michal Prikryl
Portuguese Shoot:
Renato Santos

Location Managers

Alexei Karpushin
Alexander Utkin
Alexander Yakovlev
Prague Shoot:
Zdenek Fiala
Ivan Stefka
Portuguese Shoot:
José Borges

Assistant Directors

Vladimir Krassinski
Victor Trakhtenberg
Evgeny Tsimbal
Artyom Mikhalkov
Mikhail Kvirikadze
Kirill Shanshiev
Alexander Zelenkov
Anastasia Tsvetnova
Vladimir Ferkelman
Olga Sizova
Svetlana Motro
Bilge Ebiri
Portuguese Shoot:
Sergio Carlos

Continuity

Jacqueline Gamard

Casting Directors

International:
Kate Dowd
Russia:
Tamara Odintsova

Casting

Prague Shoot:
Sona Tich?ckov?
Ivan Vorlicek
Dana Vankova

Script Editor

Anatoly Ermilov

Siberian Shoot Director of Photography

Franco Di Giacomo

Camera Operators

Roman Sushinski
Elisbar Karavaev
Stephano Coletta
Sergey Naugolnikh
Martin Grossup

Steadicam Operator

Jaromir Sedina

Special Effects

Gilbert Pieri
Frederic Rouquette
Gilles Pieri
Michel Vialla
Thierry Alloy
Vaclay Kuba
Irzi Vojtech
Roman Tudjarov
Sergei Zakharov
Vyacheslav Stepanov
Pavel Terekhov
Andrey Trifonov
Jury Udaltsov
Sergey Chertovskikh
Jury Shagov

Special Effects/Armourer

Prague Shoot:
David Krejcík

Prague Shoot Designer

Martin Martinec

Art Director

Vladimir Murzin

Architects

Boris Baklanov
Alla Tabakova

Portuguese Shoot Set

José Matos

Set Decorators

Ilya Amursky
Marina Ertanova
Danila Koltsov
Alexander Kochubey
Igor Morozov

Costume Designers

Natacha Ivanova
Sergei Struchev
Alla Oleneva

Make-up Designers

Galina Korolyova
Jean-Pierre Eychenne
Nina Zakirova
Natalia Chaika

Make-up Artists

Raisa Zhdanova
Ludmila Makashova
Tamara Panteleeva
Valentina Pimankina
Maria Ruslanova
Olga Sergeeva
Svetlana Fedina-Kruglyakova
Galina Sidneva
Prague Shoot:
Ivana Chlostova
Alena Sedova

Hair Stylists

Jean-Max Guerin
Jeanette Freeman
Svetlana Lobanova
Suzanne Stokes-Munton

Titles/Special Effects

BS Graphics
Marchetti

Music Performed by

Russian State Cinema Symphony Orchestra

Conductors

Sergey Skripka
Alexey Kostenko

Music Recording Engineer

Vladimir Vinogradov

Mixer

Minna Blank

Music Mixer

Matt Howe

Soundtrack

Mozart's "Piano Concerto n. 23" from "Marriage of Figaro"; Strauss' "The Legends of Vienna Forest"; Verdi's "Jilda's Aria" from "Rigoletto"; "Lvov's "God,Save the King"; "March of Preobrazhensky Regiment"; "Egers March"; "March of Saratovasky Regiment"; "Cadet's Cap"

Sound Recording

Jean Umansky

Sound Mixers

Vincent Arnardi
Jean Umansky
André Rigaut

Re-recording Mixers

Vincent Arnardi
Thierry Lebon

Sound Editors

Vincent Guillon
Laurent Kossayan

Dialogue Editors

Jean Umansky
André Rigaut

ADR Recordists

Marina Nigmatulina
Julien Cloquet
Jacques Thomas-Gérard

Foley

Artists:
Irina Kislova
Alla Meichik
Nina Trofimchuk
Natalia Chashina
Faina Yanpolskaya
Jean-Pierre Lelong
Recordists:
Marina Nigmatulina
Julien Cloquet
Jacques Thomas-Gérard

Folklore Ensembles Researcher

Elena Shimanko

Consultants

Military History:
Igor Dmitriev
Vasily Sazhin
George Pappas
Bryan Pines
Military Uniforms:
Pavel Kornakov
Rank Practice:
Anatoly Saprikin
Property/Costume History:
Ludmila Pyatnitsa
Folklore/Ethnography:
Vyacheslav Shurov

Stunt Co-ordinator

Valery Derkach

Fencing Coach

Mikhail Shevchuk

Director of 'Maelennitas' scene

Mikhail Mizukov

Circus Performer Co-ordinator

Sergey Maksimov

Animals

Victor Zuikov
Andrey Komissarov
Ludila Komissarova

Siberian Shoot Helicopter

Bernard Seguy
Cast
Julia Ormond
Jane Callahan

Richard Harris

Douglas McCracken

Oleg Menshikov

Andrei Tolstoy

Alexey Petrenko

General Radlov

Marina Neelova

Tolstoy's mother

Vladimir Ilyin

Captain Mokin

Daniel Olbrychski

Kopnovsky

Anna Mikhalkova

Dunyasha

Marat Basharov

Cadet Count Polievsky

Nikita Tatarenkov

Cadet Prince Alibekov

Artyom Mikhalkov

Cadet Buturlin

Georgy Dronov

Cadet Nazarov

Avangard Leontiev

Uncle Nickolya

Robert Hardy

Forsten, military instructor

Elizabeth Spriggs

Perepyolkina

Nikita Mikhalkov

Tzar Alexander III

Isabelle Renauld

Tzarina Marie Fiodorovna

Evgeny Steblov

Grand Duke Aleksei Aleksandrovich

Inna Nabatova

his wife

Philipp Diachkov

Grand Duke Mikhall, Tzar's son

Vladimir Zaitsev

Radlov's aide

Victor Verzhbitsky

Grand Duke's aide

Leonid Kuravlev

Sergeant Bukin

Alexander Lenkov

the scientist

Alexander Ilyin

the merchant

Evgeny Dvorzhetsky

the terrorist

Hanna Stredova

the servant at McCracken's

Vladimir Tushko

the steward

Alexander Mokhov

officer at prison

Pierre Aussedat

Geller, dance teacher

Vladimir Gorushin

Kouzma, carriage driver

Saïd Nouroux

Abyssinian prince

Evgeny Buslayev

the governor of Irkutsk

Olga Anokhina

the governor's wife

Alexander Yakovlev

Captain Maximich

Tatiana Kuznetsova

girls' tutor

Maria Maksakova

girl student

Polushke Zdunek

the typesetter

Anatoly Documentov

the conductor

Joseph Nedorost

the violinist

Vatslav Legner

the inspector

Egor Blokhin

Vanyatka

Andrey Nikitin

Proshka

Andrey Savostyanov

Baron Von Bakmen

Mambo Syril

Mudio Nartsiss
servant of Abyssinian princes

Andrey Baroli

Kirill Grebenshikov
Vladimir Zurabian
Alexey Kabeshev
Alexander Karpenko
Alexey Kurutov
Ivan Lakshin
Dimitry Makarov
Sergey Pinchuk
Sergey Steblov
Sergey Fedotov
Philipp Feoktistov
Dimitry Chuprakov
Kirill Shanshiev
Mikhail Shevchuk
Alexey Shutov
cadets

Mac MacDonald

Sgt 'Mad Dog' O'Leary

Andrew O'Donnels

the West Point colonel

Daniel Evans

Andrew McCracken, in mask

John Higgins

Jeason Don
cadets at West point

Richard Dompsy

the stutterer

Sergey Lozovoy

the bell-house monk

Alexander Sannikov

Lilliputian 'Napoleon'

Anataly Zhukov

the fakir

Alexander Dubina

the engineer

Natella Abuladze

wife of Abyssinian prince

Elena Tvelevna

tightrope walker with sword

Valéry Chitavin

tightrope walker

Alexander Muzikantsky

Evgeny Tsimbal
Vasily Sazhin
Anatoly Saprykin
Evgeny Kholodnikov
Zinaida Sidorkova
Oleg Klimov
Victor Satonin
Alexander Dedushko
Roman Radov
Vyacheslav Maksakov
Elena Obolenskaya
Vladimir Abanshin
and

L. Dzhalakayev's Gypsy Ensemble

Moscow theatre "Chudaki"
Theatre "Fest"
Moscow State Theatre of History and Ethnography
Theatre House "Old Arbat"
Home Orchestra from Nerekhta town, near Kostroma city
Home Orchestra "Rusichi"
Children's folklore Ensemble "Mladshenka"
Actors of theatre "Circus on Stage"
Students of Moscow State School of Circus an Performance Arts
Actors of Moscow Circus on Prospect Vernadskogo

Certificate

12

Distributor

Pathé Distribution

15,935 feet

177 minutes 4 seconds

Dolby Digital

In Colour
Anamorphic [Panavision]
Russian theatrical title

Sibirskii tsiriulnik

French theatrical title

Le Barbier de Sibérie

Italian theatrical title

Il barbiere di Siberia

Czech theatrical title

Lazebník Sibirsky