Sweet and Lowdown
USA 1999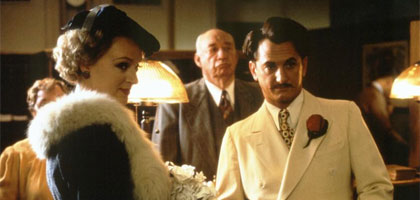 Reviewed by Jonathan Romney
Synopsis
Our synopses give away the plot in full, including surprise twists.
Various jazz experts, including Woody Allen, tell the story of the great but obscure 30s guitarist Emmet Ray, a player second only to Django Reinhardt, but an obnoxious and dishonest womaniser. Cruising for girls on the New Jersey boardwalk, Emmet meets Hattie, a mute laundress, and they become lovers. She accompanies him on a cross-country trip to Hollywood, where he plays in a short film; Hattie is spotted by a director and enjoys a brief screen career. Emmet's recording career takes off but his manager warns him about his spending.
Later, after Emmet has left Hattie, he meets and marries Blanche, a wealthy would-be bohemian writer. When Emmet is sacked from a club, Blanche goes to intercede with its gangster owner and ends up running away with his henchman Al Torrio. Different versions are told of Emmet's pursuit of them. Emmet returns to New Jersey to see Hattie, but she tells him she is married with children. The experts say that at the end of his career, before he vanished, Emmet's playing became truly great.
Review
Following the shapeless agitation of Celebrity, Woody Allen's cogent return to form in Sweet and Lowdown proves that he is fascinated less by celebrity and the noisy now, than by obscurity and the sublime mysteries of the forgotten. Sweet and Lowdown is one of Allen's occasional musings, à la E. L. Doctorow, on the apocryphal corners of modern American history (Zelig, The Purple Rose of Cairo) and another of his studies (Bullets over Broadway, Stardust Memories) of the contradictions between artistic brilliance and moral inadequacy. Apocryphal jazz guitarist Emmet Ray, Allen comments at the start, is "sort of pathetic in a way" but he's indisputably fascinating. He's a vain egotist who walks over people, just like the anti-hero novelist of Deconstructing Harry - except Emmet is worse, in that he has considerable charm and knows how to exploit it. As one character remarks, "No genius is worth too much heartache" - effectively the moral proposition under discussion in Harry.
Sweet and Lowdown is as simple and affecting as the title suggests - a series of anecdotes framed with commentary by jazz experts. But through this structure, Allen examines the difficulty of truly fathoming artists of the past, either through their work or through the stories told about them. The hard evidence about Emmet is in his recordings, while the catalogue of anecdotes about him is open to variation. We get several alternatives for Emmet's pursuit of his wife: Emmet gets hi-jacked by robbers, stages a melodramatic confrontation, or has a chance meeting with the nemesis he holds in awe, Django himself.
All stories are equally valid in this patchwork of fragments, and the Emmet Ray legend becomes all the more concrete the less the gaps are filled in. At one point, the story jumps from a time when Emmet and his mute mistress Hattie are inseparable to Emmet single again. We have to imagine his split with Hattie, an elision that makes their final meeting all the more resonant with the unspoken pain he has done her.
The film, in other words, uses muteness as metaphor, dramatising it in the figure of Hattie, Emmet's child-like, trusting and - everyone keeps assuming - mentally disadvantaged lover. Her intelligence comes into its own in their ambivalent reunion, when she tells Emmet that she is now married with children - all of this conveyed without a word from her. If we take her story at face value, it's sad enough that Emmet has lost his great love; but the outcome is that much richer if we imagine Hattie has invented it. Then it becomes not just a tactful way to reject the lover she knows can only hurt her, but also a gift - Hattie is offering him the heartbreak that makes the virtuoso a truly sublime player.
There's a terrible risk of cliché in this figure of the infinitely supportive mute muse - Hattie could so easily have been a return to Chaplin's eroticised waifs. What brings her alive is Samantha Morton's performance, silent but in its own way entirely musical - a subtle repertoire of reactions, gleeful surges and bursts of erotic fire, and much of it from under a horrible knitted hat. Morton and Penn (playing Emmet) duet astutely, her silences forming a complementary punctuation to his rakish bluster. Penn himself is on top form, portraying the musician not as a standard lovable rascal, but as a thoroughgoing creep, redeemed by his appetite and by the kinetic passion he puts into his music. Even more impressive than the fingering Penn learned for the guitar-playing scenes is the expression on Emmet's face as he plays, the look of a man captivated by his own congress with the sublime.
As you'd imagine from Allen, America's most famous enthusiast for a pre-bebop Eden, Sweet and Lowdown is told with real love for the period, and the film's look is typically flawless; Allen's regular designer Santo Loquasto is teamed here with DoP Zhao Fei (who has worked with both Zhang Yimou and Chen Kaige) to create a gently frosted image of the world seen as though through a haze of distant memory. Jazz fans, however, may be aggrieved by Allen's perpetual blind spot: his inability to handle black characters. Black musicians do appear, but only as background figures - Emmet jams with them at a party, then steals a lighter. This might be Allen's incidental comment on white musicians' appropriation of the spark of black jazz, but that, I suspect, would be stretching a point.
Credits
Director

Woody Allen

Producer

Jean Doumanian

Screenplay

Woody Allen

Director of Photography

Zhao Fei

Editor

Alisa Lepselter

Production Designer

Santo Loquasto

Music Arranger/ Conductor

Dick Hyman

©Magnolia Productions, Inc/Sweetland Films, B.V.

Production Company

A Jean Doumanian production

Executive Producer

J.E. Beaucaire

Co-executive Producers

Jack Rollins
Charles H. Joffe
Letty Aronson

Co-producer

Richard Brick

Production Co-ordinator

Kimberly N. Fajen

Unit Production Managers

Margo Myers
Richard Brick

Location Manager

Drew Dillard

Post-production Co-ordinator

Katherine Belsey

Assistant Directors

Richard Patrick
Lisa Janowski
Brian York

Script Supervisor

Kay Chapin

Casting

Juliet Taylor
Laura Rosenthal
Associate:
Patricia Kerrigan

Camera Operator

Michael Green

Visual Effects Supervisor

Tom Rosseter

Visual Effects Producer

Camille Geier

Digital Artist

Scott Roscoe David

Special Effects Co-ordinators

John Ottesen
Ron Ottesen

Graphics/Research

Glenn Lloyd

Sign Designer

Mark Bachman

Art Director

Tom Warren

Set Decorator

Jessica Lanier

Master Scenic Artist

James Sorice

Costume Designer

Laura Cunningham Bauer

Wardrobe Supervisors

Barrett Hong
Suzanne Pettit

Make-up

Rosemarie Zurlo
Eva Polywka

Hair

Milton Buras
Stephen G. Bishop

Titles

Effects House

Musicians

Solo Guitar:
Howard Alden
Rhythm Guitar:
Bucky Pizzarelli
Clarinet:
Ken Peplowski
Bass:
Kelly Friesen
Drums:
Ted Sommer

Additional Players

Piano:
Dick Hyman
Trombone:
Joel Helleny
Trumpets:
Byron Stripling
Joe Wilder
Saxophones:
Jerome Richardson
Chuck Wilson

Music Recording Engineer

Roy B. Yokelson

Music Recording Supervisor

Walt Levinsky

Instructors

Solo Guitar:
Howard Alden
Rhythm Guitar:
Bucky Pizzarelli
Drum:
Ted Sommer

Soundtrack

"When Day Is Done", "Avalon", Liszt's "Liebestraum No. 3" - Django Reinhardt; "Clarinet Marmalade" - Ted Lewis' Orchestra; "Speak to Me of Love (Parlez-moi d'amour)", "I'm Forever Blowing Bubbles", "Twelfth Street Rag", "Sweet Sue, Just You" - Howard Alden; "Mystery Pacific", "Limehouse Blues", "I'll See You in My Dreams", "Wrap Your Troubles in Dreams (And Dream Your Troubles Away)" - Howard Alden, Bucky Pizzarelli, Kelly Friesen; "Out of Nowhere" - Dick Hyman, Joe Wilder, Kelly Friesen; "Sweet Georgia Brown", - Howard Alden, James Chirillo, Kelly Friesen, Ken Peplowski, Ted Sommer, "After You've Gone" - Joe Venuti, Eddie Lang, "Viper Mad" - Sidney Bechet; "Indiana (Back Home Again)" - Red Nichols; "Aloha Oe" - Dick Monday; "Abide by Me" - Mary Stout; "All of Me" - Carol Woods, Howard Alden, Buck Pizzarelli, Kelly Friesen, Ken Peplowski, Ted Sommer; "Caravan" - Bunny Berigan and His Orchestra; "Old Fashioned Love", "It Don't Mean a Thing (If It Ain't Got That Swing)", "3:00 AM Blues" - Howard Alden, Kelly Friesen, Joel Helleny, Dick Hyman, Ken Peplowski, Jerome Richardson, Ted Sommer, Byron Stripling, Joe Wilder, Chuck Wilson, "Just a Gigolo", "Shine", "There'll Be Some Changes Made", "The Peanut Vendor", "UnfaithfulWoman" - Howard Alden, Bucky Pizzarelli, Kelly Friesen, Ken Peplowski, Ted Sommer; "Nevertheless (I'm in Love with You)" - Ambrose and His Orchestra; "Since My Best Gal Turned Me Down" - Bix Beiderbecke; "Hot Lips" - Henry Busse and His Orchestra; "Lulu's Back in Town" - Dick Hyman, Kelly Friesen, Ted Sommer

Recordist

Frank J. Graziadei

Production Sound Mixer

Les Lazarowitz

Re-recording Mixer

Lee Dichter

Supervising Sound Editor

Robert Hein

Dialogue Editor

Sylvia Menno

Sound Effects Editor

Glenfield Payne

Foley

Artists:
Jay Peck
Marko Costanzo
Recording Engineer:
George Lara
Editors:
Frank Kern
Bruce Pross

Stunt Co-ordinator

Peter Bucossi

Animals

Dawn Animal Agency

Cast

Anthony LaPaglia
Al Torrio

Brian Markinson

Bill Shields

Gretchen Mol

Ellie

Samantha Morton

Hattie

Sean Penn

Emmet Ray

Uma Thurman

Blanche

James Urbaniak

Harry

John Waters

Mr Haynes

Tony Darrow

Ben

Brad Garrett

Joe Bedloe

Vincent Guastaferro

Sid Bishop

Denis O'Hare

Jake

Molly Price

Ann

Kaili Vernoff

Gracie

Woody Allen

Ben Duncan
themselves

Daniel Okrent

A.J. Pickman

Dan Moran

boss

Chris Bauer

Ace, pool player

Constance Shulman

Hazel, hooker 1

Kellie Overbey

Iris, hooker 2

Darryl Alan Reed

Don

Mark Damon Johnson

Omer

Ron Cephas Jones

Alvin

Steve Bargonetti

Benjamin Franklin Brown
musician friends

Vince Giordano

ball player 1

Emme Kemp

Clark Gayton
Marcus McLaurine
jam session musicians

Carolyn Saxon

Phyliss

Drummond Erskine

Joe Ambrose
hobos

Joe Rigano

stagehand

Dennis Stein

Dick Ruth, club owner

Nat Hentoff

himself

Katie Hamill

Mary

Carole Bayeux

Rita, opium party hostess

Paula Parrish

Cory Solar
Lexi Egz
Yvette Mercedes
Peter Leung
party guests

William Addy

master of ceremonies

Dick Monday

Chester Weems

Mary Stout

Felicity Thomson, amateur singer

Dick Mingalone

birdman

Mr. Spoons

spoon player

Carol Woods

Helen Minton

Josh Mowery

movie director

Fred Goehner

William Weston

Eddy Davis

bass player 2

Ralph Pope

panhandler

Douglas McGrath

himself

Jerome Richardson

Earl P. McIntyre
James Williams
Frank Wellington Wess
Al Bryant
club musicians

Ray Garvey

club manager

Sally Placksin

Sally Jillian

Lola Pashalinski

Blanche's friend

Simon Wettenhall

Orange Kellin
Brooks Giles III
jam session musicians

Alfred Sauchelli Jr

Ned, pool player

Michael Bolus

Lynch, bar room friend

Mick O'Rourke

John P. McLaughlin
holdup men

Chuck Lewkowicz

police officer

Rick Mowat

flat tire man

Ted Wilkins

gas station proprietor

Michael Sprague

Django Reinhardt

Certificate

PG

Distributor

Columbia Tristar Films (UK)

8,585 feet

95 minutes 23 seconds

DolbySR

Colour by
DuArt

Prints by

Technicolor