Being John Malkovich
USA 1999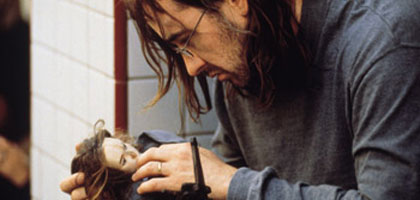 Reviewed by Jonathan Romney
Synopsis
Our synopses give away the plot in full, including surprise twists.
Manhattan, the present. Under pressure from his wife Lotte, street-puppeteer Craig Schwartz takes a job as a clerk with LesterCorp., run by Doctor Lester, a company located on the low-ceilinged seventh-and-a-half floor of an office tower. He falls in love with his co-worker Maxine. Craig discovers a hidden door leading to a passage which sucks him into the head of actor John Malkovich, whose life he experiences for 15 minutes before being ejected on to the side of the New Jersey Turnpike. Craig introduces Lotte to being John Malkovich, and while she is inside him, she/Malkovich makes love to Maxine; the two women fall in love, but can only enjoy each other physically when Lotte is in Malkovich.
Craig and Maxine start a business charging people to be Malkovich. Eventually Malkovich rumbles their scam and enters his portal himself, discovering a world where everyone is him. Craig and Lotte struggle for possession of Maxine. Eventually, Craig uses his puppeteering skills to enter Malkovich permanently and turns Malkovich into a world-famous puppeteer; Maxine becomes his lover. Lester explains to Lotte that Malkovich is the latest in a line of conduits used by a secret society to enjoy eternal life in new bodies. Craig is forced out of Malkovich. Years later, Malkovich has joined the channellers; Lotte and Maxine are a happy couple with a daughter; Craig is inside their daughter, still in love with Maxine, now his mother.
Review
There's a current running joke about Being John Malkovich that speculates on what the film might have been if its star and ostensible subject hadn't agreed to play along: what, in other words, if Spike Jonze had to settle for Being Jeremy Irons? Charles Dance? Julian Sands? You can only imagine that Malkovich agreed out of a sort of inverse vanity: "Be mean to Malkovich," he apparently urged the film-makers. It's not unusual for actors to dismantle their own image on screen, but in most cases, they have the safety net of fiction. What's remarkable here is that Malkovich agreed to supply his name, face and presence, and then to have all three subverted in a manner that is anything but gently well-meaning. The film makes rich capital out of Malkovich's peculiar public image, yet this is just the tip of the iceberg. The most eccentric US debut feature in recent memory - for both Jonze and screenwriter Charlie Kaufman - is at once a Dada screwball comedy; an inquiry into the nature of personality; a metaphysical conspiracy story; and a comment on the way we invest our own desires into public figures, hollowing them out into blank receptacles.
The film's jibing at Malkovich is certainly its most approachable aspect. In recent years, his career choices have been far stranger than anything the film imagines, from high-art foreign-language roles for Raúl Ruiz and Manoel de Oliveira, to the barmy and often lazy overplaying in commercial fare such as Rounders. But here Malkovich may have found his greatest role, playing himself, or a vain, lasciviously suave caricature of himself, lounging in his penthouse with a copy of Chekhov, or attempting to lure a lover with a murmured, "Shall we to the boudoir?" Malkovich's air of narcissism is such that it comes as no surprise when, as the film puts it, he goes "up his own portal" - into a screen actor's poetic-justice nightmare world in which everyone has the face of Malkovich.
The film is partly about the empty nature of modern fame: people know your face and name, but not what you've done. No one can think of a Malkovich film, except the one in which he played a jewel thief (but there's no such film, he protests). He becomes literally a locus for other people's dreams. People inhabit him for a while: one man learns what it is like to be Malkovich ordering towels by phone. Lotte and Maxine use him as a sort of prosthetic love attachment, an animated trysting place; Craig sees him as "a really expensive suit that I enjoy wearing." In this sense, the film is an extended joke about the contemporary dreams of vicariousness and virtuality: the actor's body becomes a living version of the eXistenZ computer game devised by David Cronenberg. (Alternatively, you could see the film as a rewrite of the sci-fi topos of dimension travel: a celebrity-culture Stargate.) But the process works both ways: Craig gets to inhabit the actor and achieve his dreams, by making Malkovich the star puppeteer he could never be. They're made for each other, the actor's pretensions easily matched by Craig's delusions of profundity. But it's Malkovich who reaps the rewards of fame and a new existence, while Craig remains anonymous and in the cold.
But the film constantly shifts too much for us to pin it down: it can't easily be tagged as screwball or surreal, as a paranoid fantasy or a media satire. It's forever slipping into sideshows and diversions, from a lunatic corporate video to a hallucinatory sequence inside a chimp's memory. Nor is it in any way a typical video-maker's movie (Jonze won his spurs directing for the Beastie Boys and Björk et al), but a visually low-key, formally sober film that above all values shifts of tone and a very concrete sense of space, playing claustrophobia against spatial fluidity (the film begins in the enclosure of a puppet theatre and ends underwater, in a swimming pool). There's extraordinary use of sound, too, as if the world turns inside out when we're in Malkovich's head: we actually hear a hand brushing roughly across his scalp.
Finally, the film is a triumph of casting in which no one is what we expect them to be. John Cusack's face is barely visible behind the shaggy hair, Cameron Diaz barely recognisable under baggy tracksuits, fluffy wig and a scowl of discontent. The biggest revelation is Catherine Keener, usually cast as an ingenue doofus. Here she's a sleek, impeccably cruel vamp who sets the film's initial sexual certainties spinning wildly out of control, seducing both Malkovich himself and Lotte, who hides out inside the actor's body. Being John Malkovich is an incredibly rich and entertaining (not to say, laudably malevolent) film that far transcends its already way-out title premise: not just a Larry Sanders self-reflexive swipe at stardom, but, as Craig puts it, "a metaphysical can of worms."
Credits
Director

Spike Jonze

Producers

Michael Stipe
Sandy Stern
Steve Golin
Vincent Landay

Screenplay

Charlie Kaufman

Director of Photography

Lance Acord

Editor

Eric Zumbrunnen

Production Designer

K.K. Barrett

Music/Music Conductor/Orchestrations

Carter Burwell

©PolyGram Holdings, Inc.

Production Companies

Gramercy Pictures presents a Propaganda Films/Single Cell Pictures production

Executive Producers

Charlie Kaufman
Michael Kuhn

Single Cell Creative Executive

Farley Ziegler

Executive in Charge of Production

Tim Clawson

Production Supervisor

Gilly Ruben

Production Co-ordinator

Karen Ruth Getchell

Unit Production Manager

Tim Clawson

Location Manager

Greg Lazzaro

Post-production

Executive:
Glenn Kiser
Supervisors:
Sean Wimmer
Linda Rae Shamest

Research

Susan Nickerson

Assistant Directors

Thomas Patrick Smith
Mark S. Constance

Script Supervisor

Hilary Momberger

Casting

Kim Davis-Wagner
Justine Baddeley
Associate/Researcher:
Michelle Madden
ADR Group Voice:
Loop Troop

Additional Photography

Jim Fealy

Camera Operators

Peter Gulla
Additional:
Tony Nakonechnyj

Steadicam Operator

Kirk Gardner

Video Segments

View Studio
Supervising Digital Compositor:
Bob Engelsiepen
Digital Compositors:
Mike Davis
Scott Suess
Digital Still Compositor:
Howard Shur

Visual Effects Supervisor

Daniel Radford

Special Visual Effects

Gray Matter FX
Visual Effects Supervisor/Compositor:
Gray Marshall
Visual Effects Producer:
Margaux MacKay
3D Animation:
Robert Small
Flame Animation:
Lori Freitag-Hild
Bryan Grill

Film Scanning/Recording

Cinesite

Digital Enlargements

Modern Videofilm

Special Effects

Co-ordinator:
John Gray
Foreman:
John Ziegler
Technician:
Ryan Arndt

Graphic Illustrator

Andy Jenkins

Marionettes Design

Kamela B. Portuges

Marionettes Construction

Images in Motion Media, Inc
Rosemary Bock
William P. Ferguson
Lynn Gustafson
Sharon Hartman
Mary Hildebrand Nagler
Diane Wooldridge

Ballet Craig Puppet

John Fifer

Puppeteer

Phillip Huber

Additional Puppeteering

David Alexander
Lee Armstrong
Luman R. Coad
Timothy K. Miller
Kamela B. Portuges

Additional Editor

Joe Hutshing

Art Director

Peter Andrus

Set Designers

Fanée Aaron
Sloane U'ren
Elisa Bussetti

Illustrator

Alistair Milne

Storyboard Artist

Peter Ramsey

Ballet Set Sculptures

Diana Kunce

Costume Designer

Casey Storm

Wardrobe Supervisor

Shari Gray

Make-up

Head Artist:
Gucci Westman
Artists:
Debra L. Ferullo
Lynn Barron

Special Make-up Effects

John Vulich
Optic Nerve

Hair Design

Emanuel Millar

Hair Stylists

Lori Guidrez
Additional:
David Cox

Title Design

Andy Jenkins

Titles/Opticals

Pacific Title/Mirage

Optical Effects Laboratory

Hollywood Film & Video

Music Supervisor

Dawn Solér

Music Editor

Adam Smalley

Music Scoring Engineer

Michael Farrow

Soundtrack

"Allegro" from "Music for Strings, Percussion and Celeste" by Bela Bartók, performed by Cleveland Orchestra, conducted by Christopher Von Dohany; "Pace, pace mio Dio" from "La forza del destino" by Giuseppe Verdi, performed by Eva Urbanova and the Prague Symphony Orchestra; "Te quiero" by Barbara L. Jordan, Christopher Rhyne, Eddie Ruperto, performed by Eddie Ruperto; "Minuetto" from "Concerto in C Major for Oboe, String Orchestra and Basso Continuo" by Antonio Vivaldi; "Song of the Soul" by Patrick Hawes; "Prologue", "Documentary Music" by/performed by Les Hooper; "One" by/performed by Kono; "Malkovich Malkovich", "Malkovich Malkovich Lounge Music" by Nick Peck; "Swan Lake" by Pyotr Tchaikovsky, performed by Boston Symphony Orchestra, conducted by Seiji Ozawa; "Just relaxin'" by Dan P. Dean; "Summer" by Eric Zumbrunnen, Chris Sunday, SLYX, Roy Staley, performed by Fibre HevyBrain; "Amphibian" by/performed by Björk

Choreography

Tony Maxwell

Ballerina Choreography

Maxine Mahon
California Ballet

Special Sound Design

Mit Out Sound
Malcolm Fife
Nick Peck
Ren Klyce

Sound Mixers

Production:
Forrest Brakeman
Additional:
B.J. Lehn Jr

Engineer

Joe Brennan

Re-recording Mixers

Matt Iadarola
Gary Gegan

Stage Recordists

Robin Johnston
Robert Zubia

Supervising Sound Editors

Richard Anderson
Elliott Koretz

Supervising Dialogue Editor

Curt Shulkey

Sound Effects Editor

Marvin Walowitz
Foley
Artists:
Dan O'Connell
John Cucci
Recordist:
Linda Lew
Mixer:
David Alstadter

Stunt Co-ordinator

Dan Bradley

Animal Co-ordinator

Greg Lille
Goin' Ape

Head Animal Trainer

Carol Lille

Animal Trainers

Daphne Flescher
Barbara Gorden
Wendy Horton

Film Extracts

Death of a Salesman (1985)
The Portrait of a Lady (1996)

Cast

John Cusack

Craig Schwartz

Cameron Diaz

Lotte Schwartz

Catherine Keener

Maxine

Orson Bean

Doctor Lester

Mary Kay Place

Floris

W. Earl Brown

1st J.M. Inc. customer

Carlos Jacott

Larry, John Malkovich's agent

Willie Garson

guy in restaurant