The Insider
USA 1999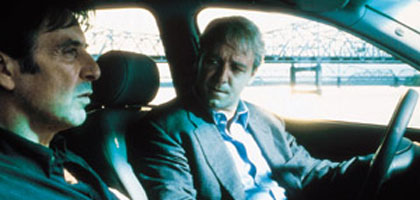 Reviewed by Mark Kermode
Synopsis
Our synopses give away the plot in full, including surprise twists.
The US, the present. Lowell Bergman, producer of Mike Wallace's segments for the news programme 60 Minutes on CBS, receives anonymously sent documents concerning tobacco research. He approaches Jeffrey Wigand, recently fired from research and development at tobacco giant Brown and Williamson (B&W), to interpret the findings and senses Wigand has a story to tell. B&W threatens to withdraw Wigand's medical benefits unless he signs a further confidentiality agreement. Despite this, Wigand tells 60 Minutes on camera several incriminating facts: the company deliberately manipulated nicotine levels in cigarettes; an additive called comaurin was used after it had been shown to cause cancer in rats; cigarette companies knew they were in the business of "nicotine delivery" even though the seven CEOs of the biggest tobacco companies (including B&W president Thomas Sandefur) swore before an April 1994 congressional hearing that they did not believe nicotine to be addictive.
After receiving death threats, Wigand accepts bodyguards into his home. As his marriage collapses, Wigand's reputation is smeared by a B&W-funded investigation. Wigand travels to Mississippi to give a deposition in the state's ongoing case against the tobacco industry, even though a Kentucky ruling forbids him to do so. As 60 Minutes prepares to air its story, CBS lawyer Helen Caperelli warns of "tortious interference", a legal precedent which may endanger CBS for encouraging Wigand to break his confidentiality agreement. When the story is aired without Wigand's interview, Bergman leaks information to the New York Times which accuses CBS of spiking the story to avoid damaging a merger deal with Westinghouse. After extracts from Wigand's deposition are made public and his smearing is widely debunked, Wigand's interview appears unexpurgated on 60 Minutes.
Review
"There is no question," wrote journalist Marie Brenner in her head-turning Vanity Fair article 'The Man Who Knew Too Much', "that [Jeffrey] Wigand's presence in the tobacco wars is an accident, without grand design." There is also little question that few film-makers could fashion an engrossing thriller around the complex web of deceit which surrounds the modern tobacco industry, and fewer still could do so without recourse to easily discernible heroic central figures, pitiable victims or the reduction of the story to simple plot points. That Michael Mann has resisted the temptation to dumb down this material for The Insider reaffirms his position as one of the most important and intelligent directors currently working in mainstream cinema. He has created a tense psychological suspenser as complex and uncompromising as it is engaging and enthralling. It is, in short, a masterpiece, a brilliant dissection of recent US politics and the media by a scalpel-sharp screen sensibility.
Flying in the face of accepted movie law which states real events must be drastically simplified for on-screen use, The Insider's edgy screenplay (by Mann and Eric Roth) sticks surprisingly close to the rambling, nitty-gritty facts outlined in Brenner's original article. Proudly stretching towards the three-hour mark that few films genuinely merit, The Insider remains, brisk, brave and ballsy enough to allow events to speak for themselves. It's indeed a surprise to learn the one or two overtly 'dramatic' moments which appear to have been concocted for the benefit of the viewer (Bergman's midnight calls and subsequent anonymous hotel meeting with Wigand; Wigand's last-minute arrival at the Mississippi courthouse) are lifted directly from fact. Real names, rather than the customary legally protective pseudonyms, are used throughout, lending The Insider a cool air of credibility so often lacking in latter-day political potboilers. One is tempted to compare it to All the President's Men (1976), but that hardly does service to The Insider's brash effrontery. After all, everyone knew that Nixon was corrupt and had resigned by the time Alan Pakula's movie hit the screens. He was, therefore, a sitting duck, while Mann's target (the tobacco corporations) is still powerful and on the move.
Eschewing any action set-pieces (other than the unconnected opening salvo showing producer Bergman negotiating with Middle-Eastern militiamen), Mann's direction expands on the paradoxically intimate use of widescreen showcased to such involving effect in Heat. He zeroes in on the facial and physical convolutions of characters locked in intense conversation, finding action in the minutiae of apparent inaction. Pacino's dark features drift in and out of shadow, exquisitely choreographed by Dante Spinotti's cinematography which treats the landscape of human features and inhuman cityscapes with the same sense of awe. Rising to the challenge of such close-quarter encounters, Pacino plays the éminence grise to the hilt, relishing a part for which he is perfect in terms of physique, charisma and reputation.
More startling, however, is the transformation of Russell Crowe, the formerly lithe star of such muscular vehicles as Romper Stomper. Here he seems to have shrunk in height and ballooned in girth, metamorphosing from the glamorous thug cop he played in L.A. Confidential into the bumbling, harried picture of awkwardness trapped at the centre of this infernal feud. Whether it is his eyes, constantly avoiding the gaze of both camera and other characters; his fingers, fidgeting incessantly, or his speech patterns, broken into a form of Morse code, Crowe brings Wigand to the screen in all his unlikeable splendour, resisting any temptation to make him any more than a man manoeuvred into actions with accidentally heroic consequences.
The supporting performances are also uniformly handsome, from Christopher Plummer's ever-so-slightly slimy Mike Wallace and Michael Gambon's satanically smooth-tongued B&Wpresident to Gina Gershon's spiky corporate lawyer and Diane Venora's increasingly exasperated (but never caricatured) wife. What a pleasure, too, to see the vastly underrated Wings Hauser getting the chance to flex his spectacular lantern jaw as the attorney from hell. Add to this Mann's usual sensual use of music and The Insider ought to walk off with a basket of Oscars in March. The fact that it won't says more about the state of the international film industry and the ticket-buying/cigarette-smoking public than it does about Michael Mann and his movie. Both are magnificent: they should be proud to be outsiders.
Credits
Director

Michael Mann

Producers

Michael Mann
Pieter Jan Brugge

Screenplay

Eric Roth
Michael Mann
Based on the Vanity Fair article The Man Who Knew Too Much by Marie Brenner

Director of Photography

Dante Spinotti

Music

Pieter Bourke
Lisa Gerrard

©Touchstone Pictures

Production Companies

Touchstone Pictures presents a Mann/Roth production a Forward Pass picture

Co-producer

Michael Waxman

Line Producers

Israel:
Avi Kleinberger
Shlomo Urbach

Associate Producers

Gusmano Cesaretti
Kathleen M. Shea

Production Associate

Carlo Bernard

Production Supervisors

Sherry Marshall
New York:
Monica Levinson
Abaco Bahamas:
Tim Healey

Production Co-ordinators

M. Michelle Nishikawa
New York:
Shirley Davis
Abaco Bahamas:
Ginny Warner
Israel:
Edna Rozen Vaux

Production Manager

Israel:
Adi Shoval

Unit Production Managers

Stephen Lim
Arthur Schaefer Jr

Site Manager

Israel:
Sigura Meir

Supervising Location Managers

Bill Bowling
Janice Polley

Location Managers

New York:
Trish Adlesic
Israel:
Gil Alon
Farkad Mahamid
Berkeley:
Gail Stempler

Location Consultant

Abaco Bahamas:
Maria Chavez

Post-production Supervisor

Erica L. Hiller

Assistant Directors

Michael Waxman
Julie Herrin
Jody Spilkoman
Thomas B. Van Der Woude
New York:
Patrick J. Mangan
Israel:
Itai Tamir
Daniel Oron

Script Supervisors

Julie Pitkanen
New York:
Eva Z. Cabrera
Israel:
Revital Tzimering

Casting

Bonnie Timmermann
Associate:
Alison E. McBryde
Israel:
Yael Aviv
ADR Voice:
L.A. MadDogs

Scenario Co-ordinators

Susan Hollander
Barbara Smith

Camera Operators

Gary Jay
James Muro

Steadicam Operator

James Muro

Visual Effects Supervisor

Chris Watts

Digital Compositing

CFC/MVFX
Travis Baumann
Matt Dessero
Fortunato Frattasio
Janet Yale

Plate Photography

Dream Quest Images
Jeffrey Burks
Erika Wangberg

Digital Matte Paintings

Matte World Digital
Craig Barron
Brett Northcutt

Special Effects

Co-ordinator:
John Gray
Foreman:
Terry King

Snow Effects

Snow Business, Inc.
David Crownshaw

Video/Computer Graphics Supervisor

Liz Radley

Computer Graphics

Ted Haigh

Model Maker

Ron Mendell

Supervising Art Director

Marjorie McShirley

Art Directors

Kentucky:
James E. Tocci
New York:
John Kasarda
Israel:
Avi Avivi

Set Designers

Lynn Christopher
Kelly Hannafin
Darrell L. Wigh

Key Set Decorator

Nancy Haigh

Set Decorators

Los Angeles:
Chris Spellman
New York:
Beth Kushnick
Israel:
Miguel Merkin
Sharon Shevach
Shmulik Ben Shalom

Israel Scenic Artist

Ruti Reichenstein

Costume Designers

Anna Sheppard
Associate:
Christopher Lawrence

Wardrobe Supervisors

New York:
Susan J. Wright
Cheryl Kilbourne-Kimpton

Department Head Make-up

John Caglione Jr

Make-up Artist

Bill Myer

Special Make-up Artist

Greg Cannom

Make-up Artist

Israel:
Eti Ben Nun

Hair Designer

Vera Mitchell

Hairstylists

Michael Moore
Judith A. Cory

Title Design

Research Studios
Neville Brody

Title/Opticals

Pacific Title/Mirage

Additional Music

Graeme Revell

Orchestrations

Scott Smalley
Tim Simonec

Executive in Charge of Music for The Buena Vista Motion Pictures Group

Kathy Nelson

Supervising Music Editor

Curt Sobel

Music Editors

Bob Badami
Thomas Milano

Score Recordists

Robert Fernandez
John Kurlander
Dan Wallin

Music Consultant

Mike Morrison

Soundtrack

"Tempest" by Lisa Gerrard, Madjid Khaladj, Pieter Bourke, performed by Lisa Gerrard, Pieter Bourke; "Uotaaref men elihabek" by J. Baird, F. Gari, performed by Casbah Orchestra; "Suffocate", "Night Stop", "Hot Shots" by/performed by Curt Sobel; "Litany" by/performed by Arvo Pärt; "Smokey Mountain Waltz" by/performed by Richard Gilks; "Iguazu" by/performed by Gustavo Santaolalla; "Armenia" by Blixa Bargeld, Alexander Hacke, J. Caffery, F.M. Strauss, Andrew Chudy, Mark Chung, performed by Einstürzende Neubauten; "Sacrifice" by/performed by Lisa Gerrard, Pieter Bourke; "Two or Three Things" by David Darling, Manfred Eicher, performed by David Darling; "Rites" by/performed by Jan Garbarek; "Safe from Harm (Perfecto Mix)" by Billy Cobham, Robert Del Naja, Grantley Marshall, Shara Nelson, Andrew Vowles, performed by Massive Attack

Production Sound Mixer

Lee Orloff

Recordists

Robert Renga
Craig 'Pup' Heath

Re-recording Mixers

Andy Nelson
Doug Hemphill

Re-recording Engineer

Denis St. Amand

Supervising Sound Editors

Gregg Baxter
Gregory King

Digital Sound Editorial Engineers

Rob Nokes
Philip Harrelson

Dialogue Editors

Stephanie Flack
Mary Ruth Smith
Darren King

Sound Effects Editor

Yann Delpuech

ADR

Recordist:
David Lucarelli
Mixer:
Charlene Richards
Editors:
Nick Korda
Linda Folk

Foley

Artists:
Dan O'Connell
John Cucci
Recordist:
Linda Lew
Mixer:
James Ashwill
Supervising Editor:
John Murray
Editors:
Donald Sylvester
Dan Yale

Military Technical Adviser

Israel:
Eitan Ivgy

Consultants

Lowell Bergman
Marie Brenner

Marine Co-ordinator

Abaco Bahamas:
Ricou Browning

Cast

Al Pacino
Lowell Bergman

Russell Crowe

Jeffrey Wigand

Christopher Plummer

Mike Wallace

Diane Venora

Liane Wigand

Philip Baker Hall

Don Hewitt

Lindsay Crouse

Sharon Tiller

Debi Mazar

Debbie De Luca

Stephen Tobolowsky

Eric Kluster

Colm Feore

Richard Scruggs

Bruce McGill

Ron Motley

Gina Gershon

Helen Caperelli

Michael Gambon

Thomas Sandefur

Rip Torn

John Scanlon

Lynne Thigpen

Mrs Williams

Hallie Kate Eisenberg

Barbara Wigand

Michael Paul Chan

Norman the cameraman

Linda Hart

Mrs Wigand

Robert Harper

Mark Stern

Nestor Serrano

FBI Agent Robertson

Pete Hamill

NY Times reporter

Wings Hauser

tobacco lawyer

Clifford Curtis

Sheikh Fadlallah

Renee Olstead

Deborah Wigand

Michael Moore

himself

Gary Sandy

Sandefur's lawyer

Willie C. Carpenter

John Harris

Paul Butler

Charlie Phillips

Jack Palladino

himself

Megan Odabash

Sandra Sutherland

Roger Bart

Seelbach hotel manager

Alan Desatti

Hezbollah interpreter

Sayed Badreya

Hezbollah head gunman

Chris Ufland

Doug Oliver, FDA

Doug McGrath

private investigator

Bill Sage

intense young intern

Joseph Hindy

Baldo the editor

Dennis Garber

FBI agent 1

Tim Grimm

FBI agent 2

Paul Perri

geologist/FBI man

Wanda De jesus

geologist/FBI woman

Robert Brink

policeman

V.J. Foster

Bill Felling

James Harper

FBI agent 3

Eyal Podell

Lowell's son

Breckin Meyer

Sharon's son

David Roberson

John Telafarro

Gregg E. Muravchick

private security guard

William P. Bradford II

subpoena man

David Carr

local newscaster

Ann Reskin

Seelbach hotel desk clerk

Claire Slemmer

Edie Magnus

Steve Salge

Dan Rather

Derrick Jones

Mississippi reporter

Donald F. Burbrink II

B & W male security officer

Vyto Ruginis

junior lawyer

George R. Parsons

B & W uniformed security officer

Isodine Loury

Mississippi court stenographer

Charlene Bosarge

Mr Scrugg's assistant

Saemi Nakamura

Japanese waitress

Ronal G. Yokley

police detective

Bob Lazarus

stage manager

Robert Ragno Jr

photographer, New Media

Alvin L. Welch

judge

Nathan Lewis Hill

production assistant

Paula Bisbikos

Mike Wallace's assistant

Christi Evans

CBS news producer

Knox Grantham White

soundman

Amy L. Caudill

a student

Certificate

15

Distributor

Buena Vista International (UK)

14,219 feet

157 minutes 59 seconds

Dolby digital/Digital DTS sound/SDDS

In Colour
Prints by
Technicolor

Super 35 [2.35:1]