Flawless
USA 1999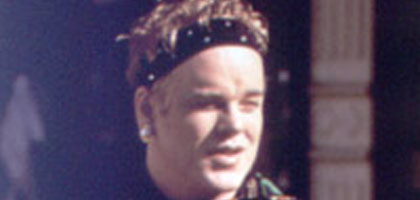 Reviewed by David Jays
Synopsis
Our synopses give away the plot in full, including surprise twists.
Walt (Robert De Niro), a retired security guard, lives in an apartment block on the Lower East Side in New York. When gangsters rampage through the building in search of stolen money, Walt tries to intervene but suffers a stroke. He is partially paralysed and his speech severely affected. In order to help his speech, he takes singing lessons with his neighbour Rusty (Philip Seymour Hoffman), a drag queen and performer. Despite their mutual suspicion, their sessions go well, and Walt meets Dusty's fellow drag artists.
Rusty confides to Walt that he has hidden the gangsters' money in a dressmaker's dummy and can now afford a sex-change operation. Walt recovers sufficiently to dance at his regular bar with a hostess whom he had previously snubbed. That night, hearing Rusty being beaten by the thugs, who suspect him of having their money, he intervenes. He and Rusty fight off and shoot their attackers, but Walt is wounded. Rusty pays for the emergency treatment with the money earmarked for his operation.
Review
Joel Shumacher's films are unsteady juggernauts. Brash liberalism hurtles alongside irresistible sentiment, precarious command of tone and flickering homoeroticism. A Time to Kill, his sweaty John Grisham adaptation, may be the most convincing of his films, but Flawless is enjoyable whenever the movie leaves its rails. A plot about stroke victim Walt learning song from drag queen Rusty conjures up such unpromisingly twinkling scenarios that it's good to see the characters resist togetherness. Ex-security guard Walt, played by Robert De Niro, proves resistant to campery, and bracing insult peppers the dialogue. Shumacher's screenplay cannily decoys its narrative of triumph-through-adversity when a dizzy queen assures Walt, "You have a My Left Foot thing going on, haven't you?" Rusty, played by Philip Seymour Hoffman, also maintains a wry commentary of movie references: during the final chase, he rallies by thinking of "Grace Kelly in Rear Window".
Shumacher insists on correspondences between his protagonists, especially in the sequence in which they prepare for a night out to the strut and swoon of a tango soundtrack. Each defines himself through paraphernalia - Walt lives among his dusty history, his medal for bravery and celebratory cuttings, while Rusty's apartment is cluttered with powder brushes and photos of screen divas. While Walt clears the floor with a slow-step at the Private Dancer bar, so Rusty, glittering in amber, teasingly comperes the cabaret at Femmes Fatales. More importantly, they share statuesque self-sufficiency, refusing pity and compromise. Neither bursts into 'I Am What I Am', but you get the idea.
Flawless is a fractured picture, which is its most winning aspect. The apartment block is a heartbreak hotel for the elderly and the oddball. In an arresting stylistic tic, Walt's neighbour strums songs of abandonment through a half-open door. Jolts of inconsequentiality divert the film's inspirational progress. An old dame greets Walt's accident with, "You think that's bad? I didn't sleep a wink last night!" The violence forcing the plot may be monochrome, but it's echoed in equally perfunctory clashes between rowdy drag gangs ("I need some dykes!" squawks a nervous peacekeeper).
Like other tales of New York - Last Exit to Brooklyn (1989), Taxi Driver (1976) - Flawless displays the freakshow of the lonely town. Walt's apartment sits in sullen puddles of blue-grey light and director of photography Declan Quinn (Leaving Las Vegas) and production designer Jan Roelfs (Orlando) create the perfect environment for characters living separate lives in intrusive proximity. Even in their confessional cups, Rusty and Walt choose to sit alongside each other rather than face-to-face.
The leads perform interesting variations on their screen personae. De Niro is celebrated for the demands he has made on his body during his career (notably Raging Bull), and suits this role of reluctant transformation. Walt strains for fitness (as in the opening ball game), but grim lines tug at his mouth even before the stroke cruelly accentuates them, and his performance subsequently squeezes through vocal and physical constraints. Hoffman is similarly an artist of insistent, creative fleshiness. His characters have an uncomfortable relationship with clammy corporeality (Happiness, Boogie Nights), or make their bulk an arrogant battering-ram (The Talented Mr. Ripley). Rusty, planning a sex-change, decorates but disdains his body. Hoffman also finds a terrific vocal register for the New Jersey queen, a husky plateau skating between sob and sass.
Credits
Director

Joel Schumacher

Producers

Joel Schumacher
Jane Rosenthal

Screenplay

Joel Schumacher

Director of Photography

Declan Quinn

Editor

Mark Stevens

Production Designer

Jan Roelfs

Music

Bruce Roberts

©Metro-Goldwyn-Mayer Pictures Inc.

Production Companies

Metro-Goldwyn-Mayer Pictures presents a Tribeca production

Executive Producer

Neil Machlis

Co-producers

Caroline Baron
Amy Sayres

Associate Producer

Eli Richbourg

Production Co-ordinator

Lori Johnson

Unit Production Manager

Kathleen McGill

Location Manager

Lauri Pitkus

Assistant Directors

Michael Steele
Julie Bloom
Kenneth Brown

Script Supervisor

Sheila Paige

Casting

Mali Finn
Associate:
Emily Schweber
Voice:
Barbara Harris

Camera Operator

Patrick Capone

Special Effects

Co-ordinators
Connie Brink
Matt Vogel

Art Director

Sarah Knowles

Set Decorator

Leslie Pope

Costume Designer

Daniel Orlandi

Key Make-up

Margot Boccia

Make-up

Kelly Gleason

Hair

Key Stylist:
Aaron Quarles
Stylist:
Sacha Quarles

Orchestral Music performed by

The EOS Orchestra

Conductor

Jonathan Sheffer

Orchestrations

Winfried Kraus

Executive Music Producer

Joel Sill

Music Production Associate

David Tobocman

Music Producer

Gohl/McLaughlin

Music Editor

Daryl Kell

Supervising Recording Engineer

Bob Schaper

Soundtrack

"Lady Marmalade", "You Make Me Feel (Mighty Real)" - cast with additional vocals by Bruce Roberts; "Half Breed" - Nashom Benjamin; "Ashley's Song", "Tasha's Song" - Rory Cochrane; "Stouthearted Men" - Nelson Eddy; "Planet Love" - Taylor Dayne; "The Name Game"

Choreography

Keith Young

Tango Choreographer/
Instructor

Paul Pellicoro

Production Sound Recorder

Gary Alper

Re-recording Mixers

Chris Jenkins
Ron Bartlett
Mark Smith

Recordists

Mark Narramore
Pete Gregory

Supervising Sound Editors

John Leveque
Anthony R. Milch

Dialogue Editors

Kimberly Lowe Voigt
Mildred Iatrou
Donald L. Warner Jr

Sound Effects Editors

Joseph DiVitale
Aaron D. Weisblatt

Additional Effects Recording

Gary Blufer

Sound Effects

Co-ordinator
John Michael Fanaris

Supervising ADR Editor

Becky Sullivan

Foley

Artists:
John Roesch
Michael Broomberg
Recordist:
Carolyn Tapp
Mixer:
Mary Jo Lang
Supervising Editor:
Shawn Sykora

Technical Consultants

John R. Corcoran
Beverly Devine

Stunt Co-ordinator

Eddie Yansick

Film Extract

New Moon
(1940)

Cast

Robert De Niro
Walt Koontz

Philip Seymour Hoffman

Rusty Zimmerman

Barry Miller

Leonard Wilcox

Chris Bauer

Jacko

Skipp Sudduth

Tommy Walsh

Wilson Jermaine Heredia

Cha-Cha

Nashom Benjamin

Amazing Grace

Scott Allen Cooper

Ivana

Rory Cochrane

Pogo

Daphne Rubin-Vega

Tia

Vincent Laresca

Raymond Camacho

Karina Arroyave

Amber

John Enos

Sonny

Jude Ciccolella

Detective Noonan

Mina Bern

Mrs Spivak

Wanda De Jesus

Karen

Madhur Jaffrey

Doctor Nirmala

Mark Margolis

Vinnie

Shiek Mahmud-Bey

Vance

Luis Saguar

Mr Z

Kyle Rivers

LeShaun

Sammy Rhee

Mr Pim

Hyunsoo Lee

Mrs Pim

Richie LaMontagne

Carmine

Penny Balfour

Cristal

Winter B. Uhlarik

Tasha

Raven O

Notorious F.A.G.

Joey Arias

Stormy

Jackie Beat

Gypsy

Blake Willett

Ingrid Rivera
cops

Craig Braun

Paulie

John Doumanian

Mr Terzola

Melissa Osborn

tourist

John Contratti

customer

Stacy Highsmith

Denise

Rod Rodriguez

Alice Williams
lesbians

Antonette Schwartzberg

Mrs Terzola

Hamilton De Oliveira

hotel janitor

John Polce

Walt stand-in

Logan McCall

John E. Mack
EMS technicians

John R. Corcoran

physical therapist

Matt Merchant

man in crowd

Kevin Aviance

Coco Lachine
Jose Angel Garcia
Bruce Roberts
singers

Al Marz

Cristal's boyfriend

Michelle Robinson

Nina Sonja Peterson
dancers

Larry Marx

bar patron

Mitchell Lichtenstein

gay Republican spokesperson

John Fink

gay Republican lawyer

Bret Kropp

drag queen

Cooley

cop

Constance Boardman

reporter

Lucy Cerezo-Scully

Al Thompson
paramedics

Certificate

15

Distributor

Optimum Releasing

9,984 feet

110 minutes 57 seconds

DTS

In Colour
Prints by
DeLuxe