Wonder Boys
USA/Germany/UK/Japan 2000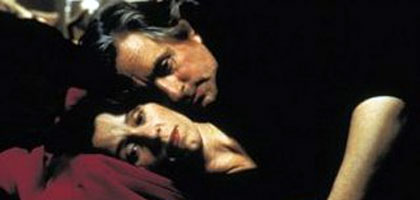 Reviewed by Charlotte O'Sullivan
Synopsis
Our synopses give away the plot in full, including surprise twists.
Pittsburgh, the present. After meeting his editor Crabtree, English professor Grady Tripp, still working on his second novel, goes to a party hosted by head of department Walter and his wife Sara. There, Sara tells him she's pregnant with his child; Grady responds that his wife Emily has just left him. Grady's talented student James turns up at the party; Grady takes him to Walter and Sara's bedroom and shows him Walter's Marilyn Monroe memorabilia. In a panic James shoots Walter's aggressive dog dead. Grady hides its body in his car. Later, at the launch of a literary festival, Sara tells Grady she's decided to abort. In a bar, Crabtree, James and Grady make up a story about a customer whom they decide to call Vernon. Outside, Vernon attacks them, claiming Grady's car is his. James stays the night at Grady's; while he sleeps, Grady discovers James has stolen Monroe's jacket from Walter's collection.
The next day, James accompanies Grady on his trip to visit Emily at her parents' house, but she's not there. On the way back, Grady realises that James is lying about his impoverished past. He rings up James' grandparents who collect him. James leaves a manuscript of his first novel in the car and Grady reads it. When he gets home he discovers Hannah, his lodger and student, has been reading his novel. Grady and Crabtree set off to talk with James. By this time, Walter suspects James of stealing the jacket. Grady discovers his car, which contains the jacket, has been stolen. He and Crabtree trace the theft of the car to Vernon and an altercation takes place during which Grady's manuscript is scattered to the winds. Grady gives up on reclaiming the jacket and tells Walter that he and Sara are in love. Crabtree gets Walter to drop the charges against James, whose novel he intends to publish. Grady loses his job; he and Sara have their baby.
Review
Curtis Hanson's Wonder Boys, unlike his last film - sleek cop noir LA Confidential - is something of a hybrid. Adapted from Michael Chabon's novel, it is most obviously a coming of (middle) age drama, which like American Beauty features references to weed, the promise of sex with young girls and emotional bonding. One level down, it's also a series of elaborate in-jokes about success. And, underpinning it all, it's a road movie about the need to stay still.
But with so much to say, Hanson's movie is too frenetic. Chabon has a great ear for academic pomposity - and there's nothing wrong with Hanson's casting jokes. Just one example is Richard Thomas' stiff-necked university head of department and cuckold Walter Gaskell. Having played John Boy in television's The Waltons (the role we all remember him for), Thomas seemed to have peaked too soon, while John Boy himself, like this film's central character novelist Grady, was a wonder boy - his first novel was a success, his second a flop. Sadly, there's no time to enjoy such subtleties.
The same applies to the characters. They're all potentially fascinating, but aside from Grady and his precocious student James we hardly get to know any of them. The predicament of Frances McDormand's Sara, for instance, is complex: now approaching middle age, she's desperate to have a child with the hapless Grady but you never understand why she married the ridiculous Walter in the first place. And what is it about Grady that fascinates his student Hannah, a girl who could easily find love elsewhere? The film isn't interested in answering such questions, however, because it appears to believe that Grady Tripp's attractiveness tells us all we need to know - once he turns up, women simply want whatever he can give them.
Neither the screenplay (by Steve Kloves), nor Michael Douglas, who plays Grady, fully convinces us of this charm. Grady is certainly colourful (his pink dressing gown alone makes the film worth watching) but he's not particularly profound. In fact, his concerns couldn't be more conventional: should he treat James like a son (to be nurtured) or as a brother (with whom to compete)? Should he sleep with a woman who wants to make him a father or a girl young enough to be his daughter? Douglas' performance is one of broad strokes, his body twisting and turning to underline each comic effect. This would matter less if we weren't so used to this type, but dilapidated liberals are two a penny, and Douglas struggles to make the schtick his own.
Grady's worshipful student James is also hard to pin down, though in this case the actor, Tobey Maguire, is not to blame. With his soft, curvaceous cheeks and ever-so-sulky mouth, James begins as a wonderfully ambiguous creation. Another performer might have reduced the desire to get his hands on Walter's prized treasure, a jacket worn by Marylin Monroe, or the Kenneth Anger obsession to camp quirks. Maguire plays them perfectly straight and proves truly unnerving. Once Grady has read, and enjoyed, James' novel, however, a mist seems to descend. The scene in which we discover James has slept with books editor Crabtree, for instance, tells us nothing: has James been sexually awakened, or has he merely satisfied a desire to be screwed by the man who discovered his hero Grady? Given the allusions to the ruthless world of All about Eve (1950), we might even suspect he's slept with Crabtree to secure a publishing deal. But with nothing to go on, the episode becomes just another wacky turn in the plot.
The feeling remains that, just as James and Crabtree and Grady enjoy telling "stories", we too have been sold a line. Everything points to the fact that it's Grady and James who should get together. Grady invites his charge to a party and almost immediately takes him to the master bedroom, where he unlocks a closet from which James proceeds to take a treasured item. Which is never, in fact, put back. Whether you see this as an emotional or even a sexual metaphor, it's unmistakably intense, and yet their relationship is never to be. As a gritty slice of academic life, Wonder Boys is unsatisfactory. Read as Grady's fantasy of 'going straight', however, it works just fine.
Credits
Director

Curtis Hanson

Producers

Scott Rudin
Curtis Hanson

Screenplay

Steve Kloves
Based on the novel by
Michael Chabon

Director of Photography

Dante Spinotti

Editor

Dede Allen

Production Designer

Jeannine Oppewall

Music

Christopher Young

©MFF Feature Film Productions GmbH & Co. KG

Production Companies

Mutual Film Company and Paramount Pictures present a Scott Rudin/
Curtis Hanson production
Produced in association with BBC/Marubeni/
Toho-Towa and Tele München
In association with MFF Feature Film Productions GmbH & Co. KG

Executive Producers

Adam Schroeder
Ned Dowd

Associate Producer

Lisa Grundy

Production Executive

Scott Rudin Productions:
Mark Roybal

Production Co-ordinator

Janice F. Sperling

Unit Production Manager

Zane Weiner

Location Manager

Jeff Stimmel

Post-production Supervisor

Pat Rand

Assistant Directors

Douglas C. Metzger
Jonathan McGarry
Annie Loeffler

Script Supervisor

Eva Z. Cabrera

Casting

Mali Finn
Associate:
Emily Schweber
Location Associate:
Donna Belajac
Voice:
Loop Troop

Camera Operators

Gary Jay
Kyle Rudolph

Steadicam Operators

Kyle Rudolph
Duane 'DC' Manwiller

Visual Effects

Cinesite

Special Effects

Co-ordinator:
John D. Milinac
Foreperson:
Scott Blackwell

Snow Effects

Snow Business, Inc
Co-ordinator:
Peter Haran

Poe Animal Replica

Alec Gillis
Tom Woodruff Jr

Graphic Designers

Susan Burig
Eva Kamienska-Carter

Additional Film Editor

Craig Kitson

Art Director

Don Woodruff

Set Decorator

Jay R. Hart

Scenic Artists

Todd Hatfield
Eileen Garrigan
Mark Barill
Vincent Borrelli
Gregg Puchalski
Blake Rich

Costume Designer

Beatrix Aruna Pasztor

Costume Supervisor

Kendall Errair

Make-up

Supervisor:
Michal Bigger
Artist:
Kymbra Callaghan

Hair

Supervisor:
Aaron F. Quarles
Stylist:
Sacha P. Quarles

Titles/Opticals

Pacific Title

Synth Programming

Kenneth Burgomaster

Music Conductor/
Orchestrations

Pete Anthony

Additional Orchestrations

Christopher Young
Bruce Babcock

Music Supervisor

Carol Fenelon

Score Co-ordinators

Konstantinos Christides
Jasper Randall
Sujin Nam

Supervising Music Editor

Thomas Milano

Music Editor

Tanya Noel Hill

Music Recordist/Mixer

Robert Fernandez

Music Recordist

Paul Wertheimer

Soundtrack

"No Regrets"; "Things Ain't What They Used to Be" - Johnny Hodges; "Shoot Your Shot" - Jr. Walker & the All Stars; "Need Your Love So Bad" - Little Willie John; "Slip Away" - Clarence Carter; "A Child's Claim to Fame" - Buffalo Springfield; "Buckets of Rain", "Not Dark Yet", "Shooting Star", "Things Have Changed" - Bob Dylan; "Reason to Believe"; "Watching the Wheels" - John Lennon; "Youth" from "The Picture of Dorian Gray"; "Bicycle Montage" from "The Young Indiana Jones Chronicles"; "Theme from 'Route 66'" - Nelson Riddle; "Good Morning" from "Babes in Arms"- Judy Garland & Mickey Rooney; "Old Man" - Neil Young; "Waiting for the Miracle" - Leonard Cohen; "Philosophers Stone" - Van Morrison; "Glad to Be Unhappy" - Lee Wiley

Production Sound Mixer

Kirk Francis

Recordist

Mark Narramore

Re-recording Mixers

Christopher Jenkins
Ron Bartlett
Mark Smith

Supervising Sound Editors

Dennis Drummond
David Giammarco

Dialogue Editors

Kim Drummond
Mark Yardas

ADR

Voices:
Terri Douglas
Caitlin McKenna
Claudette Wells
June Christopher
Barbara Goodson
Raechel H. Donahue
Archie Hahn
Phil Proctor
Nicholas Guest
Don Fullilove
Roger Aaron Brown
Fred Tatasciore
Nathan Carlson
Mixer:
Greg Steele
Supervising Editor:
Renée Tondelli
Editor:
George Anderson Foley
Artists:
Robin Harlan
Sarah Monat
Mixer:
Randy K. Singer
Supervising Editor:
Jonathan Klein
Editor:
Dan Yale

Stunt Co-ordinator

Jeff Imada

Animal Trainers

Mark Forbes
Stacy M. Basil

Film Extracts

The Picture of Dorian Gray (1945)
Babes in Arms (1939)

Cast

Michael Douglas

Grady Tripp

Tobey Maguire

James Leer

Frances McDormand

Sara Gaskell

Robert Downey Jr

Terry Crabtree

Katie Holmes

Hannah Green

Rip Torn

Q

Richard Knox

Vernon Hardapple

Jane Adams

Oola

Michael Cavadias

Miss Sloviak/Tony

Richard Thomas

Walter Gaskell

Alan Tudyk

Traxler

Philip Bosco

Emily's father

George Grizzard

Fred Leer

Kelly Bishop

Amanda Leer

Bill Velin

Officer Pupcik

Charis Michelsen

Carrie

Yusuf Gatewood

Howard

June Hildreth

Emily's mother

Elisabeth Granli

Emily, photo

Richard Hidlebird

Hi-Hat bouncer

Screamer

Poe

Bingo O'Malley

Patricia Cray
Marita Golden
Victor Quinaz
James Ellroy
Lenora Nemetz
Tracey D. Turner
James Kisicki
Wordfest party guests

Rob McElhenney

Anika Bobb
Katherine Sweeney
students

Certificate

15

Distributor

United International Pictures (UK) Ltd

10,027 feet

111 minutes 25 seconds

Dolby/DTS

In Colour
Prints by
Deluxe

2.35:1 [Super 35]