The Edge of Heaven
Germany/Turkey/Italy 2007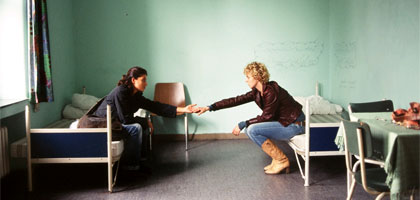 Reviewed by Catherine Wheatley
Synopsis
Our synopses give away the plot in full, including surprise twists.
Turkey, the present. Nejat Aksu stops at a petrol station en route to the Black Sea coast during a public holiday.
Some years earlier in Bremen, Germany. Nejat's father Ali frequents Turkish prostitute Yeter, to whom he offers lodging in return for sexual exclusivity. Intimidated by fundamentalist Muslims into stopping work, Yeter accepts. While Ali is in hospital following a heart attack, she forms a close relationship with Nejat, who is a professor of German at Hamburg University, but their peaceful existence is ruptured by Ali's return: jealous and drunk, he picks a fight with Yeter, during which he accidentally kills her. Disowning him, Nejat travels to Turkey to find Yeter's daughter Ayten in the hope of making amends; it appears, however, that Ayten has been missing for some time. Nejat buys a German-language bookshop and sets up home in Istanbul.
Ayten, we learn, is living in Hamburg under an assumed name, having fled Turkey after taking part in a resistance protest that saw several of her friends arrested. She has been befriended by a young student, Lotte, whose mother Susanne disapproves of their association. The two girls become lovers. When the authorities catch up with Ayten and she is extradited to Turkey (where she is placed in a women's prison to await trial), Lotte follows her there. She takes a room with Nejat, but since her lawyer has forbidden her to mention Ayten's name to anyone, the two do not realise the connection between them.
Sent by Ayten to retrieve a gun used in the protest that led to her arrest, Lotte is mugged by a gang of youths, and in the ensuing pursuit is shot with the stolen weapon. Grief-stricken, Susanne comes to mourn her, taking up Lotte's empty room. She offers Ayten help, and also shows Nejat that it is time to forgive his father. Nejat duly travels to the Black Sea coast, where Ali now resides, stopping en route at the petrol station where we first saw him. As the newly released Ayten moves into his flat with Susanne, Nejat awaits Ali's return from a fishing trip.
Review
It is giving nothing away to reveal that a pair of fatalities take place in Fatih Akin's The Edge of Heaven, since these events are announced long before they happen by two of the film's three chapter headings, 'Yeter's Death' and 'Lotte's Death'. For those familiar with the director's previous features, such dark portents will come as no surprise: from his Scorsese-influenced gang melodrama Short Sharp Shock (1998) to the hardcore masochistic romance Head-On (2004), Akin has made murder and mortality central pillars of his oeuvre. Indeed, the ways in which Turkish prostitute Yeter and German student Lotte suddenly meet their maker bear an uncanny resemblance to two incidents in Akin's earlier feature, as they fall foul of the drunken brutality of a possessive lover and the casual violence of street thugs in an Istanbul alley respectively. Here, however, the alley is no longer dark and ominous, a place where no sane woman would walk at night, but rather it is sunlit and serene; and fists fly not in a seedy bar, but in a quiet suburban home.
Such changes are consistent with a general shift in tone between the two features: where the violence of Head-On was a shocking assault on its spectator, The Edge of Heaven is a softer, more haunting film. Billed as the second instalment in the director's 'Love, Death and the Devil' trilogy, it offers a technically accomplished and deeply compassionate meditation on loss and consolation, as its mosaic narrative follows the intersecting lives of six characters travelling between Istanbul and Hamburg. These include Nejat, a professor of German at Hamburg University, Ayten, a political refugee fleeing her native Turkey, and the conservative, middle-aged Susanne, who travels to Istanbul in the wake of her daughter's death. As in Akin's earlier works, the numerous instances of intercultural exchange throw up insights into the dynamics of east-west relationships, but these are, for the most part, observational and incidental - bumps rather than clashes of culture. Only Ayten's flight to Hamburg is imbued with any sense of menace, and in this respect Akin does well to emphasise (albeit clumsily) the fact that Turkey is yet to join the EU, thereby allowing the spectre of torture to loom large. Sexual, religious and economic imperatives are otherwise ignored in a film that seems decidedly sunny in its political outlook compared with works such as, for example, Michael Haneke's Code Unknown (2000) or Ulrich Seidl's forthcoming Import/Export.
Far from being a failure of naturalism, however, one senses that this whitewashing of the more unsavoury aspects of "the new cold war", as the director terms it, is one of the film's strategies for presenting a vision of hope for contemporary continental relations - a vision that extends to the film's mise en scène, with DP Rainer Klausmann's colour-saturated cinematography (a dramatic about-face for him from the penumbral Head-On and Downfall) replete with postcard visions of its twinned cities, in which even a prostitute's pastel pink underwear blends with the wall she leans against. If politics are pushed to the edges, then, it is perhaps because for Akin, cultural dislocation is both a symptom and the cause of a much deeper-seated spiritual dislocation, whose remedy can only be found in the Forsterian connection with other human beings for which the film's divergent cast of characters struggle. Criticism has been levelled at The Edge of Heaven's somewhat contrived plot twists and conventional melodrama, but in a film that sees a homeless Turk approach a stranger for cash and receive not only a meal but board and bed (a shared one, no less), it is clear that authenticity matters less than optimism - and The Edge of Heaven is no worse for that.
Credits
Director

Fatih Akin

Producers

Andreas Thiel
Klaus Maeck
Fatih Akin

Screenplay

Fatih Akin

Director of Photography

Rainer Klausmann

Editor

Andrew Bird

Production Designers

Tamo Kunz
Sírma Bradley

Music

Shantel