Scream 3
USA 2000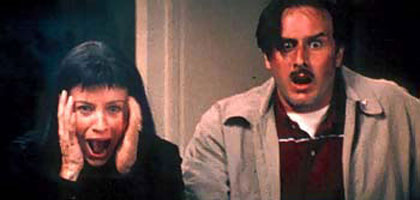 Reviewed by Kim Newman
Synopsis
Our synopses give away the plot in full, including surprise twists.
Hollywood. Cotton Weary, a talk-show host once unjustly convicted of the murder of Maureen Prescott, is killed by someone masked like the murderers who have terrorised Maureen's daughter Sidney. Producer John Milton is working on Stab 3: Return to Woodsboro (the latest film in a series based on the murders that have revolved around Sidney), with music-video director Roman Bridger making his first feature, Dewey Riley working as a technical advisor and actresses Jennifer Jolie and Angelina Tyler cast as real-life figures Gale Weathers, a news reporter, and Sidney.
When actors Sarah Darling and Tom Prinze and a security expert are killed, Stab 3 is shut down. Gale digs further into the story and Sidney comes to help. It turns out that Maureen was once a starlet at the studio, leaving Hollywood after an orgy at one of Milton's parties. At Roman's birthday party, the killer strikes again, murdering Roman, supporting actor Tyson Fox, and Jennifer and Angelina. Sidney confronts the masked maniac, who turns out to be Roman (who faked his own death), her long-lost half-brother. Having prompted the original Woodsboro killings, he has been taking his rage out on the family he feels cheated out of. Sidney kills Roman.
Review
In one of the wittiest moments in Scream 2, film nerd Randy, explaining the rules of sequels, wound up his argument with "and if you want your sequel to turn into a franchise, never ever ..." only to have his thought cut off before his wisdom could be delivered. Randy pops up again here via a video-diary entry. Explaining what happens when your sequel turns into a trilogy, Randy tells us to expect any character could be the killer and survivors from the earlier instalments will end up dead. Sadly, Scream 3 is not nearly ruthless enough to go through with this delicious warning/promise.
With original screenwriter Kevin Williamson now pursuing a directorial career, series director Wes Craven is here partnered by screenwriter Ehren Kruger (Arlington Road). There's a sense that Craven's emotional investment was in his significantly named 'personal' project Music of the Heart, completed last year, leaving this to come together by itself. Has Sidney Prescott been so abused in two Scream movies that she has herself become the new killer? Is her dead mother, whose murder kicked the whole thing off, coming back as a ghost to add a supernatural twist? Will Riley and Gale, fake-killed several times in the earlier entries, finally die for real, or get to be unmasked as the secret fiends behind it all? The disappointing revelation here is that a new character with far less dramatic weight than the killers in the first two films is guilty, and Sidney gets to gun him down for a pat wrap-up.
The Hollywood setting allows for a pleasant succession of in-references and gags. Jenny McCarthy has a great set-up-for-death speech as she complains about being a 35-year-old playing a 21-year-old who takes a shower before getting killed, and there's a neat cameo from Carrie Fisher as a studio functionary who claims not to have won the part of Princess Leia because she didn't sleep with George Lucas. The best thing in the film is the bickering between Cox Arquette's Gale and Parker Posey as the Method actress who thinks she's better at being Gale than Gale herself. With the exception of a chase through a soundstage, Craven rarely exploits the potential for suspense of his Hollywood setting. Mostly, his visual imagination seems stretched thin; the stalk-and-slash scenes are directed merely with anonymous competence. A warning to the avaricious: if Randy the movie geek has left another video testament, it might well cite Omen IV and Halloween IV through H20 as dire examples of what happens when your trilogy is complete but the producers go back to the well. If you want your trilogy to become a franchise, make something grander than Scream 3.
Credits
Director

Wes Craven

Producers

Cathy Konrad
Kevin Williamson
Marianne Maddalena

Screenplay

Ehren Kruger
Based on characters created by
Kevin Williamson

Director of Photography

Peter Deming

Editor

Patrick Lussier

Production Designer

Bruce Alan Miller

Music

Marco Beltrami

©Miramax Film Corp.

Production Companies

Dimension Films presents a Konrad Pictures production in association with Craven/Maddalena Films

Executive Producers

Bob Weinstein
Harvey Weinstein
Cary Granat
Andrew Rona

Co-executive Producer

Stuart M. Besser

Co-producers

Dan Arredondo
Dixie J. Capp
Julie Plec

Associate Producer

Nicholas C. Mastandrea

2nd Unit Production Supervisor

Lisa Becker

Production Co-ordinator

Lori Spall

Unit Production Manager

Stuart M. Besser

Location Managers

Robert Decker
Ilt Jones

Post-production Co-ordinator

Tina Anderson

2nd Unit Director

Rick Avery

Assistant Directors

Nicholas C. Mastandrea
Dan Arredondo
Maria Mantia
Michelle Jaeger
2nd Unit:
Rosemary Cremona

Script Supervisor

Sheila G. Waldron

Casting

Lisa Beach
Associate:
Sarah Katzman
ADR Voice:
L.A. MadDogs

2nd Unit Director of Photography

Paul Hughen

Camera Operators

Paul Hughen
Additional:
Mark Ludwig

Steadicam Operator

Mark R. Van Loon

Wescam Operator

John Trapman

Digital Visual Effects

Pixel Magic
Visual Effects Supervisor:
Ray McIntyre Jr
Compositing Supervisor:
Reid Paul
Digital Compositors:
Patrick Murphy
Bruce Harris
Digital Film I/O Supervisor:
Victor Dimichina

Special Visual Effects

Fantasy II Film Effects
Visual Effects Supervisor:
Gene Warren Jr
Visual Effects Producer:
Leslie Huntley
Miniature Photography:
Christopher Warren
Pyrotechnic Supervisor:
Joseph Viskocil
Pyrotechnicians:
Robert Ahmanson
Joe Heffernan
Robert Hutchins
Thomas Zell
Model Makers:
Bryan MacLaren
Anita Osterhage
Mick Persion
Optical Supervisor:
Betzy Bromberg
Camera Operator:
David Tucker
Roto Supervisor:
Bret Mixon
Digital Supervisor:
Tim Molinder
Digital Artist:
Kieran Carew

Special Effects

Co-ordinator:
Ron Bolanowski
Foreman:
William D. Lee

Graphics Designer

Steven Samanen

Art Director

Tom Fichter

Set Designers

Nancy Deren
Anthony D. Parrillo
Barbara Ann Spencer
Sloane U'ren

Set Decorator

Gene Serdena

Storyboard Artist

Raymond Consing

Costume Designer

Abigail Murray

Costume Supervisor

Eden Coblenz

Department Head Make-up

Carol Schwartz

Make-up Artist

Lesa Nielson

Department Head Hair

Kathrine Gordon

Hairstylist

Hazel Catmull

Main Title Design

Grady Cofer
Robert Dawson

Digital Main Titles

Digiscope

End Titles/Opticals

Pacific Title/Mirage

Background Vocals

Rose Thomson

Synth Preparation

Buck Sanders

Orchestra Conductors

Marco Beltrami
Pete Anthony

Orchestrations

Pete Anthony
Bill Boston
Jon Kull
Kevin Kliesch
Frank Bennett
Jeff Atmajian
Kevin Manthei
Marco Beltrami

Music Supervisor

Ed Gerrard

Score Producer

Marco Beltrami

Executive Music Producer

Randy Spendlove

Music Editors

Bill Abbott
Adam Kay

Scoring Mixer

John Kurlander

Midi Consultant

Thomas Bartke

Soundtrack

"What If", "Is This the End" by Mark Tremonti, Scott Stapp, performed by Creed; "Red Right Hand 2" by Nick Cave, Michael John Harvey, Thomas Wydler, performed by Nick Cave and the Bad Seeds; "So Real" by/performed by Static X; "Spiders" by Baron Malakian, Seri Tankian, performed by System of a Down; "Sunburn" by Carl Bell, performed by Fuel; "Click Click" by David Arquette, Gabriel Cowan, Sam Music, performed by Ear2000; "Suffocate" by James Black, Scott Anderson, Sean Anderson, Arnold Lanni, performed by Finger Eleven; "Automatic" by Kevin Quinn, Noah Shain, performed by American Pearl

Sound Design

Todd Toon

Sound Mixer

Jim Stuebe

Re-recording Mixers

Andy D'Addario
Tim Chau

Dubbing Recordists

Neal Porter
Chris Sparkes

Supervising Sound Editor

Todd Toon

Sound Editors

Albert Gasser
Piero Mura
John Kwiatkowski
David Kern
Don Malouf

ADR

Recordist:
Jeannette Browning
Mixer:
Doc Kane
Supervising Editor:
G.W. Brown
Editor:
Howell Gibbens

Foley

Artist:
Dan O'Connell
Mixer:
John Cucci

Stunt Co-ordinator

Rick Avery

Animals Provided by

Birds & Animals Unlimited

Animal Handlers

Stacy Basil
Cheryl Harris
Cast
David Arquette
Dwight 'Dewey' Riley

Neve Campbell

Sidney Prescott

Courteney Cox Arquette

Gale Weathers

Patrick Dempsey

Detective Mark Kincaid

Scott Foley

Roman Bridger, the director

Lance Henriksen

John Milton

Matt Keeslar

Tom Prinze

Jenny McCarthy

Sarah Darling

Emily Mortimer

Angelina Tyler

Parker Posey

Jennifer Jolie

Deon Richmond

Tyson Fox

Kelly Rutherford

Christine

Liev Schreiber

Cotton Weary

Patrick Warburton

Steven Stone

Jamie Kennedy

Randy Meeks

Beth Toussaint

female caller

Roger L. Jackson

'the voice'

Julie Janney

moderator

Richmond Arquette

student

Lynn McRee

Maureen Prescott

Nancy O'Dell

female reporter

Ken Taylor

male reporter

Roger Corman

studio executive

Josh Pais

Detective Wallace

John Embry

stage security guard

Lawrence Hecht

Neil Prescott

Lisa Beach

studio tour guide

Kevin Smith

Silent Bob

Jason Mewes

Jay

Erik Erath

Stan

D.K. Arredondo

office security guard

Lisa Gordon

waitress

Heather Matarazzo

Martha Meeks

Carrie Fisher

Bianca Burnette

C.W. Morgan

Hank Loomis

Certificate

18

Distributor

Buena Vista International (UK)

10,505 feet

116 minutes 44 seconds

Dolby digital/Digital DTS sound/SDDS

Colour by
FotoKem

Prints by

DeLuxe

Anamorphic [Panavision]