Gran Torino
Germany/USA/Australia 2008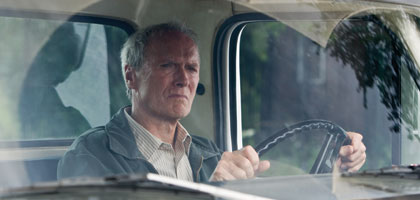 Reviewed by Kate Stables
Synopsis
Our synopses give away the plot in full, including surprise twists.
Detroit, present day. Retired autoworker and war hero Walt Kowalski buries his wife, and refuses to take confession from Father Janovich, her last wish. His young neighbour Thao is bullied into attempting to steal Walt's prize 1972 Ford Gran Torino, as a Hmong gang initiation, but Walt scares him off. Walt saves Thao by brandishing a gun when the gang attempt to manhandle him. Thao's sister Sue is menaced by a street-corner gang, and is saved by Walt's intervention. Walt's middle-aged yuppie son suggests that he move into a retirement home. Sue invites Walt to a barbecue, where he befriends the family. Walt is secretly coughing up blood. To make amends for the attempted theft, Thao does neighbourhood DIY with Walt, who tutors him in manly talk and dating girls, and helps him get a construction job. The gang steal Thao's tools and beat him. Walt beats up the gang leader. The next night, the gang shoot up Thao's house, and rape Sue. Father Janovich warns Walt not to retaliate, but Thao demands that they take revenge. The following day, Walt tells Thao that he is haunted by the Korean war killing that won him a Silver Star. He locks Thao in his basement, gives him the medal and leaves to confront the gang. At the leader's house, he calls them out, while the neighbourhood watches. Taking out a cigarette, he deliberately reaches for his lighter, and is shot down by them on the pavement, unarmed. The police tell Thao that the gang will be jailed for a long time. Walt has bequeathed the Gran Torino to Thao.
Review
"I finish things. That's what I do. And I'm going it alone." Clint Eastwood's Walt Kowalski is a retired autoworker rather than a vigilante cop, but scowling at life, and squaring up to gangbangers through this gruff, goodhearted and interestingly old-fashioned tragicomedy, he might as well be 'Dirty' Harry Callahan in retirement. For Gran Torino is a fascinating if flawed revisiting of the themes and persona of Eastwood's urban crime movies of the 1970s. Callahan's aggressive inviolability, that terse disdain for the politically correct, and his obsession with getting the job done, all resurface here, their alpha-male resonance laid over elements that Eastwood has explored throughout his long body of work: questions of race, masculinity, and the uses and abuses of violence.
Resolutely unadorned, straight-shooting, clunky at points, this scaled-down film (Eastwood's second directorial release in months) is worlds away from the high-gloss melodrama of The Changeling or his elegiac Iwo Jima diptych. It's a blue-collar movie, hymning traditional values and examining unfashionable, everyday American issues such as immigration, gang culture and ageing, which Hollywood routinely ignores or leaves to television. Korean War veteran Kowalski's voyage from knee-jerk racism to mentoring his young Hmong neighbour Thao, the stiff-backed retro machismo which both wounds and sustains him, the eye-for-an-eye inevitabilities of ghetto feuding - all usefully explore chewy, topical subjects.
Less gratifying is the slightly forced, schematic way in which first-time scripter Nick Schenk's scenario sets up the conflicts, relationships and payoffs that move Kowalski from a bigoted grouch ("gook", "slope" and "zipperhead" are his standard greetings to Asian neighbours - the film is fearless in its rather playful, post-race-era rhetoric) to guardian angel. Subtle it ain't, which one can either read as an ironic homage to the meat-and-potatoes plotting of Eastwood's 1970s films, a nod to audiences' hunger for the old good-guy-versus-bad-guy certainties, or just a lack of polish. If Eastwood didn't carry 50 years of heroic screen memory into every scene, we'd give this movie significantly shorter shrift. But he does, and despite Schenk's workmanlike script and Eastwood's no-nonsense direction, the film is a veritable compendium of crowd-pleasing Clintisms, sporting street-corner standoffs with punks capped by snarled epigrams and woven through with questions of regret, redemption and quasi-fatherhood that chime with his back catalogue from Thunderbolt and Lightfoot and Honkeytonk Man to Unforgiven.
It's not the first time that Eastwood's mature movies as actor or director have fruitfully re-examined his earlier work, and arguably Gran Torino's alternately broadly comic or brooding feel doesn't address the issue of vigilantism as acutely as Mystic River, or redemptive regret as proficiently as In the Line of Fire. There is a slightly clumsy engagement with the Eastwood legend here, but it's still a potent one, particularly when watching the icon of constructed masculinity 'making a man' of Thao by tutoring him in tool-talk, abuse-peppered manly banter (there's a mildly excruciating scene where Walt and his Italian-American barber teach Thao male-bonding via insult-trading) and catching the girl of your dreams.
The film also toys expressively with how age unmakes a man - Walt is patronised by his yuppie offspring, who offer senior-citizen gadgets and pamphlets on retirement homes, he's winded and injured by fighting, and succumbing to lung cancer after a lifetime's smoking. He's still the stuff that heroes are made of, however (the film falls firmly into what Chris Holmlund has called Eastwood's "optimistic model of ageing", in which audiences can play out fantasies of male potency into old age). Eastwood stokes the myth with a growling, broad-strokes performance which alternates grouchy comedy with steely make-my-day aggression, his lines bouncing off the rather hit-and-miss portrayals of the Hmong non-professional actors surrounding him (though Bee Vang's Thao warms up enough to make an effective, and affecting, foil for him). And (spoiler alert) it's Eastwood's ability to toughen and inject welcome brusqueness into melodrama that allows the film to carry off its wily, vengeful and overblown finale, in which Walt redeems his long-held guilt at his Korean war killings by offering himself up as a human sacrifice to the gang tormenting Thao's family, allowing himself to be shot down unarmed so that they will be jailed. Apart from the shockwaves which will run through phallocentric film studies circles, where Clint's gun is never just a gun, the jolting and poignant surprise of an Eastwood hero inviting death in as his weapon, rather than dishing it out, is the film's most accomplished moment.
Credits
Directed by

Clint Eastwood

Produced by

Clint Eastwood
Robert Lorenz
Bill Gerber

Screenplay

Nick Schenk

Story

David Johannson
Nick Schenk

Director of Photography

Tom Stern

Edited by

Joel Cox
Gary D. Roach

Production Designed by

James J. Murakami

Music

Kyle Eastwood
Michael Stevens